COOPERATIVE PRODUCERS, INC.

>HASTINGS, NE
WHAT THEY NEEDED
Cooperative Producers, Inc. (CPI) wanted to transform their business with an all-new agronomy center to better serve the regional demand of customers. The new facility would be a massive upgrade in both size and efficiency, serving as CPI's primary retail/wholesale liquid fertilizer plant to load delivery equipment and applicators, and supply existing liquid fertilizer plants. They needed to load out trucks much faster, with industry-leading speeds to drastically reduce wait times. CPI wanted to handle at least 200 orders per day using two different ERP interfaces, and with multiple operators running the system simultaneously. The intent of operation was to have dedicated bays operate for wholesale as well as ag retail, and multiple loadout bays with 24/7 unstaffed automated loading capabilities for bulk NPK, liquid blends, and chemical blends.
The CPI facility features a tank farm for fertilizer along with indoor bulk chemical storage. Product can be received by rail or truck.

The facility features 24/7 unstaffed capabilities with keypad entry units to provide drivers scale pre-staging and door control for secure building access.

Wait time is minimal with seven bays – six can be used for product dispensing while two can be used for receiving. This system is able to load six trucks in under 20 minutes.

The bulk chemical system features 100 legal-for-trade flow meters to allow dispensing to mini bulks and simultaneously to each bay for loadout. Each container can be labeled and identified by a barcode for accurate inventory.

Drivers simply input their driver and order numbers for quick and accurate dispensing.

Two tunnels beneath the building house each bays plumbing including flow meters, strainers, valves and air solenoid panels to ensure all products are delivered accurately and quickly.

Tablets allow managers to easily check the status of bays, valves, and pumps to configure systems from anywhere on site.

In-bay controls allow drivers to start and pause orders, get notified when an air purge completes the loadout process, and print receipts.

Micro products can be quickly added from totes or from smaller containers with a 55-gallon weigh tank.
WHAT WE DESIGNED
CPI constructed a new fertilizer/ chemical facility in Hastings, NE, that features seven access-controlled bays to dispense and receive product. Bays one through three are for load out of fertilizer products only, while bays four through six have capability to load out fertilizer and chemicals. Receiving can be done by rail or by truck in a dedicated receiving bay or additional multiuse bay. Six bays feature Kahler Automation's Self Serve 2 software for after-hours dispensing, and two bays have Bulk Receiving 2 software for after-hours receiving. For unstaffed dispensing or receiving, drivers input their order number at a Touch Screen Access panel to initiate the process. Behind the scenes the Kahler Terminal Management TMX software processes orders simultaneously from the agronomy interfaces, and manages all data associated with plant operation. When staffed loading is required, operators use Plant Supervisor PSX software to dispense to the truck bays and use Container Filling 2 software to fill and easily manage tote inventory.
Top 10 Ag Retailers With the Most Facilities in 2022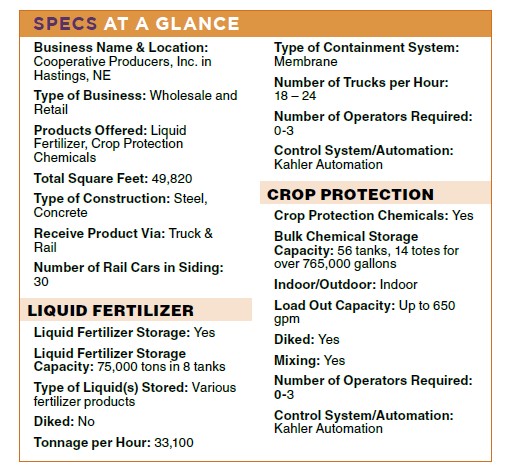 CONTACT US:
KAHLER AUTOMATION
507-235-6648
KahlerAutomation.com
COOPERATIVE PRODUCERS, INC.
800-355-2710
cpicoop.com