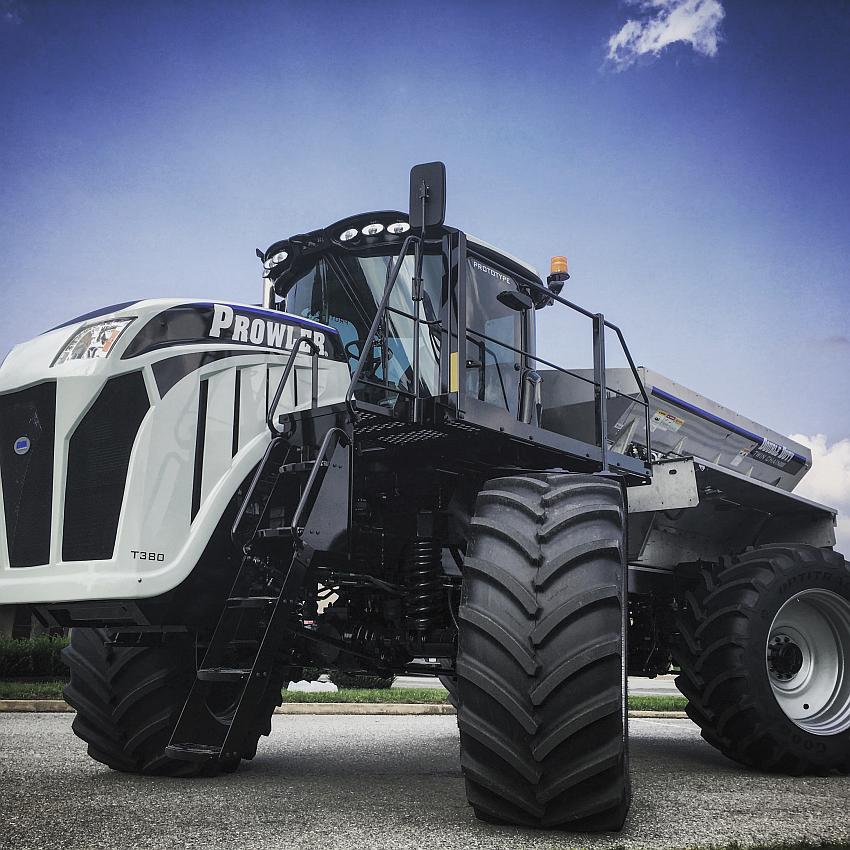 The newest Prowler in GVM's line-up will be introduced next week at the Midwest Ag Industries Expo (MAGIE), August 23 and 24 in Bloomington, IL. The introduction of the new machine was heavily influenced by the need to meet emissions requirements, but this machine offers much more than just a new, robust Cummins 380 horsepower engine.
"This is the only true four-season machine to deliver maximum power, maximum payload, and maximizes your return on investment, and that's what the Prowler is all about; increasing our customers return on investment," says Terry Bowling, National Sales Manager.
Named the T380, the new GVM Prowler will offer multiple enhancements and upgrades to the already impressive chassis. The T380 Prowler will feature 4-wheel steer for easy navigation, and increased, 12-ton capacity with added air-leveling suspension, more flotation and higher clearance with LSW tires, a fully auto steer and ISO ready cab, individual nozzle control, and new spreading options.
For spreading, owners will benefit from on-the-go swath width and section control with either the new Double Duty Twin Chain spreader or the New Leader NL5000 G5. The twin chain Double Duty spreader is a simple-to-use system designed to maintain the Double Duty's perfect pattern and pinpoint precision while introducing four section control and true single side shutoff.
Of course, the new T380 Prowler will maintain the standards we know and expect from the Prowler, a true, mechanical all-wheel drive, a near equal weight distribution, a light footprint for the best flotation and lowest compaction, and the industry's fastest combo change-over (a team of three completed a 26-minute Prowler changeover at MAGIE four years prior, including a tire switch).
While the new Prowler will be released at MAGIE, it will not be released into GVM's production until January of 2018. Until then, the company will continue to build the Tier 3 E330 and E370 Prowler.
About the Show
The Midwest Ag Industries Expo (MAGIE) is the largest application equipment focused show this summer and will be held at the McLean County Fairgrounds, August 23-24, in Bloomington, IL. GVM is located in booth 604.
0
1
5
GVM to Introduce New Prowler at MAGIE