Editor's Note: CropLife recently spoke with Bob Wolf, veteran application expert and president of Wolf Consulting & Research, on the revised dicamba label. Part one of the conversation is here.

Age-old extension training told applicators the best way to reduce drift was to lower the nozzle pressure, but the opposite is true with today's nozzle designs recommended to be used with the dicamba technologies.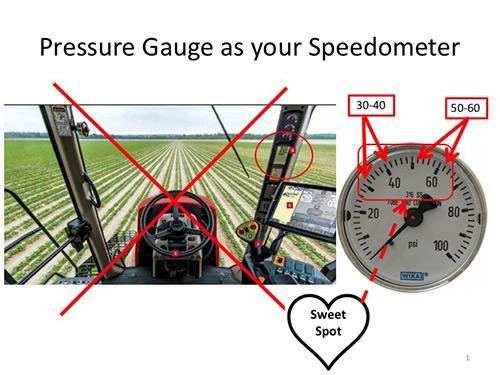 "The pressure needs to be high – higher pressures than applicators have been used to in the past. I'm talking 50-60 psi, not 25-30 psi," Wolf says.  The venturi designed nozzles will still have a minimum of drift at the higher pressures.
"The training that I was doing all last year and at the talks I've given this year, I've emphasized that (applicators) need to pay very close attention to the pressure gauge rather than the speedometer. The pressure they operate is the critical part of the operation to maintain proper coverage and minimize the potential for drift," Wolf says.
He points to a problem he sees with the new label: It doesn't directly address pressure, leaving it up to the manufacturers' charts. Yet those charts are too broad in that they simply list the minimum and maximum pressures of approved nozzles.
"Research and experience would show me that low pressure on some venturi nozzle types with drift reduction products in the tank may result in a poor pattern that is narrow  with larger droplets, with coverage reduced. They should be focusing on the higher pressure, and taking the minimum pressure out. They're way too low."
Read more on the label requirements:
Get top-of-mind reminders on the new compliance and regulatory rules on dicamba directly to your email inbox. Subscribe to CropLife's Daily Dicamba Update.