CropLife's Dicamba Update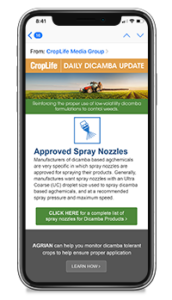 Get top-of-mind reminders on the latest compliance and regulatory rules on dicamba, as well as insight from industry experts, delivered directly to your email inbox.
Timely. Useful. Impactful.
Are you in?
Dicamba Updates for 2019 have ended.
Please contact us for more information about Daily Dicamba Update.
You can also subscribe to Croplife for the latest industry news!