Seed Treatment Future Seems Promising
Seed treatment has been one of the most reliably steady growth areas for ag retailers during the past five years. And this promises to remain the case for the foreseeable future.
This is the conclusion one can draw by looking through the data collected in the 34th annual CropLife 100 survey of the nation's top ag retailers.
Although much of this survey gathers information on overall company sales and larger crop inputs/services such as fertilizer and custom application, the survey also asks respondents to tell how some smaller categories have performed, sales-wise, for the year. This includes such items as adjuvants, micronutrients, precision agriculture services/products, and, of course, seed treatment.
The Numbers Game
Over the years, seed treatment has performed very well among CropLife 100 ag retailers. On average, since the start of the 2010s, slightly more than half of all survey respondents have seen their year-over-year seed treatment sales revenues increase between 1% and more than 5% each and every year. In fact, during the 2015 CropLife 100 survey, 57% of respondents reported their seed treatment sales fell within this positive numbers range.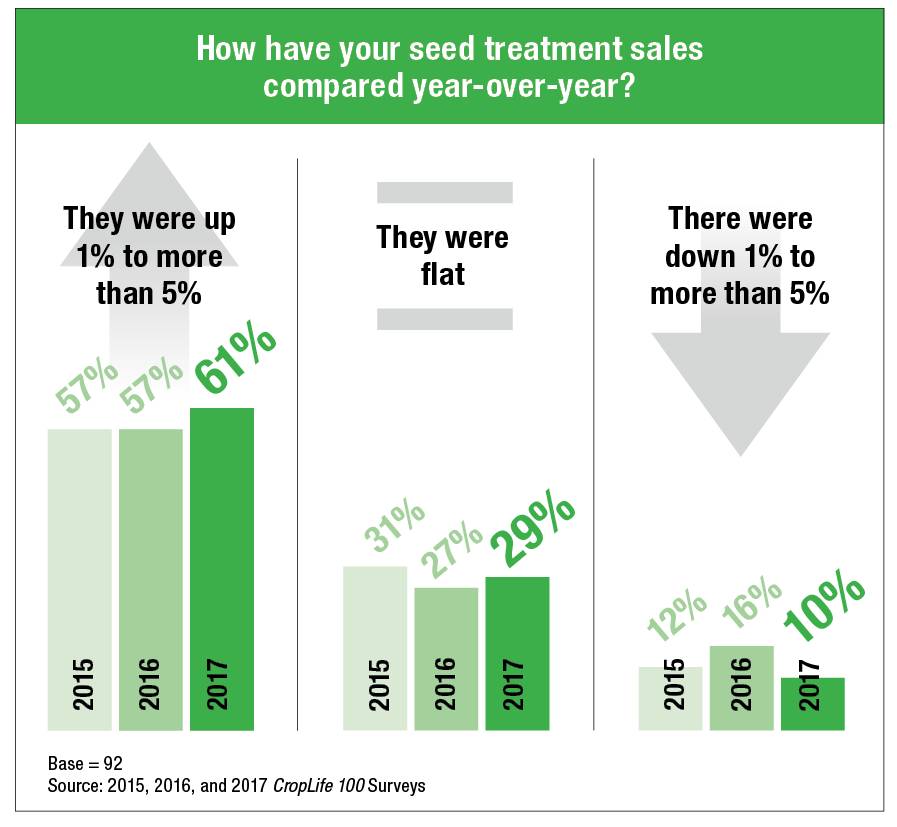 Yet, during the 2016 CropLife 100 survey, this percentage of ag retailers seeing their seed treatment sales grow didn't change — it remained at 57%. Even more troubling, 16% of respondents indicated that their revenues in this category actually declined between 1% and more than 5% for the year. Was seed treatment in for a downturn? This was the question going into the 2017 CropLife 100 survey.
Happily, the answer to this question appears to be a firm "no." Although all the final data is still be tabulated at presstime, early indications are that seed treatment sales have resumed their upward ways.
According to the 2017 CropLife 100 survey, 61% of respondents had their seed treatment sales grow between 1% and more than 5%. Better still, only 10% of respondents said that their sales in this category declined between 1% and more than 5%. The remaining 29% of CropLife 100 retailers saw no change in their seed treatment revenues for the year.
0
1
5
Seed Treatment Future Seems Promising