CARGILL >

CAMROSE, AB, CAN
WHAT THEY NEEDED
Cargill's Camrose facility is centrally located in Alberta, Canada, and serves a wide geographic area. The company was in need of a new, high efficiency, facility that could provide both wholesale straight goods and a wide/flexible range of blended products. A high priority was for the new facility's blending and wholesale systems to reduce or eliminate wait times for trucks, while producing consistent high-quality blended fertilizer products. Flexibility to accurately add any amount liquid micronutrient or N inhibitor into the dry blends through the HIM manifold system.
Cargill's new 38,500+ ton facility in Camrose, AB, Canada

825+ tph Rail and Truck Receiving

825+ tph tripper conveyor

4ton Model 4500 HIM 2.0 Precision Blender
WHAT WE DESIGNED
Sackett-Waconia designed a high-speed rail and truck receiving system to operate at 825-plus TPH and distribute inbound fertilizer materials into five flat storage bins via tripper conveyor. To meet the speed requirement for load out, we designed a 300-plus TPH blending tower system with a second tower with a cluster of four load out bins on load cells to eliminate the need for a scale for straight goods — both load out systems are fed by a centrally located in-floor reclaim system. The blending side consists of 300 tons of overhead storage divided into 12 bins (eight major, four micro) which feeds a series 4500 HIM 2.0 precision blender. Each ingredient receives a certified individual weight prior to blending to ensure accuracy and eliminate trucks having to scale out. Under the blender the tower has a three-plus batch surge hopper and re-elevate feature that allows individual materials to be pre-treated prior to blending. With the two lanes
available, the tower can feed approximately six 50-ton Super-B trucks per hour.
Marion Ag Service Named ARA Retailer of the Year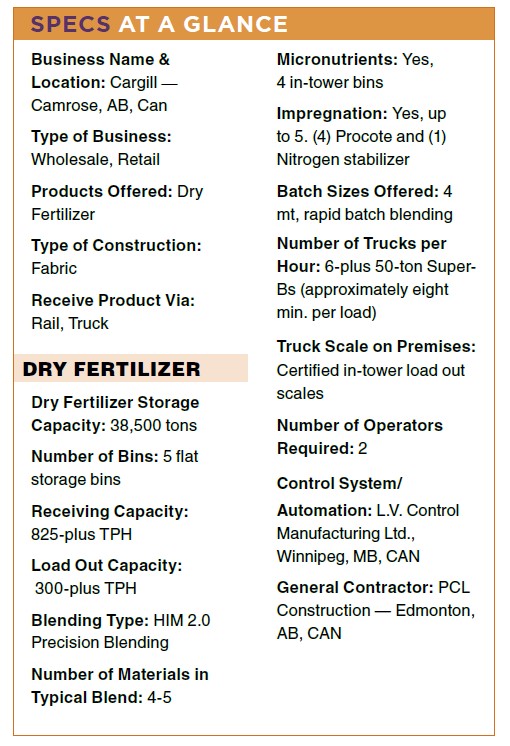 CONTACT US:
SACKETT-WACONIA
952-442-4450
[email protected]
sackettwaconia.com