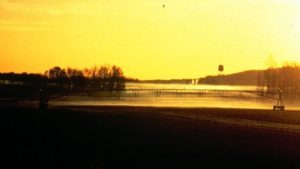 Commercial pilots and aviation officials have long focused on temperature inversions, because they typically signal the existence of a pocket of unstable air. Now professional applicators are going to have to understand this somewhat complex atmospheric weather condition and how it affects herbicide application.
"Undoubtedly, there will be instances in 2018 when commercial applicators will have to refuse to spray (dicamba) if prevailing conditions are in violation of the label," said University of Illinois weed science professor Aaron Hager in his March 2018 Dicamba Success Bulletin.
As Hager alludes to above, applicators need to press pause on a job when a temperature inversion is 'seen' in the field. The federal labels for all three auxin-based herbicides sprayed on soybeans and cotton call for temperature inversion testing in-field at boom height just prior to application, and if inversion conditions are present, the application cannot move forward. Sounds easy on paper, but more difficult to know in the field.
Here's a couple quick tips for what a temperature inversion is, and how to potentially identify one in-field, from experts at Purdue University:
It's important to remember that under clear to partly cloudy skies with low winds, a surface inversion is often present from late afternoon until mid-morning. Applicators should be especially careful and vigilantly look for signs of a temperature inversion at boom height at all times, but especially so when applying "near sunset and an hour or so after sunrise."

Something else to keep in mind is, when working fields "around bodies of water, bottom ground, in valleys, and in protected areas, low to the ground inversion layers will trap light weight droplets. If you spray in these conditions, above the inversion layers, the spray droplets will not all reach the target."
RELATED CONTENT: Many of these location-based mobile apps may be useful in ascertaining whether or not a temperature inversion is present in fields. It is important to remember that these apps can help predict the likelihood of inversions based on a combination of real-time data and models, but may not always be accurate for your given location.
Read more on the label requirements here:
Get top-of-mind reminders on the new compliance and regulatory rules on dicamba directly to your email inbox. Subscribe to CropLife's Daily Dicamba Update.