These Were the Most Popular Self-Propelled Sprayers Among Ag Retailers in 2021
In the annual race for market share among self-propelled sprayer manufacturers, there are dozens of participants. However, three companies — AGCO Corp., Case IH, and John Deere — tend to lead the pack no matter what. And in the 2021 run for ag retail dollars, this continued to be the case, with one company widening its lead somewhat over its two biggest rivals.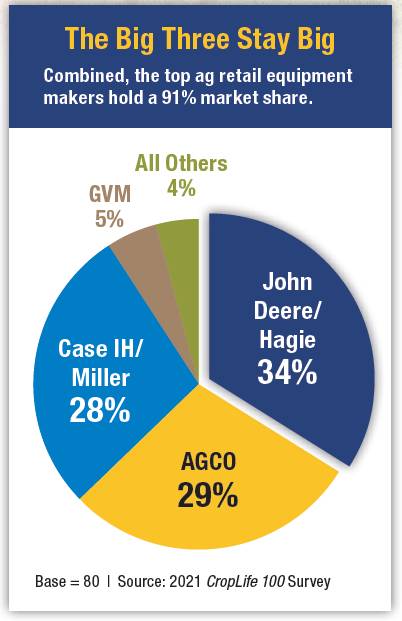 According to the 2021 CropLife 100 survey, 91% of the nation's top ag retailers featured self-propelled sprayers sporting AGCO yellow, Case IH/Miller red, or John Deere/Hagie green/yellow and gray in their custom application fleets. Overall, this represented a slight 1% decline from the market share held by the "Big Three" according to the 2020 survey results. Instead, said this year's survey respondents, their companies increasingly looked at "other manufacturers" for their sprayer needs. This included such companies as New Holland, Precision Tank, RBR Enterprise, and Equipment Technologies. In fact, this group improved its overall market share among sprayers for CropLife 100 ag retailers from only 1% in 2020 to 4% this year.
Looking more closely at the overall numbers, John Deere/Hagie units continue to be the most common in CropLife 100 applicator fleets, holding a 34% market share. This represented a 1% gain vs. the 2020 percentage for the company.
TFI: New Legislation Supports Adoption of Biostimulants by Farmers
In contrast, the next two companies among the "Big Three" — AGCO and Case IH/Miller — both lost 1% market share apiece between 2020 and 2021. According to the 2021 CropLife 100 survey, AGCO sprayers are now present in 29% of the nation's top ag retail facility yards, down from 30% in the 2020 survey. Likewise, Case IH/Miller sprayers now comprise 28% of ag retail fleets, down from 29% in 2020.
As for the missing 9% market share, this is made up sprayers sporting the GVM logo (5%) and "all other manufacturers" at 4%.
Looking Ahead to 2022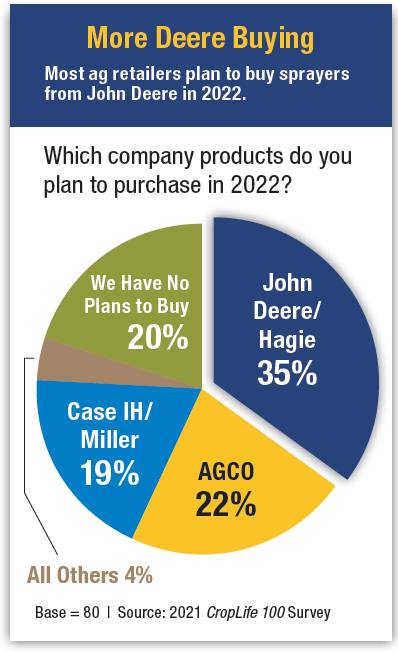 With the race for customers done for 2021, what does the future hold for the nation's self-propelled sprayer manufacturers? If the 2021 CropLife 100 survey is any guide, the market share gap between John Deere/Hagie and the rest of the field might widen a bit more.
When asked which companies the nation's top ag retailers were looking to buy sprayers from for the upcoming growing season, 35% reported that they had their eyes on John Deere and Hagie models. By comparison, the percentage of ag retailers considering AGCO sprayers for 2022 was 22%; for Case IH/Miller, it was 19%. Four percent said they were looking to several of the smaller sprayer manufacturers for their 2022 purchases.
But there is a warning sign for the 2022 growing season when it comes to self-propelled sprayers. Each year, the annual CropLife 100 survey allows respondents the option of telling us if their companies don't intend to buy any new sprayers for the upcoming season. In the 2020 survey, this percentage was 17%. However, for the 2021 survey, this number increased slightly, to 20%.
1
1
5
These Were the Most Popular Self-Propelled Sprayers Among Ag Retailers in 2021