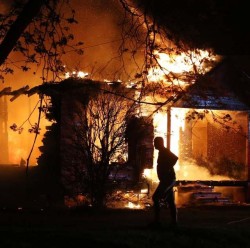 Rescue workers searched rubble early Thursday for survivors of a fertilizer plant explosion in a small Texas town that killed as many as 15 people and injured more than 160 others. The blast left the factory a smoldering ruin and leveled homes and businesses for blocks in every direction.
The explosion in downtown West, a small farming community about 20 miles north of Waco, shook the ground with the strength of a small earthquake and could be heard dozens of miles away. It sent flames shooting into the night sky and rained burning embers and debris down on shocked and frightened residents.
"They are still getting injured folks out and they are evacuating people from their homes," Waco police Sgt. William Patrick Swanton said early Thursday morning. He added later, "At some point this will turn into a recovery operation, but at this point, we are still in search and rescue."
Swanton said authorities believe that between five and 15 people were killed in the blast, but stressed that is an early estimate. There is no indication the blast was anything other than an industrial accident, he said.
Among those believed to be dead: Three to five volunteer firefighters and a single law enforcement officer who responded to a fire call at the West Fertilizer Co. shortly before the blast. They remained unaccounted for early Thursday morning.
The explosion that struck around 8 p.m. leveled a four-block area around the plant that a member of the city council, Al Vanek, said was "totally decimated." The toll included 50 to 75 houses, an apartment complex with about 50 units that one state police officer said was reduced to "a skeleton," a middle school and the West Rest Haven Nursing Home, from which first-responders evacuated 133 patients, some in wheelchairs.