Despite many challenges in the marketplace, fertilizer actually posted a positive year. According to statistics compiled in the annual CropLife 100 survey, the nation's top ag retailers saw their fertilizer revenue in 2019 improve 13%, from $12.2 billion in 2018 to $13.8 billion. The boost helped increase the fertilizer category market share of all crop inputs/services among ag retailers to 43% — the first market share gain the category has recorded in six years.
Given how difficult 2019 was for most of the agricultural marketplace, the strong performance of the fertilizer category was a bit surprising. The question now is whether crop nutrients can expect another good demand year in the 2020 growing season.
Of course, crop nutrient demand in any given growing year depends largely upon the crop mix. According to observers, approximately 44% of global fertilizer demand each year ties to the three major row crops — corn, soybeans, and wheat. Last year, because of poor weather and prevent plant acreage, all three crops saw overall acreage numbers decline from 2018.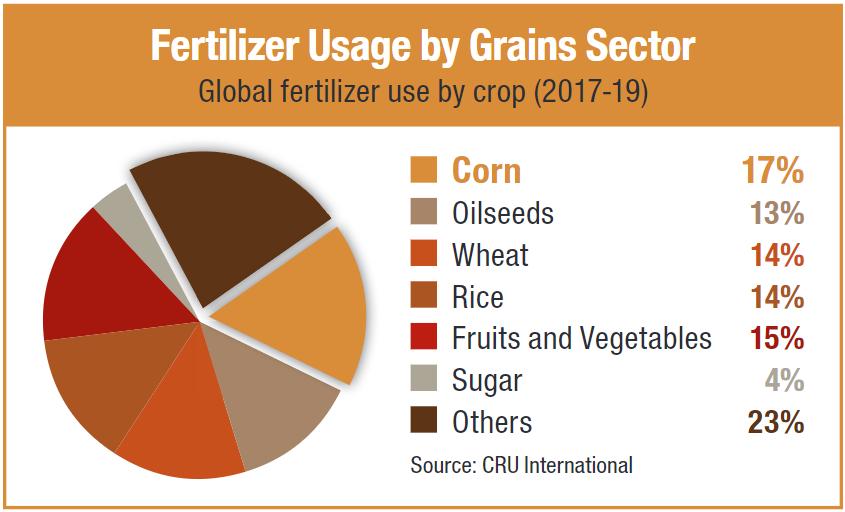 But according to Tom Scott, Global Director of Agribusiness Consulting at IHS Markit Agribusiness, two of the three crops should see upticks in acreage in 2020. Soybeans will improve from 76.4 million acres to 86.4 million acres. Corn should grow from 89.9 million acres in 2019 to 94.4 million acres. Only wheat will drop slightly, from 45.1 million acres to 44.6 million acres.
"With soft global demand growth, commodity prices are restrained, and so is overall inflation," Scott said while speaking at The Fertilizer Institute's annual Outlook Conference in Savannah, GA, in November. "Downside risks include escalating U.S.-China tensions, new trade conflicts, war in the Middle East, a hard Brexit, and rising debt levels."
Macronutrient Demand
Regarding individual macronutrient segments, most speakers at the Fertilizer Outlook meeting believe 2020 will be a rebound year in terms of tonnage. According to Yao Yao, Manager, Market Research at Nutrien, U.S. nitrogen demand should improve upon its 2019 performance, up from 11.9 million tons to between 12.2 million and 12.4 million tons. However, prices could be an issue because of supply tightness. "U.S. nitrogen demand is expected to rebound in the 2019-20 fertilizer year, particularly supported by strong spring demand," Yao said. "Expect improved demand and limited new capacity (to) lead to a tighter supply/demand balance in 2020 and over the medium term."
Potash could also exhibit this good news/bad news profile. Dr. Michael Rahm, Founder of Mike R. Rahm Consulting LLC, spelled out bearish and bullish scenarios for meeting attendees. "In the bearish scenario, global shipments of potash rebound less than expected in 2020 because of still-elevated channel inventories after record-shattering shipments in 2017-18 and cautious on-farm demand due to continued low crop prices and weak potash import currencies," Rahm said. "In the bullish scenario, global shipments will rebound sharply in 2020, driven by a major de-stocking of channel inventories in 2019 and improving agricultural fundamentals expected to lift crop prices and underpin solid on-farm use."
Overall, Rahm said, he believes that the odds of each scenario playing out during 2020 favors the bullish one, 60% to 40%.
In the end, Rajiv Ram, Senior Analyst, Agriculture and Fertilizer Demand at CRU International Ltd., said overall U.S. macronutrient demand in 2020 should improve for all segments, including ammonia, urea, and DAP/MAP, up from 31 million tons in 2019 to 34 million tons. "Strong rebound in 2020 fertilizer demand (will be) underpinned by (the) return of the U.S.," said Ram. "But the 2020 global risks include trade wars, economic downturns, and weather issues."