EXPERT SUGGEST – USE MULTIPLE EFFECTIVE HERBICIDE MODES OF ACTION
Dr. Pat Tranel, Associate Head, Crop Sciences, University of Illinois continues. "If you're hitting that weed with two different effective herbicides, you're killing it twice.  You're greatly reducing the chance that you're going to select for resistant population in your field.  So, it really just comes down to that idea of getting as many effective modes of actions out there in your field as you can."
Weeds such as Palmer Amaranth and Common Waterhemp have shown resistance to 8 different herbicide groups (Group 2, 3, 4, 5, 9, 14, 15, and 27) in the USA.  Recently, Arkansas scientists verified glufosinate-resistant Palmer amaranth populations in two of the northeastern counties of the state, adding Group 10 to the resistance list (for Palmer).
The Weed Science Society of America (WSSA), recommends a multistep approach to managing the growing issue of resistant weeds.
Understand the biology of the weeds present
Use a diversified approach toward weed management and focus on reducing number of weeds in seedbank.
Plant into weed-free fields and keep as weed-free as possible.
Plant weed-free crop seed.
Scout fields regularly.
Use multiple effective herbicide modes of action (MOAs).
Apply the labeled herbicide rate at recommended weed sizes.
Emphasize cultural practices that suppress weeds.
Use mechanical and biological management practices where appropriate.
Prevent field-to-field and within-field movement of seed.
Manage weed seed at harvest and after harvest to prevent buildup of weed seedbank.
Prevent an influx of weeds into the field by managing field borders.
Resource https://iwilltakeaction.com/uploads/HR_BMPs.pdf
A TOUGH MODE OF ACTION FOR YOUR INTEGRATED WEED MANAGEMENT PROGRAM
Belchim Crop Protection USA wholeheartedly supports WSSA and the BMP's above. For the past several years, Belchim has coordinated with key universities (experts in the control and biology of weeds), across the US corn belt to evaluate TOUGH® 5EC, with the active ingredient Pyridate, in numerous research trials. Results have shown significant increase in weed control when TOUGH® 5EC is included in the tank mix.  Increased weed control of 5% to as much as 29% has been observed; especially when herbicide resistance to other classes of chemistry are present in the weed population- thereby REDUCING THE SEEDBANK!
TOUGH® 5EC PHOTOSYNTHESIS II INHIBITOR
Pyridate works by blocking a weed's photosystem II process, triggering the release of toxic forms of oxygen and causing rapid cell wall degradation.  Pyridate is a highly effective mode of action in corn and shows increased levels of weed control in tank-mix combinations.
TOUGH® 5EC SYNERGIZES HPPD's
For over a decade, weed resistance (Palmer Amaranth and Common Waterhemp) to HPPD inhibitors (Group 27) has been on the rise.  TOUGH® 5EC is an ideal tank mix partner, as a resistance management tool, with HPPD inhibitors.  TOUGH® 5EC herbicide puts a charge in your post emergence weed control program with rapid and complete control of your broadleaf weeds including resistant Common Waterhemp, Palmer, Pigweed and Giant Ragweed. Field research has shown adding TOUGH® 5EC to the mix, improves performance; promoting faster weed death and overcoming HPPD resistance. (Figure 1)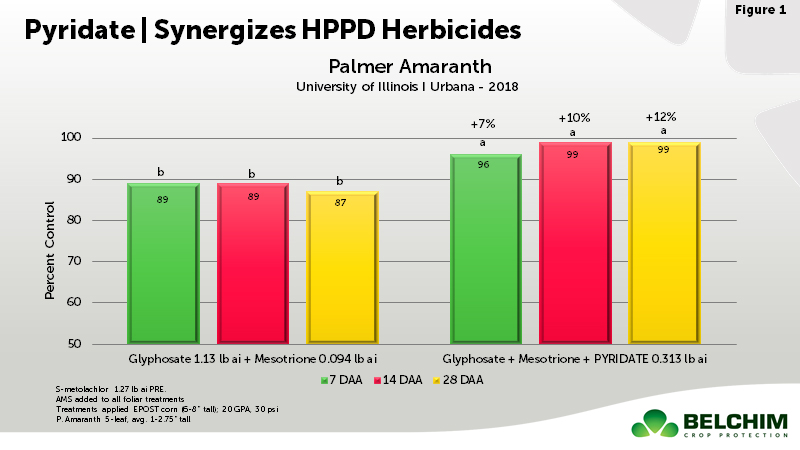 TOUGH® 5EC ENHANCES ATRAZINE
TOUGH® 5EC is a great product to combine with PSII's that interact with the weed differently, such as Atrazine. Pyridate has fast foliar absorption to get to the target site but also degrades rapidly in the soil to prevent carry over concerns.  Atrazine has slow leaf absorption and primarily works through root absorption which requires moisture.  Atrazine has residual effects for weed control but can result in carry over; maximize the PSII class with this combination. (Figure 2)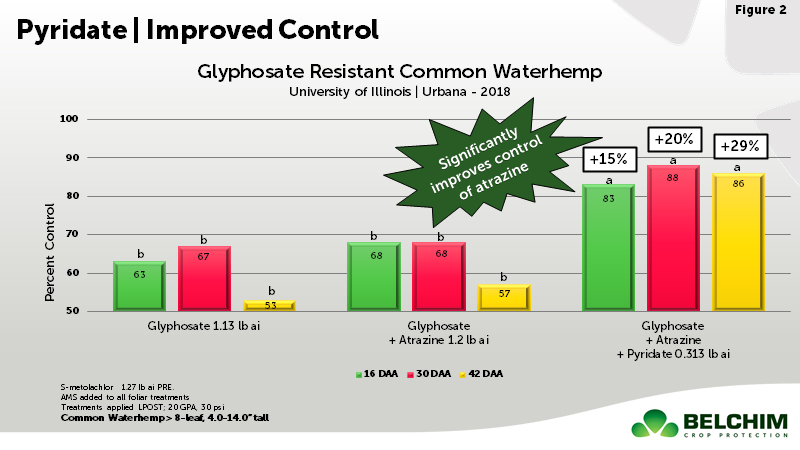 THE WINNING COMBINATION
HPPD Herbicides and Atrazine have been combined for years.  Why add TOUGH® 5EC to the mix?
Plants are resistant to HPPD herbicides through a metabolic breakdown of the HPPD.  Within 24 hours of application, 80% of the HPPD can be degraded in a resistant weed population. The same mechanism that breaks down the HPPD also breaks down Atrazine.  In just two hours, 50% of Atrazine can be degraded, and 80% within 10-12 hours.  TOUGH® 5EC is primarily absorbed through the leaves, so adding TOUGH® 5EC to the mix helps overcome the resistance because now the HPPD and Atrazine enter and hit the target site very fast and are not broken down in HPPD resistant weeds.  This winning combination offers a faster, and more complete kill. (Figure 3)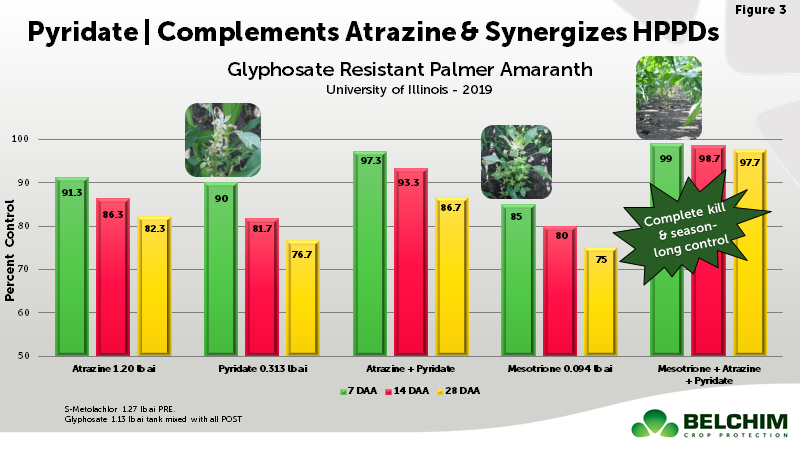 ---