As most of the people who do business in agriculture will tell you, the seed is at the heart of virtually every agronomic move made by the grower. "Almost every decision a farmer makes each year starts with his seed selection," said Sano Shimoda, President of BioScience Securities, Inc., at a recent industry event. "Everything else he purchases or uses in that growing season follows this choice."
Naturally, with this being the case, protecting the seed from harm is of paramount importance to ag retailers and their grower-customers. And for several years, treating each seed before it is delivered to the field with some protective or nutrient coating has been the norm. In fact, according to statistics gathered during CropLife magazine's recent seed care survey, better than 90% of soybean seeds are treated prior to being delivered into a grower's hands. Cereal and corn seeds lag behind this percentage significantly, but still top more than 40% and 20% treated, respectively.
"There's definitely been more interest from growers in having their seeds treated than we've ever seen in the past few years," said Amy Asmus, Co-Owner of Asmus Farm Supply, during a recent visit by CropLife to the company's facility in Rake, IA. "I think most of them realize the potential yield benefits you can get from protecting your seed before you ever put it in the ground."
This echoes a statement that Kevin Adams, SeedGrowth Strategic Business Lead for Bayer CropScience, made to CropLife during a 2015 interview. "When times are tight, growers say 'do I really go for corn seed treatment protection or a lower-level protection?" said Adams. "But with a five-bushel yield advantage even at today's commodity prices, that's over $20 an acre gross return. That is a great return on investment, and there is a lot of consistency that that product brings to the field."
The Impact of Today's Prices
Since Adams made this statement, however, the commodity price situation for growers has only grown worse. According to the latest crop prices, corn is looking at a per bushel price of less than $3 by the end of 2016. Likewise, soybeans are trading for less than $9 per bushel. Furthermore, USDA estimates are predicting that the 2016 harvests for both crops will be stronger than normal, which will undoubtedly continue to put downward pressure on crop prices if usage demand numbers remain where they currently stand today.
With these kinds of numbers in the marketplace, USDA estimates predict grower incomes will fall to less than $60 billion for 2016 — off nearly 50% from the end-of-2014 figures of more than $100 billion. Many of the companies that do business in the agricultural industry such as fertilizer suppliers, equipment makers, and crop protection product producers have already felt the pinch in their annual sales as growers look to pair back on their spending across the board.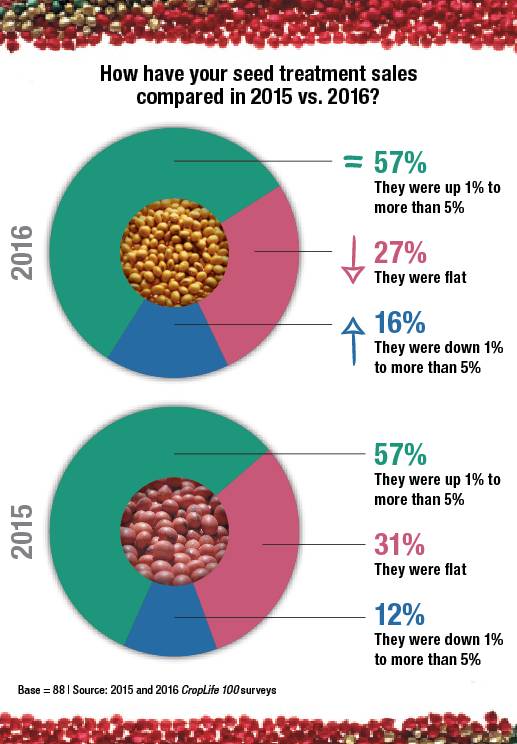 But is seed treatment feeling this pullback as well? The numbers say yes, but not significantly. In fact, according to preliminary numbers from CropLife's annual survey of the nation's top ag retailers — the CropLife 100 — the percentage of companies seeing between 1% and more than 5% growth in their seed treatment revenues for 2016 held steady at 57%. Another 27% had flat sales figures for seed treatment between 2015 and 2016. In 2015, this number stood at 31%.
If there is a note of caution for seed treatment fortunes in 2016, however, it comes from the ag retailers that saw their sales drop in this sector between 1% and more than 5%. In 2015, this percentage stood at only 12%. But according to statistics from the 2016 surveys tabulated thus far, the figure for this year will be closer to 16%.
Fortunately, this slight pullback in seed treatment revenues for ag retailers in 2016 hasn't dampened enthusiasm for marketplace innovations. Throughout the year, marketers were busy introducing new products for the seed treatment industry. This included such entries as Lumisena fungicide seed treatment from DuPont Crop Protection for protection against Phytophthora and downy mildew in soybean and sunflower seeds and Commence for Corn from Agnition.
And this promises to be just the start of a potential whole new direction for the entire seed treatment marketplace, according to Justin Clark, Technical Marketing Specialist at BASF. "You are going to see some really innovative things that you haven't seen from basic manufacturers, with biological products in what they do in combination with chemical active ingredients," said Clark in a late fall 2015 interview with CropLife. "As we start to scratch the surface about what the different components on the seed can do for us, it's important to take a holistic, on-seed approach, and look at benefits you are gaining from each individual component, because there are so many things going on with seed these days."
0
1
5
The Continuing Importance Of Seed Care