Based upon what fertilizer industry watchers believe, 2018 could turn out to be a decent growth year for the major macornutrient segments of nitrogen, phosphates, and potash. However, most of these market gains are projected to take place outside of the U.S.
It's no secret that the past few years have been very unkind for the fertilizer category across America. In fact, according to statistics from the 2017 CropLife 100 survey, fertilizer revenues for the nation's largest ag retailers have fallen by more than $2 billion since the end of 2015. And while a good portion of this sales drop can be attributed to overall declining fertilizer prices, CropLife 100 respondents nonetheless have indicated that marketing certain macronutrients to their grower-customers has grown increasingly difficult in recent years. For example, when it comes to nitrogen-based fertilizers, slightly more than half (51%) of CropLife 100 retailers said that marketing these products to grower-customers in 2017 was "very challenging" or "more challenging than normal." Luckily, the percentages for phosphorus and potash were slightly better, with 71% of CropLife 100 respondents saying potash marketing to grower-customers was "not unusually challenging" and 79% indicating this was the case with phosphates.
The Crop Mix
Normally, the crop mix within the U.S. for a given growing season can help to determine how fertilizer fortunes will fare in the coming year. However, it looks as if the four major row crops in the country — corn, soybeans, wheat, and cotton — will all have flat to slightly down acreage numbers for the year, with one exception.
According to early projections, corn plantings in the U.S. will remain flat in 2018, with 90.5 million acres being planted. Sharply lower exports will be offset by modest increases in domestic use, say experts. Revenue-wise, corn prices should range between $2.95 per bushel if yields are high to $4.10 per bushel if yields are low for 2018.
As for soybeans, acreage here is expected to drop back slightly from 2017, with 89 million acres being planted this year vs. 90.2 million last year. Part of the reason for this, say market watchers, is that soybean yields have improved significantly in the past few years, with pod weights in 2017 being the second highest on record. Money-wise, soybean prices in 2018 should range between $8.75 and $10.50 per bushel.
For wheat, 2018 also looks to be a pullback year. According to projections, U.S. growers will plant 46 million acres of wheat, down from 50.1 million in 2017. Prices for this crop should average approximately $4.65 per bushel for the year.
Among the Big Four row crops, cotton looks to have the best 2018. In this segment, forecasts from USDA and other market watchers say 12.6 million acres of cotton will be planted, up from just over 10 million acres in 2017.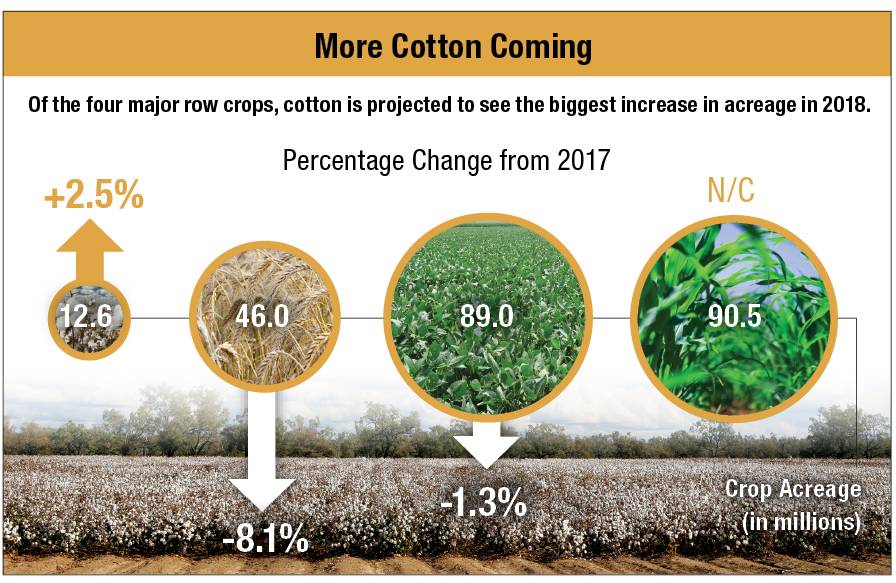 Longer range, however, the crop mix may be in for a significant change. According to USDA forecasts, growers will plant 91 million acres of soybeans in 2019 vs. 90 million acres of corn. Within five years, by 2022, the difference between these two crops will be even larger — 92 million acres for soybeans vs. 89.5 million for corn. Considering that corn tends to be a more fertilizer-intensive crop than soybeans, these projections don't bode well for certain macronutrient segments going forward.
The Nitrogen Outlook
What do the experts think? Accord­ing to several speakers from the 2017 The Fertilizer Institute Outlook Conference last November, most of the fertilizer industry's growth over the next few years will indeed come from outside the U.S. In fact, according to Luke Hutson, Head of Urea and Nitrates Analysis for Fertecon, the majority of urea growth in 2017 and on into 2018 will come from countries such as India and Turkey.
"In India, farmers are benefitting from current low urea prices, so there's no incentive to invest in domestic production," said Hutson. "In Turkey, there has been a surge in urea imports since the country imposed a nitrates movement ban in 2016."
Where trends like this could aid the U.S. fertilizer market comes on the supply side in the area of urea ammonium nitrates (UAN). At the moment, the U.S. currently imports more UAN than it exports by an almost two-to-one margin. However, said Hutson, the U.S. is projected to have UAN production capacity of more than 19 million tons by 2020, up from a little over 15 million tons today. This could have a profound impact on the country's place in the UAN supply market globally.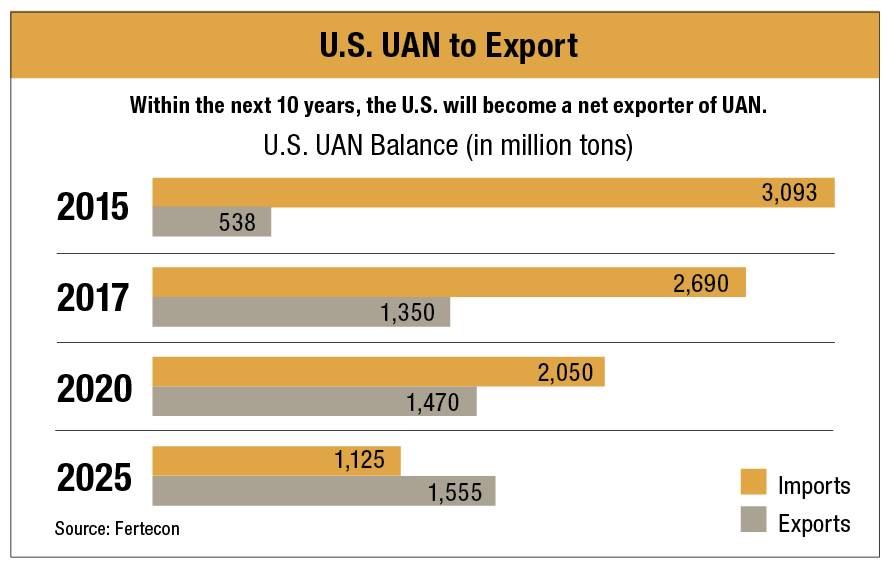 "In the U.S., UAN imports are projected to decline, while exports are projected to reach around 1.5 million tons by 2020," he said. "The latest projections suggest the U.S. will become a net exporter of UAN between 2020 and 2025, but it could be sooner than this."
Phosphates, Potash Outlook
When it comes to phosphates, the forecast is for the overall market to achieve 3% annual growth through 2022. According to Juan von Gernet, Head of Marketing – Europe for Phosagro, much of this demand will come from Africa and Latin America. "The growth potential in Latin America is huge," said von Gernet. "There, there is lots of pastureland that is being converted to cropland. And much of this has never been fertilized. In Africa, there are 27 countries where we are projecting their annual phosphates growth to be 5% annually for the next five years."
In North America, the aftereffects of Hurricane Irma has caused some U.S. phosphate producers to idle their plants for the time being. However, according to von Gernet, these idles could last longer than currently projected.
"Capacity expansion may now be starting to bite," he said. "The relentless expansion of capacity may now be forcing a rebalancing."
As for potash, Josh Paula, Market & Strategic Analysis for The Mosaic Co., the overall marketplace is also looking up. "Prices have trended upward since mid-2016 but they remain below prior peaks," said Paula. "Demand is projected to grow 3% per year during the next five years."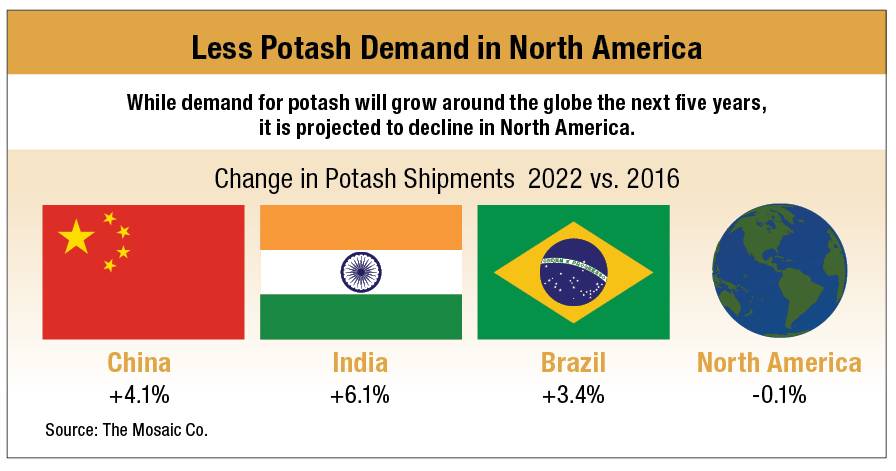 According to Paula, this expected recovery is being driven by two key factors: North American producers having optimized their operations following the completion of several brownfield expansion projects and key export currencies stabilizing.
But as will other macronutrients, most of the market's growth during these time frame will come from countries such as Brazil and China as they increase their crop offerings. As for North America, the picture is a flat one.
"We view North America as largely in a steady state for potash consumption," said Paula. "We predict 9 to 9.5 million tons of potash usage through 2022."
0
1
5
Fertilizer Outlook 2018: A Bright Future . . . But Not in North America