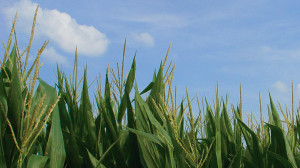 Land prices in the Corn Belt continued to surge in the third quarter, even as a severe drought battered crops. Farmland values in the heart of corn-growing country, including Illinois and Iowa, jumped 13% in the three months through September 30 compared with a year earlier, according to a report by the Federal Reserve Bank of Chicago. Prices of nonirrigated farmland in a seven-state stretch of the Great Plains soared 24% from a year ago, a separate report from the Federal Reserve Bank of Kansas City said.
Although the increases in prices slipped slightly from the year-over-year growth seen in the second quarter, the reports confirmed anecdotal evidence that demand for farmland has scarcely been dented by the worst U.S. drought in decades.
High prices for crops, including corn and soybeans, have mitigated the drought's financial impact on farmers. Also, many growers are protected against losses in production by crop insurance. WSJ.com reports that net U.S. farm income is expected to rise to $122.2 billion this year.
But some agricultural experts say they are concerned that farmland values are in danger of turning into a bubble that is prone to burst if crop prices plunge or interest rates rise.
The Federal Reserve, by pushing interest rates down and buying large amounts of U.S. Treasurys and mortgage-backed bonds, has helped boost the prices of other assets, including farmland. Both inside and outside the Fed, there is concern that the central bank is creating a bubble — and farmland is mentioned most often as one possibility.
Thursday's reports showed the average cost of farmland in Iowa, the state that produces the most corn, rose 18% in the latest quarter, while Illinois farmland was up 15%. Gains were even greater in Nebraska, where nonirrigated farmland values rose 30%.
The Chicago Fed said most bankers expect demand for farmland to continue to climb for the next six months.