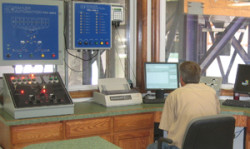 Retailers are busy people, and the easier their equipment makes the job for them, the more time they'll have to spend on improving their business and their bottom line. "Customers are realizing that gathering information as part of an everyday workflow and using technology — such as hand held devices used by the applicator drivers to track activity at the time of the activity — is providing efficiencies," says
e-markets
' director of marketing Marti Kirsch, "and in the overall process, these customers see fewer data entry errors, less lost or misplaced paperwork, and faster invoicing turnarounds due to the data flow through the systems."
Proficient Facilities
Increasing flow, whether it's data or fertilizer, is vital to the success of the blending facility. "Fertilizer plants today want blending systems that allow their business to run with ease," says Tracy Buresh of Junge Control, Inc. "Our Round the Clock Assistant has a name that tells of its ease. It allows truck drivers to pull into a plant 24 hours a day, seven days a week. The truck driver pulls up to the plant and walks up to a touch screen. The driver enters a password or an employee ID, or imports a bill of lading. Next, a blending option is entered. The driver can choose from straight, simple, or complex blends. The truck is then ready to be filled with the products the truck driver chose. A ticket can be printed for a record, the transaction will be interfaced with accounting, and reports can be made. Not only is it easy for the driver," explains Buresh, "it is a time-saver for those in accounting."
Kahler Automation Corp.'s Vice President of Marketing, Ag Chemical and Fertilizer Products Division Steve Swift sees the desire from retailers to use "self serve" software. "Whether retailers want liquid fertilizers, chemicals, or bulk seed, the self-serve concept is rapidly increasing," says Swift. "The customer identifies himself and can select the pre-authorized order he wishes to pick up. The order is dispensed, and the bill is sent to the customer. The 'help yourself' concept reduces labor during the work day, as well as after hours when no staff is present.
"As plants get larger," Swift continues, "it has become very important to use software as an efficiency tool. Dealers are doing a large business volume in a very short period each season. These tools allow this to happen without increasing in-plant labor costs."
Today's blender software is expected not only to handle precision product mixing and output, but also to manage such important aspects of the business as inventory, accounting, and invoicing, explains Swift. "Initially, our blending software was designed to work with liquid or dry mixers, bulk seed systems, and mass flow meters and 'on-the-fly' in-line blending, to make accurate recipes for the grower," he says. "The goal was to increase efficiencies, reduce labor, use accurate measuring equipment such as scales or mass flow meters, and to have documentation to prove the analysis of the blend. Now dealers are taking this a step farther," Swift says. "Agronomy programs are now available to send orders down to the mix plant facility, based on the customer's needs, all on networked computers. These orders are dispensed as multiple loads, and actual product used in each blend is recorded and sent back to the program for billing. This reduces labor as there is no need to hand-type invoices. Inventories and product usage reports also let the dealer know where it stands on a daily basis."
"With the increasing costs of fuel and equipment operations, maximum efficiency is essential for today's fertilizer plants," says Judy Warf, director of marketing communications for Software Solutions Integrated (SSI). "Dealers are looking for ways to meet customer demand and expand into larger territories through centralized blend operations and logistics management."
Increased software capabilities also must fill the needs of growing businesses. "As fertilizer operations become larger through ac
quisitions and mergers, their software needs also continue to grow," says Warf. "Organizations are looking for software that will both accommodate the diversity of blending equipment as well as the ability to handle all aspects of their business from inventory management to invoicing."
Changes Require Growth
While the industry's fertilizer needs are never predictable, recent changes have required adroit flexibility on the part of blenders. A record number of growers switched to corn in 2007 — a crop which requires more nutrients than most others. In The Fertilizer Institute's recent nationwide survey of 2,000 growers representing 2.5 million acres of cropland, 75% of respondents grew either a corn-soybean rotation or a corn-soybean-wheat rotation. The changing needs of these fields require blenders that can provide a range of product mixes at any time.
Junge is extremely adaptable, says Buresh, with "blending systems for unplanned and planned transactions." These "can adjust for those days when the schedule of the day becomes very unscheduled. This eliminates downtime and loss of money for the business!"
Likewise, Junge Control has reacted to the growth in corn acres by expanding into the biofuel industry with the Fuel Manager and Bio Blender systems. "Bulk plants that want to mix any fuel and inject additives use the Fuel Manager," explains Buresh. "Truck stops, off-terminal sites, and bulk plants that want to accurately mix two products use the Bio Blender. Both systems have easy-to-use touch screens, flexible ID systems to identify the loader, time and date stamps for the time the transaction occurred, and inventory records. Companies will use the products for profitable bio-blending and to earn tax and blender credits."
Swift says: "Software has been a very important tool for the new mega terminals. Retailers and wholesalers are getting together to build large dry, liquid, and seed facilities in strategic geographical areas. Software can help manage orders, inventories, and the actual loading of the product. Web-based software allows multiple dealers — even competitors — to share a facility by sending and receiving information to the facility privately. This has increased efficiencies by reducing each dealer's plant investment and reducing transportation costs as many orders go directly to the field."
Additionally, fertilizer prices have continued to increase, often over the course of the growing season. This makes software that can keep up with the price changes — and readily adjust to the new rates — a necessity for a dependable business. Kirsch of e-markets says: "Having the ability to pre-contract or hedge and track this information in the core accounting system has gained in importance due to the volatility in fertilizer pricing."
The blender facility must also be able to keep track of returns to improve future business, says Kirsch: "In handling returns, customers are asking for the ability to track a reason for the return. They use this information to make better buying decisions in the upcoming season. Customers also need to be able to credit the returned inventory correctly — purchase price, program charges, etc. — with information that is contained in the system, eliminating the need for manual research."
New Products and Possibilities
With customers asking for inventory monitoring, accounting, invoicing, and automation software, software creators must constantly deliver new features. SSI is keeping up with the demand: "In response to the need for better logistics management, SSI will be releasing a new dispatch module later this year to be used in conjunction with their Agvance Blending and Accounting modules," says Warf about new software that will take the product line's abilities out of the facility itself: "The new tool is designed to assist dispatchers in the scheduling and routing of applications in the most efficient manner by eliminating unnecessary or 'empty' miles. Dispatchers will have vision of all pending work orders in a grid and on a map of their trade area. There is also an option to see a real-time view of vehicles in the field so additions or changes to the daily delivery schedule can be made with ease."
Junge Control is keeping up with the changes, says Buresh, "by segmenting our markets … into two main product lines." The first is J.O.B.S. — Junge Out of Box Systems. "The products within this line are for the do-it-yourselfer. The customer will take this kit to their business, set it up, and use its preset standard programs."
The second product line is the Journey Series — "custom blending systems that are developed specifically for the customer," Buresh explains. "The customer discusses with the Junge experts what systems will work best for his business." Junge Control then "retrofit[s] the system for the business. Service and training will be provided for the company."
Swift recognizes the new opportunities software offers dealerships, such as analyzing inventories: "Dealers are now using 'in bound' measuring equipment to be sure all product has been delivered to their storage facility. Belt scales for dry, and scales or flow meters for liquid, measure the product — both to verify that the dealer received what he ordered, and to accurately increase inventory levels in his computer software system. Tank level monitors are also an excellent tool for liquid," says Swift, "to verify daily status, and as a method for leak detection or possible theft control."
New software will meet the changing needs of the industry for more efficient blending, customer service, and business improvements. Says Kirsch: "The new developments have the ability to share appropriate information seamlessly, without giving up information that is a business or competitive advantage to an organization."