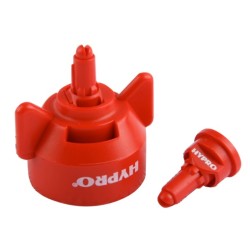 Hypro GuardianAIR Twin, Hypro
From Hypro, the GuardianAIR Twin is best-suited for high-coverage application of post-emerge plant protection with insecticides and fungicides. Its spray pattern provides an air-filled medium droplet and high droplet count per gallon, while utilizing a 30 degree offset twin spray pattern for accurate and effective contact and systemic applications.
Hypro Ultra Lo-Drift, Hypro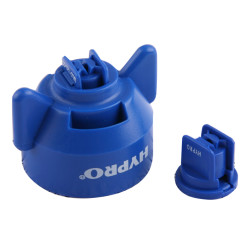 This nozzle is ideal for pre-emerge and post-emerge application of herbicides. Its air induction design produces large air-centered droplets and limits the creation of small, drift prone, droplets to provide superior drift control without sacrificing spray coverage, says the company.
Turbo TwinJet Twin Flat Spray Tip, TeeJet Technologies

The Turbo TwinJet (TTJ60) is a twin flat spray tip that produces mid-range droplet sizes for improved canopy penetration and coverage in row-crops. It is ideal for application of both fungicides and contact herbicides (such as glufosinate) where thorough coverage is critical, says the company. It features a compact design, wide operating pressure and excellent spray pattern uniformity.
Turbo TeeJet Induction (TTI) Nozzle, TeeJet Technologies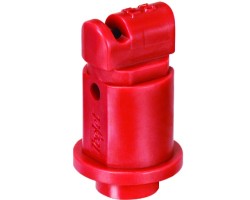 The Turbo TeeJet Induction (TTI) is an air induction flat spray tip that offers a wide operating pressure range of 15 to 100 psi while producing Ultra Coarse (UC) and Extremely Coarse (XC) droplets. This tip is ideal for minimizing off-target movement of a wide range of chemicals including glyphosate, 2,4-D and dicamba, says the company.
AI3070 Air Induction Dual Flat Spray Tip, TeeJet Technologies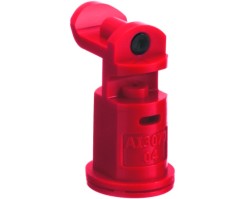 The AI3070 air induction asymmetric dual flat spray tip utilizes a patented design and unique spray pattern arrangement to optimize spray coverage on the grain head of cereal crops.  This provides for improved disease control when applying fungicides. Air induction technology helps to reduce drift while still offering good surface coverage, says the company.
Hypro Guardian AIR, Hypro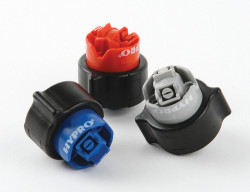 The Guardian AIR is designed for on-target application of post-emerge herbicides and plant health protection products. It offers an air-filled medium droplet, angled spray delivery and an industry-leading droplet count (per gallon) amongst air inducted spray tips for superior coverage and versatility, according to the company.
Floater & Sprayer Nozzles, The CP Products Co.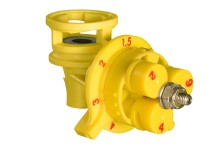 CP Products' nozzles for floaters and sprayers feature patented designs. They're unique to the industry, says the company, because each version has multiple orifices and deflector tips which make possible quick, "in the field" changes in both rates and/or droplet sizes. All have turbo chambers and are designed for drift control with even droplet spectra. All machined and molded components are produced in the Arizona community where the company is located, and all other components are made in the U.S. All nozzle parts are replaceable. Available at the company's Website are helpful interactive spreadsheets for calculating settings.
FD Liquid Fertilizing Nozzles, Lechler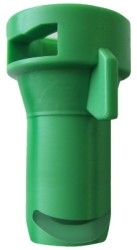 Now available in 03, 04, 05, 06, 08, 10, 15 and 20 sizes, the one-piece FD nozzle is designed for liquid fertilizer application. It yields coarse to extremely coarse droplets across its recommended pressure range of 20 to 60 psi. The nozzle creates a 130 degree flood pattern and is made of POM with a removable orifice for cleaning.
IDK Compact Venturi Air Induction Nozzles, Lechler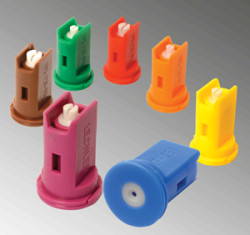 Now available in 067, 01, 015, 02, 03, 04, 05 and 06 sizes, IDK air induction nozzles offer very low drift potential with coarse to medium droplets. They operate at lower relative pressures than full length air induction nozzles — and are ideal for use with Lechler's TwinSprayCap for multiple spray angle coverage. The nozzles are also available in an acid-resistant material for cotton defoliation.
AirMix Low Pressure Venturi Nozzle, Greenleaf Technologies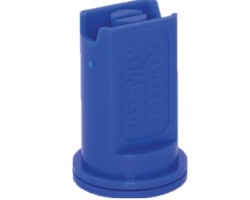 Since 2001, the low pressure AirMix nozzle has been the most economical air injection nozzle for replacing conventional flat fan nozzles without having to adjust pressure or nozzle size, says Greenleaf. The AirMix offers a generally medium to coarse droplet spectrum for a wide variety of pesticide applications.
COMBO-RATE Body System, Wilger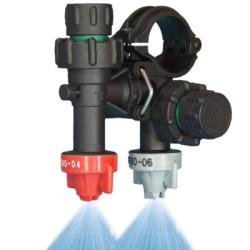 The patented COMBO-RATE modular body systems allow users to combine different types of tips for tank mixes, fungicides, insecticides and defoliants. The tip in one body with a smaller droplet size provides good coverage in the upper canopy. A tip in another body can produce larger droplet sizes that penetrate through the canopy to the lower portions of the plants and ground. The larger droplets also improve drift control, says the company.
TurboDrop Variable-Rate 05 Nozzle, Greenleaf Technologies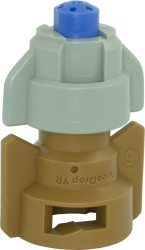 This variable-rate nozzle is designed to operate between 20 and 140 psi, with a flow rate from approximately 0.5 to 1.9 gpm. A six-hole streaming fertilizer version (TDVRF05) is available for applying liquid fertilizer pre-plant or in-crop at a 3.5 times variable rate. A HoseBarb version (TDVRHB05) allows for side-dressing nitrogen with a 3.5 times variable rate behind a coulter. A DualFan version (TWVR05) is also available for general pesticide applications.
TurboDrop Asymmetric DualFan Nozzle "D" Version, Greenleaf Technologies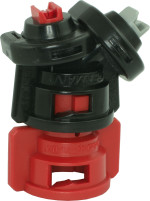 The TurboDrop DualFan has proven effective for coverage critical contact chemicals like Bayer CropScience's Liberty herbicide over the past two years. Now Greenleaf Technologies introduces a "D" version (Drift control) with a slightly coarser droplet spectrum with dicamba, 2,4-D and other drift sensitive herbicides in mind. Like the TADF nozzle, the TADF-D can also spray four times in one pass, maximizing coverage while minimizing drift.