UPDATED: March 25, 2013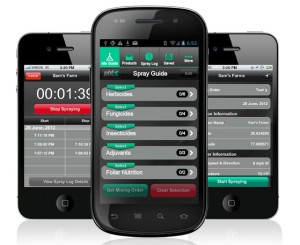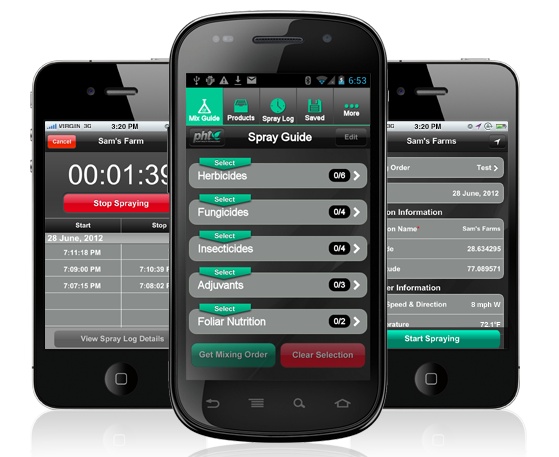 In case you're keeping score at home, the Apple App store recently surpassed 35 billion downloads, while the Google Play Store (Android market) just crossed the 25 billion download milestone. No wonder kids know how to play Angry Birds before they learn how to tie their shoes. It's a numbers game.
Not only are mobile apps soaring in popularity among U.S. consumers, they are becoming more mainstream in agriculture. Consider nearly one in four ag retailers are using ag-related apps "several times a week," according to a 2012 CropLife Media Group Ag Retailer Mobile Usage survey. The app is now an essential tool in a mobile ag professional's arsenal.
So, what are the latest agriculture apps for the Android, iPhone, iPad and other mobile devices in 2013? I have attempted to answer this question – just as I did with my lists in 2011 and early 2012 – by researching the best new apps released within the past nine months:
1. Simplot Spray Guide. Developed in cooperation with Precision Laboratories and Simplot, the Spray Guide app quickly and accurately identifies the ideal mixing order of crop protection products. The app streamlines the process of mixing, spraying and record keeping. Users can instantly document and share data on products sprayed, location and weather conditions. (Android, iPhone, iPad)
2. Mobile Farm Manager. This app from John Deere gives producers easier access to important farm and field information through their mobile device. The app also connects to customers' Apex farm management software. Features include field maps, historical reports, GPS tracking, field navigation and soil sampling grids. (iPhone, iPad)
3. SpraySelect. The TeeJet Technologies SpraySelect app enables users to quickly and easily choose the proper spray tip for a given application. Enter speed, tip spacing and target rate, then select the droplet size category and a list of recommended tips is provided. Specific gravity input is also included for use when applying liquid fertilizers. (Android, iPhone, iPad)
4. Connected Farm. This app from Trimble allows farmers and agronomists to map field boundaries, enter scouting attributes for pests (weeds, insects, diseases), take geo-referenced photos and manage collected data online through Trimble's Connected Farm. The app is flexible to use with any crop, including corn, wheat, soybeans and cotton. (Android, iPhone, iPad)
5. AgStudio MAP. MapShots AgStudio Mobile Application Platform (MAP) is optimized for mapping field boundaries and recording data associated with precision ag soil sampling programs. Designed to seamlessly integrate with MapShots AgStudio precision agronomy application, the app wirelessly transmits soil sample work order information and completed job files. (iPhone, iPad)
6. Onsite. Onsite is a cloud-based, mobile and desktop app that assists with file management and communications to and from the field by socially connecting people. Developed by AgIntegrated, the program allows users to directly access equipment telematics systems such as Raven Slingshot, build a network of connections to send and share files to other colleagues and locate connections (individuals or equipment) on their desktop or smartphone. (Android, iPhone, iPad)
7. Maximum Return To Nitrogen (MRTN) Calculator. Developed by the University of Illinois Extension and the Illinois Council on Best Management Practices, the app helps farmers and crop advisors determine the optimum nitrogen rate for corn and plan for split applications of nitrogen (fall, pre-plant, and post-applied). The MRTN calculator also enables users to choose from various sources of nitrogen, add in stabilizers and calculate the corresponding application costs. (Android, iPhone, iPad)
8. Weed Manager PLUS. Weed Manager PLUS is the latest tool added to Monsanto's Roundup Ready PLUS Weed Management Solutions platform.  The app provides weed management recommendations by region and crop, calculates potential incentives for farmers who use endorsed residual herbicide products and delivers a tank mixing tool and measurement conversion calculator. (Android, iPhone, iPad)
9. agSeedSelect. This is Monsanto's first attempt at building an app for its seed brands: Asgrow, DEKALB and Deltapine. agSeedSelect lets users create, store, e-mail and print a custom seed guide tailored to their specific geography and crops. Featuring videos by territory agronomists, the app provides detailed information on products for corn, soybeans, cotton and other crops. (Android, iPhone, iPad)
10. Agrowdata. This mobile portal contains the latest global commodity price data. The app offers easy-to-view screens, which include graphs of historical and futures prices and comparison graphs of commodity prices over the same period allowing users to identify trends and correlations. Other features include handy conversion calculators, futures and swaps contract specifications and recent ag-related news. (iPhone, iPad)
11. AgFleet. ZedX recently launched a new app to compliment its Web-based AgFleet service. Functionality includes AgFleet account synchronization; boundary and attribute logging; soil sampling; option to provide driving directions to a field; and in-field navigation to target soil sample points. (Android, iPhone, iPad)
12. LoadOut. This app from Lextech allows drivers to control grain loading from inside the cab, helping to streamline the process and increase driver safety. LoadOut enables drivers to view a camera positioned above the grain loader from their iPhone while in the truck. From a push of the button, they can begin – or stop – the loading process. (iPhone)
13. Extreme Beans. A new app developed by the United Soybean Board includes two calculators that help farmers plan for their next crop. One helps users determine whether the yield benefits of various input combinations justify the costs. The other uses the main maturity rates for a farmer's region, the cost of soybean seed and an estimated price of the soybeans at the time of sale to determine an optimal seeding rate based on a percentage of return. (Android, iPhone, iPad)
So I encourage you download and try one or more of these agriculture apps in 2013. You'll likely find they are as easy as using a slingshot to fling angry birds at annoying pigs – but hopefully not as addictive.
Honorable Mention
Sprayer Calibration (in development). Mississippi State University Extension is in the process of developing a new app to help farmers properly calibrate sprayers, an involved process with the potential for making mistakes. This app will require the end user to enter a variety of inputs, such as orifice size on the spray tips, spray pressure, speed of the tractor, chemical quantity and tank size. The app will use these figures to calculate proper calibration for the sprayer. (iPhone, iPad)
Mix Tank 2.0 (update). Precision Laboratories has released an update to its Mix Tank app (along with an Android version). Mix Tank 2.0 allows applicators to quickly create, save and share spray logs with GPS location information and integrated weather data. New spray logs feature a stopwatch to record start and stop times, as well as total spraying time. Spray details, including location, time sprayed and weather data, are integrated into the new spray logs for easy sharing and recordkeeping. (Android, iPhone, iPad)
Optimizer 2.0 (update). Developed by Advanced Ag Solutions, the newly updated Optimizer 2.0 allows users to upload GPS soil sampling data, including phosphorus, potassium, pH and organic matter. Other apps use the standard national soil data set, but Optimizer 2.0 projects relevant information that is related to the user's actual management practices. (Available on most mobile devices)
AGCOMMAND. AGCO's new app for its AGCOMMAND telemetry system gives the user real-time access to valuable machinery information. It features the ability to show turn-by-turn directions, the history of machine status and machine data, ability to compare the performance of multiple machines and user-defined alerts from vehicles and machines. Plus, a unique integrated radar shares weather conditions where the machine is located. (iPhone, iPad)
Looking for more agriculture apps? Be sure to check out these other lists: