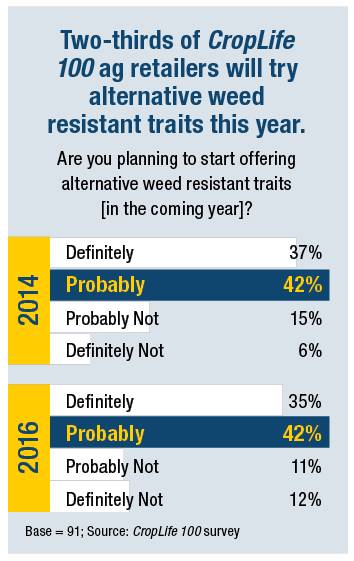 It wasn't too many years ago that ag retailers and their grower-customers could hardly wait for new options to fight the ever-growing legion of herbicide-resistant weeds. In fact, during the early 2000s, when dicamba- and 2,4-D-resistant crops were being developed, many CropLife 100 respondents typically wrote that they "couldn't wait for these new tools" to arrive on the scene.
Well, as of the 2017 planting season now underway, dicamba-resistant crops are ready to make their market debut. However, CropLife 100 survey respondents enthusiasm for them seems to have waned somewhat.
For example, back in 2014, Crop­Life® magazine added the following question to its annual CropLife 100 survey — "Are you planning to start offering alternative weed resistant traits [in the coming year]?" As expected, the results from that year's survey were pretty strong — 37% of respondents said they "definitely" planned to offer these traits to their grower-customers when they became available for use. Another 42% said they "probably" would offer them. The remaining 21% were leaning against getting involved, with 6% saying they "definitely would not" offer them.
Not Much Movement
Two years later, once the 2016 CropLife 100 survey was tabulated, the numbers had only slightly changed. In last year's survey, 35% of respondents said they "definitely" would offer these products to customers, with another 42% saying they "probably" would. Still, 23% said they "probably" or "definitely" would not offer them.