Since the Ninth Circuit Court of Appeals first vacated the registration for three dicamba formulations back in June, the entire agricultural industry has had its eyes upon how governmental agencies and the entire marketplace would respond. From the governmental side, the answer has come. But how will the industry react now? Based upon the results from the 2020 CropLife 100 survey, dicamba's future remains a bit unclear.
First, some review. On October 27, EPA Administrator Andrew Wheeler announced that EPA had approved new registrations for two dicamba products — XtendiMax with VaporGrip Technology from Bayer and Engenia from BASF — and extended the registration of Tavium Plus VaporGrip Technology from Syngenta. These registrations are only for use on dicamba-tolerant cotton and soybean and will expire in fall 2025.
"With today's decision, farmers now have the certainty they need to make plans for their 2021 growing season," said Wheeler. "After reviewing substantial amounts of new information, conducting scientific assessments based on the best available science, and carefully considering input from stakeholders, we reached a resolution that is good for our farmers and our environment." To reach its conclusions, Wheeler added, the agency considered both existing information and 65 new studies and data sets.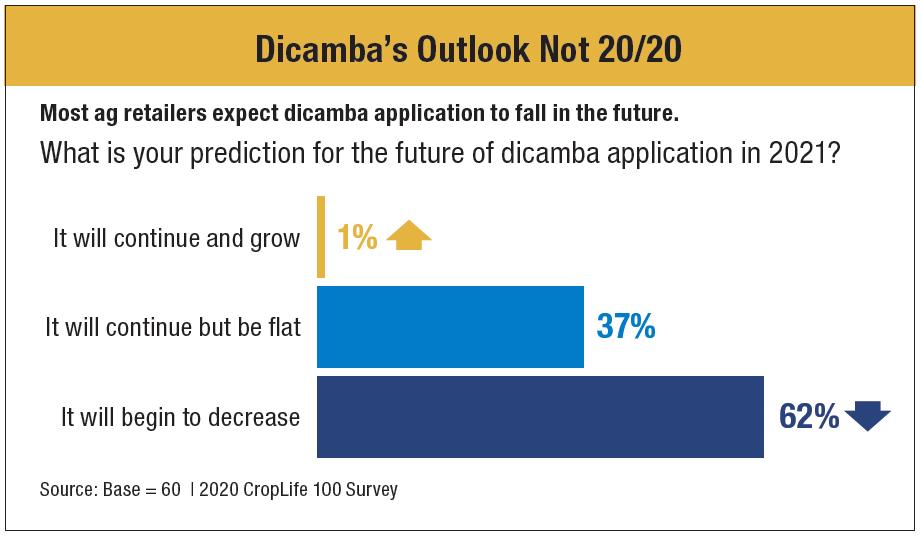 Reaction to the EPA dicamba decision was swift, both for and against. Many industry trade association put out statements supporting the agency's move. "Ag retailers and their farmer customers have already been working to make decisions for the 2021 growing season while waiting for clarity on if dicamba would be available for use," said Daren Coppock, President/CEO of the Agricultural Retailers Association. "Now farmers and their retailers can make firmer plans for the next five years with this critical question answered."
As part of its re-registration of dicamba, EPA also announced several new requirements for application to take place. These included requiring an approved pH-buffering agent be tank mixed with the herbicide to control volatility and increasing the downwind buffer zone for dicamba application from 110 feet to 240 feet — and to 310 feet where listed endangered species are located. EPA also is mandating a pair of national cut-off dates for application to take place by — June 30 for soybeans and July 30 for cotton.
Ag Retailers Weigh In
With the governmental dicamba question now answered, how do ag retailers think the herbicide will perform into 2021 and beyond? In a nutshell, not too well.
According to data collected from the 2020 CropLife 100 survey, 99% of respondents don't see much growth opportunity for dicamba application work moving forward, despite the regulatory clarity coming from EPA. In fact, 37% of CropLife 100 ag retailers believe that dicamba application work among their grower-customers will continue in 2021 and beyond, but without gaining much in the way of revenues. "It will continue, but dicamba use has peaked," said this group.
Loading ...
The vast majority, 62%, foresee no growth potential for dicamba applications in the future. Indeed, this group of ag retailers believe sales/usage will decrease, in part because of all the issues that have surrounded over-the-top use since hitting the market back in 2017. Only 1% of CropLife 100 respondents think dicamba application will grow next season.
5
5
5
Has Dicamba Use Reached Its Peak?