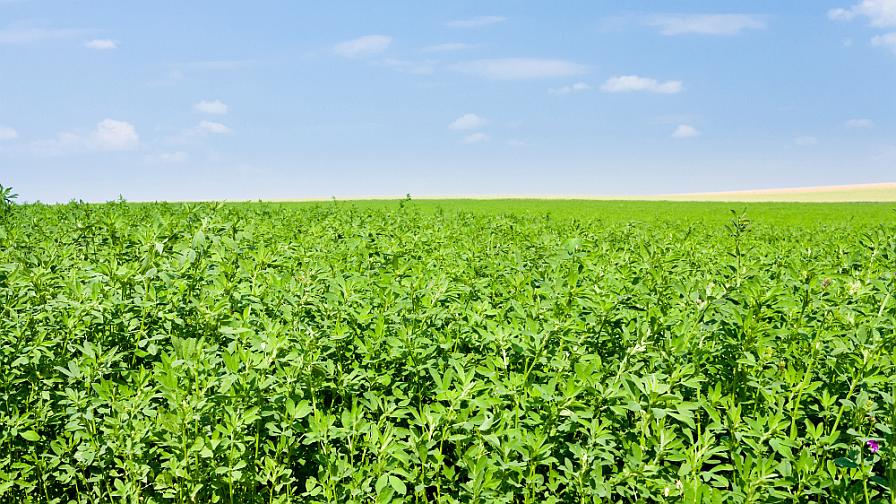 Alfalfa growers are successfully improving yields through the cutting season by applying an important micronutrient. In a recent study, The Mosaic Company found Aspire with Boron increased alfalfa yield by .5 ton/acre over MOP when applied after first cutting, according to a release from Mosaic Co.
The certified crop advisor at Country Visions Co-op, David Schraufnagel, recommends Aspire for growers in the Fond du Lac geography in Wisconsin. He works in an area best known for large dairy farms that utilize alfalfa for feed. Schraufnagel recommends regular soil testing to make sure every soil fertility plan is customized for each regional alfalfa grower and is up to date. With any soil type, he addresses the primary deficiency first. He makes sure his growers have the necessary macronutrients, and then ensures appropriate levels of secondary macronutrients and micronutrients are applied based on soil tests.
"No matter what crop we're growing, we use that soil test to address the secondary nutrients, or micronutrients," Schraufnagel says. "We've known for some time potassium removal has been a problem in this area. But when it comes to micronutrients, our soil tests have revealed that boron, especially for alfalfa, is what my growers need."
Alfalfa removes approximately 1.5 ounces of boron (B) per ton of dry matter. Among all micronutrients, B is the second most widespread and economically important micronutrient deficiency in crops. Failure of flowers to set seeds is a well-known problem under B deficiency. Research also shows that an adequate B supply is required to ensure effective nitrogen fixation and nodulation in legumes, and also for sugar transportation within plants.
According to Schraufnagel, "When you can get multiple nutrients in a single granule and you can get a uniform distribution over a field that is key to growing a uniform crop. The impact of Aspire in this geography has been tremendous. We've had an issue with boron deficiency, and Aspire — a product containing boron in each individual granule of potash — has provided uniform distribution of boron throughout the whole field. There is nothing else like it on the market."