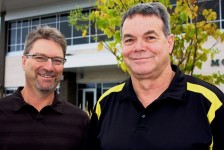 When Wolf Trax founders Kerry Green and Geoff Gyles developed DDP Micronutrients in the 1990s, the two men were looking for a solution to the challenges farmers commonly faced with micronutrient applications. By combining common-sense thinking and scientific know-how, Green and Gyles created a line of products that established an entirely different class of micronutrients. Now, Green and Gyles are being honored with an Innovation Award by the Ernest C. Manning Awards Foundation.
Recruited from across Canada, a distinguished independent body selects the Manning award winners each year. Selection committee members are drawn from academic and professional backgrounds and receive support by experts in fields as diverse as aviation, engineering, environmental technologies, industrial processes, medicine and social entrepreneurship. Now in their 31st year, the awards recognize the best of Canadian innovators.
Green and Gyles will receive their award October 17 in Ottawa at the 31st Annual National Innovation Awards Gala. They will be the first honorees to receive an award for agricultural innovation since 1997, and their award marks the fifth one ever for the farming industry.
"To stand among the country's greatest innovators is a profound honour," says Green. "Innovation drives us. It is hardwired into the psyche of our company. It defines everything Wolf Trax does from product development, to packaging, to customer support."
Micronutrient fertilizers are an increasingly important component in maximizing crop production in the Americas, Europe and the developing world. Older granular micronutrient products made applications inefficient, and therefore often ineffective. Because micronutrients are needed in small amounts, their concentration in a fertilizer blend is tiny compared to macronutrients (nitrogen, phosphorus and potassium). When spread in a field with the fertilizer blend, the traditional granular micronutrients were sparsely distributed, and many plants could not access the needed nutrient.
Green and Gyles developed micronutrients that feature a patented, scientifically-engineered coating technology – dry dispersible powder (DDP) that is formulated to coat and stick to each and every granule of macronutrient fertilizer in a blend. This technology results in even, blanket-like coverage of micronutrient across a field.
In addition to improving placement throughout the field, Green and Gyles improved their micronutrients' availability to plants. The patented Dual Action Technology provides nutrients that are available immediately, as well as extended feeding over time. Benefits to farmers include greater flexibility in when they apply the micronutrients, and they know the crop is getting the nutrients when it's needed.
When the advanced formulation of DDP Micronutrients and better distribution across a field are combined, the result is improved fertilizer use efficiency.
"DDP Micronutrients represent the first significant innovation in micronutrient technology in decades," Gyles adds. "No other product resembles our technology. We are proud of where we have come and know there are still uses and applications for our patents that can contribute to helping farmers farm more efficiently and effectively."
Already Wolf Trax has applied their DDP technology to develop a seed-applied fertilizer. PROTINUS Seed Nutrition has shown better emergence and plant and root development across a wide range of crops and soils. Adoption of this latest Wolf Trax innovation continues to grow worldwide.
Steven Stang, a corporate finance professional in Winnipeg, has been watching the growth of Wolf Trax and was a contributor to Green and Gyle's nomination. "When one Winnipeg business shines, the whole community benefits, and Wolf Trax deserves to shine," says Stang. "Kerry and Geoff are pioneers for the micronutrient sector. Their company holds several patents in a category – plant nutrition – that has very few innovations. Kerry and Geoff saw potential solutions to problems that others were willing to accept. Their success reminds our youth and fellow businessmen that if they think 'there must be a better way,' they can and should search for it."
To learn more about the innovation behind Wolf Trax plant nutrition products, farmers should talk with their fertilizer and seed dealers or go here.