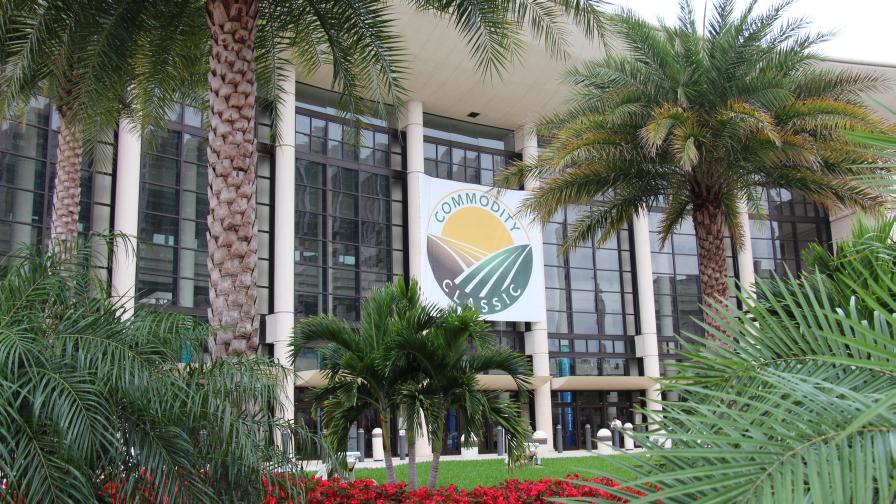 The young, upstart company that's taken it upon itself to help ag retail strike back against the ongoing threat of direct-to-grower, e-commerce crop input selling — AgVend — made its exhibitor debut at the 2019 Commodity Classic in Orlando, FL, in February.
We sat down with the group's co-founder and CEO, Alexander Reichart, to get an update on what Reichart and Co. are seeing in one of the fastest growing segments of digital farming today: crop input online ordering.
Q: How are things at present time at AgVend?
A: "Well, at this time last year we had one retailer servicing 100 miles of the Pacific-Northwest…we started with that. And then fast forward a year, and we now have 40+ retailers on the site, covering most of the agricultural centers in the U.S. We're seeing 7,000+ product-specific, with real intention to buy, searches on the site per week. Quotes are going out and people are making purchases. They can buy right there on the site, or if they want to send out a package for price quotes from our retailer network, they can do that, too. They're typically getting quoted from three different retailers and we're able to pull inventory from those different retailers to serve the grower. I think in 2018 you saw the early adopters in ag retail say 'We've got to get on the tracks. The train is coming and it's about to come through the station, we've got to get on the tracks or we'll end up left behind.'"
Q: What do you think precipitated this explosion of interest in buying crop protection products, as well as things like fertilizer and seed, online?
A: "I think if we had a timeline chart of kind of all the different e-commerce plays in ag, it's really not until 2018 where you see the early adopters in ag retail embracing this as a means of serving the grower-customer, which I would say is directly correlated to AgVends growth over the last 12 months. If you think about the context, I can't remember his exact quote, but when you have the CEO of Farmers Business Network get up at ARA 2017 openly state their intention to disrupt the retail channel, and then fast-forward a year and you have (Nutrien CEO) Chuck Magro get up and say 'I'm investing $100 million a year in my digital agriculture platform', that really was a pivotal moment for the industry with some saying 'Holy Smokes, we've been focused on this outside player, FBN, coming into our world and disrupting what we're doing, and now we've got one of our own, one of the biggest players, launching and pushing out this digital commerce piece. … What's our play?' The good news is that there is a much more efficient way of creating a digital experience. Our message to our Partner Retailers who are looking to launch their own strategy is that you can catch up and we can help."
Q: You bring up Nutrien Ag Solutions, what's the difference between what AgVend is doing and what Nutrien seems to be aspiring towards with its e-commerce play?
A: "We will have to see with Nutrien's finished product, but what's unique about AgVend is that we're letting retailers offer their services as part of the product, so whether it be access to John Deere finance, or the ability to return product, or the access to manufacturer warranties and rebates, that's unique. Nobody else is doing that in the industry, and what that's done is demonstrate that there are online buyers out there who aren't just looking for product at the cheapest price with no services. That segment places a value on being able to return product, access John Deere Financing, and take delayed or, when in season, next day delivery, all things our Partner Retailers can offer on the Marketplace or Storefront. We're giving retailers a low-cost, highly effective way to acquire that transactional grower looking online for product & services.By moving the order taking and payment chasing online, the sales agronomists at our Partner Retailers can get back to focusing on the high-value work that they do, and where our Partners need them most."
Q: OK, time to get a pitch in for your product…tell us about AgVend Storefronts.
A: "The AgVend Storefront is a private-labeled option for retailers if they want to put their logo on there and go direct to grower online. It's their products, services, and messaging just powered by AgVend. The product is intended to target our Partner's core grower that says I still want to work directly with my retailer, but I want a more digital way of doing that. And that's great for the grower because he's going to get the customer experience he's looking for, and it's great for the Partner Retailer because it lowers the cost of sale and essentially removes work from the plate of the sales agronomist, and gets them back out in the field."
Q: Where are we at with e-commerce in farming as it stands today? Are we still in the infancy stage?
A: "It's certainly still in its infancy. We haven't even scratched the surface yet. Growers have come to us and said 'Man, I'm trying you guys out, I'm doing 10-30% of my spend with you this year. But if it goes well…' It goes back to that idea, that you don't go and make your first online order, and it turns up on-time on your doorstep and just overall is a great experience, and then they go 'Yeah, I think I'll pass (on e-commerce),' that just doesn't happen. You don't order something through Amazon, have a great experience, and then never order from them again. I think one of the more important pieces we have to keep educating growers on is that, unlike online players who cut out the retailer or just selling product, AgVend is connecting the dots between retailer and grower helping make online purchasing more convenient and cost effective! For growers, it is the same retailers, same trucks, same products, same services, same application equipment they have been used to dealing with for decades, now just purchased in a different manner."
Q: Any thoughts to share on FBN and its Direct e-commerce play?
A: "I think FBN has done a lot of great things for this industry. On the FBN Direct side though, when you break that part out from the rest of their business, there has been some execution struggles and its caused a negative ripple effect for all of digital commerce. Like any new initiative, there are a lot of lessons you've got to learn, and sometimes you've got to learn them the hard way. For us, we studied that model, learned from it, and designed AgVend to avoid those negative experiences. Which is why our model relies on partnering with the channel, rather than trying to cut them out of the equation."
More E-Commerce Platform news from Commodity Classic 2019: Farmer's Business Network
Farmer's Business Network's head of seed for its ambitious F2F Genetics Network, Ron Wulfkuhle, announced what he called the "first ever research trials of off-patent corn traits in new genetics" being undertaken by the San Carlos, CA-based startup in 2019.
"That's a pretty dramatic step for the industry, because there's been Roundup Ready 1 soybeans but, okay, kind of, so what," Wulfkuhle explained at the show. "But in terms of this being groundbreaking, that's about a $10 billion corn seed market and that's driven by trait value, and so for us to be able to come in with off-patent traits is a huge step.
"Now, it's going to take some time," he cautioned. "We're at the point now that we can do actual field trials. We'll have our own EPA registration. We'll be moving forward doing the product development work with these products, so it's not like come tomorrow we're going to be selling it commercially. But, in our opinion, it's a huge milestone that this is not in some greenhouse or a lab somewhere. This is going out in a field."
Wulfkuhle says interested farmers can expect the new off-patent traits from F2F to feature above ground insect resistance to European Corn Borer, as well as stacked glyphosate and Liberty herbicide tolerance.