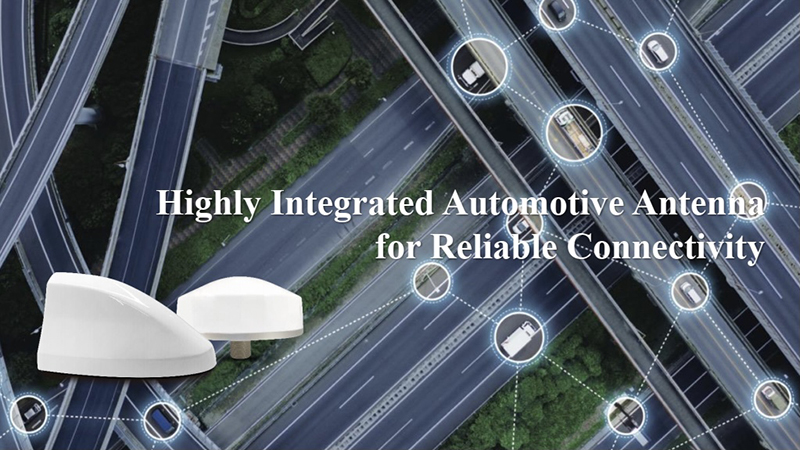 Intelligent connected vehicle (ICV) refers to the vehicle equipped with advanced sensors, controllers, actuators and other devices. Under the support of modern communication and network technology, ICV achieves the intelligent information exchange between vehicle and everything (car, road, people, cloud, etc.). It is believed to change people's life in the near future by making the transportation safer, cleaner and more comfortable. Featuring environment sensing, intelligent decision and collaborative control, ICV aims at replacing human operation in the future.
There are multiple communication needs for ICV, including GNSS, 5G, V2X, WiFi, BT, AM/FM, UWB and ETC, which has demanded more from ICV antenna. Many products are troubled by problems like single frequency band, short transmission distance, weak anti-interference ability and complex layout. Therefore, an integrated ICV antenna product has always been a crucial demand. As industry-leading company in positioning field, Harxon offers effective solutions with two powerful products: HX-AUST002 & HX-AULT002.
Harxon's ICV antenna is a highly integrated high-performance multiband automotive antenna solution which supports dedicated short range (DSRC) and Cellar vehicle-to-everything (C-V2X) communication. It integrates multi-constellation multi-band GNSS antenna for reliable precise positioning, consistent V2X communication with uniform radiation element as well as 4 units of 5G antennas embedded.
Also, Harxon's ICV antenna employs patented modular structure layout to seamlessly integrate 7 units of broadband antennas into one compact enclosure. It's is open for flexible customizable requests as hardware connector, LNA and function expandable options as DSRC, C-V2X, UWB, AM/FM, WIFI dual-frequency. The pleasing low profile shark fin design minimizes the damage from overhead objects and reduce wind resistance. Its ruggedized housing ensures long lifespan in tough environment such as vibration, harsh weather and high speed travel.
Advantages of Harxon's ICV Antennas:
Highly integrated automotive antenna for reliable connectivity
Pleasing low profile shark fin design minimizes damage from overhead objects
Modular design for easy integration for various requirements
Multiple input multiple output (MIMO) design for fast data transmit
Rugged housing ensures durability in tough environment as vibration, harsh weather, and high speed travel
Customizable V2X LNA and connector available
UWB, AM/FM, WIFI dual-frequency antennas available upon customizable request
IP67 ruggedized protection
What makes Harxon's ICV antenna stand out from other similar products is its compliance and flexibility. For one thing, it lives up to the automotive grade standards, proved of high reliability, consistency and durability. For another, as a customized antenna solution supplier, Harxon enables accurate production of ICV antennas with customized antenna shapes and connectors. Consequently, Harxon's ICV antenna has always remained the overwhelming choice for clients.