Weeds Can AND WILL Take NITROGEN FROM THE SOIL
If given the chance, weeds will "eat up" the nitrogen applied that is needed for your crop to maximize its yield potential.  If weeds are not controlled when they are small (4 inches or less), they will compete with corn for sunshine, water, and nutrients which can significantly impact yield.  In a 2011 article Jeff Gunsolus, University of Minnesota Extension weed scientist stated, "Early season yield loss is due largely to weeds that sequester about 30-45 lbs. of N/acre out of the field from planting time up until about the end of June. You don't get that N back during the season after your weeds are controlled. So, it's much better to kill the weeds early than to be in the situation where you need to add more N to a field where weeds have sequestered it."
Research conducted in the US and globally has evaluated the impact of weeds to corn yield, examining how changing the availability of nutrients (fertilizers) influences the competition.  While many studies have maintained weed growth for the entire growing season, not typical in commercial agricultural fields, there are clearly times when weed growth benefits more than crop growth – thereby impacting yield.  In one study, Chris Boerboom and colleagues at the University of Wisconsin noted corn yields were not reduced when weeds were controlled at the 4-inch stage but delaying application until weeds were 12-inches resulted in a 9% yield loss averaged over the two years.1
KILL WEEDS FAST AND WHEN THEY'RE SMALL!
A synergistic (patent pending) effect has been observed when Pyridate (TOUGH® 5EC) is combined with HPPD inhibitor herbicides, such as mesotrione. When combined, pyridate increases the amount of toxic oxygen produced and the HPPD's reduce the plants ability to detoxify these oxygen molecules.  This in turn increases the speed of kill and reduces the competitive effect of growing weeds in crops.  Dr. Prashant Jha, Iowa State University has conducted a number of university trials with TOUGH® 5EC over the past few years.  Dr. Jha states; "TOUGH is definitely going to be an effective strategy paired in a tank mix with HPPD inhibitors or Group 27 herbicides. When they are mixed together, like Callisto and TOUGH, we are achieving that 90 to 95% control with rapid necrosis and kill of plants within seven days after application."
Several trials were initiated in 2020 and 2021 to further demonstrate pyridate's proven "synergy" with HPPD herbicides.   Dr. Bryan Young of Purdue University was one of our cooperators in the summer of 2020 who conducted a trial to evaluate TOUGH® 5EC as part of a post emergent program for enhancing control of glyphosate-resistant Palmer Amaranth in Corn.  The trial evaluated a multiple mode of action program and resulted in increased control with a faster kill. You will note, weeds were taller than the recommended height for treatment in the Purdue study and adding TOUGH® 5EC to the tank still increased control of these resistant weeds! (Figure 1).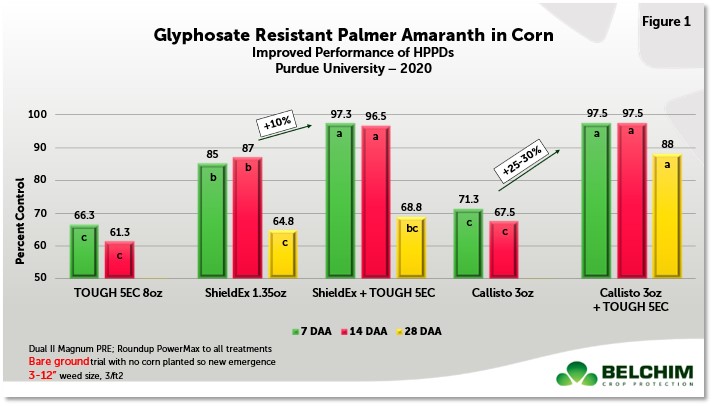 In 2021, trials evaluating topramezone (Impact®), were conducted under different conditions & weed spectrums across the cornbelt at University of Illinois, Kansas State University and Purdue University. Below results from the trial at Kansas State clearly show the benefit of a faster and more thorough kill by adding TOUGH® 5EC to the mix when battling Kochia (Figure 2) and when competing against Tall Waterhemp at University of Illinois. (Photo)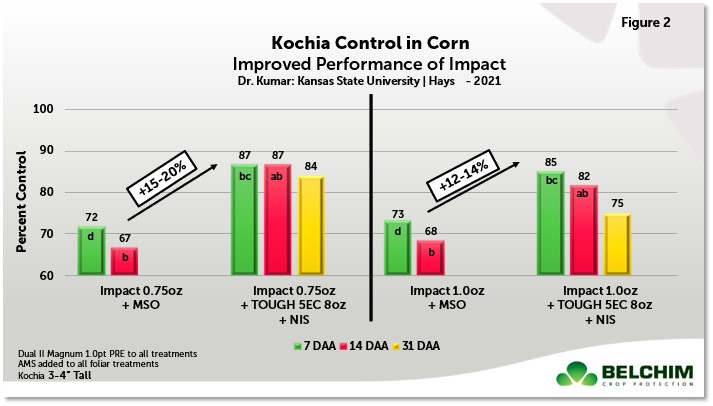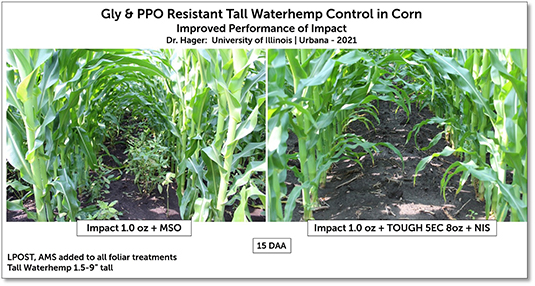 1https://crops.extension.iastate.edu/encyclopedia/impact-early-season-weed-competition-corn-nitrogen-needs