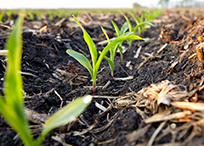 Timely, adequate rainfall is essential for activating residual herbicides and delivering requisite weed control. Thus, as your growers prepare their protection plans, it is imperative they factor in their expected local rainfall. If a grower doesn't get the rainfall they need to activate their herbicide, they're paying for weed control they'll never get.
Not all herbicides activate with the same amount of rainfall. Armezon® PRO herbicide and Outlook® herbicide, both highly flexible pre- and post-emergent residual corn herbicides, activate with just a quarter inch of rainfall, unlike competitors that require up to an inch of rain. This means that compared to herbicides that require an inch of rain to activate, your grower is 2.5 times more likely to get an activation with Armezon PRO herbicide and Outlook herbicide. In addition, Armezon PRO herbicide delivers broad-spectrum post-emergent grass and broadleaf weed control. Outlook herbicide provides powerful, consistent control of grasses and broadleaf weeds such as waterhemp, Palmer amaranth and pigweed, all while delivering excellent crop safety.
Ensuring that your grower's herbicide activates is making sure every dollar on their farm works for them. With reliable herbicide activation, your grower can stay focused on the business of growing crops and not spend time worrying about their herbicide.
Your growers know that having the right information leads to informed crop input decisions; they also know the pace at which the agriculture industry is adopting new technologies can make finding the right information somewhat challenging. Relying on the right tools and information they provide can lay the foundation for a successful year.
To help growers prepare for herbicide application, BASF designed a digital tool, called Reliable Activation, to make their experience streamlined and stress-free. Growers simply enter their location to see predicted rainfall in their immediate area. The tool uses weather data to predict rainfall, helping your grower choose the most effective herbicides for their individual field conditions.
The BASF Reliable Activation tool will provide your growers with the data they need to make informed herbicide decisions. With industry-leading reliable activation, your grower can be confident they will get the weed control they paid for when they use Armezon PRO and Outlook herbicides. That's a smarter agronomic and economic plan.
Visit www.reliableactivation.com to learn more and begin using this simple tool to manage your herbicide applications.
Always read and follow label directions.
Armezon and Outlook are registered trademarks of BASF.