Water Quality, Nutrient Use Efficiency Among Key Topics in New Phosphorus Loss Reduction Handbook
The Partnership for Ag Resource Management has released an updated and recently 4R-approved Phosphorus Loss Reduction Handbook for Agronomists. The Handbook serves as a communication tool for sales agronomists, Certified Crop Advisors, and others to learn and engage with grower customers on water quality issues and methods to reduce phosphorus, agrichemical, and soil movement from fields.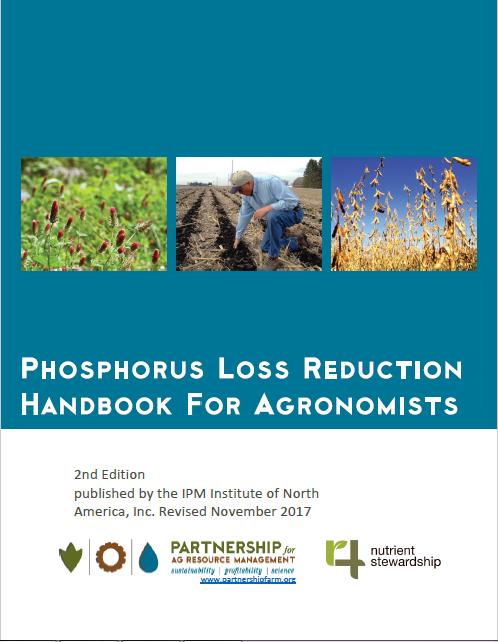 The Handbook has been designated a 4R resource by The Fertilizer Institute. The publication describes cropland contributions to algal blooms, and details ag retail product and service offerings such as cover crops and variable rate technology which help improve water quality. Each beneficial product and service is designed as a "fact sheet" in the Handbook, that can be distributed among farmer clients to help improve adoption rates.
Ag retailers are key players to addressing the frequent and intense algal blooms and hypoxic zones that continue to occur in the Mississippi River and Great Lakes Basins. They serve as trusted advisors to growers and by promoting the reduction of nutrient losses from farmland, ag retailers and their customers can avoid regulation that will increase costs and flexibility for both. Following the 4R principles of right source at the right rate, right time and right place, concepts drawn from in the Handbook, can help keep ag retailers and their customers focused on nutrient use efficiency while maintaining the bottom line.
Corteva to Acquire Biologicals Company Stoller Group
The Handbook is free and available for download on the Partnership's website. Since 2015, the Handbook has been downloaded 927 times by ag professionals to help start conversations surrounding nutrient management. The Partnership also offers free training webinars for agronomists and other tools and information at www.partnershipfarm.org.
Ag retailers anywhere in the U.S. or Canada interested in participating in the project can contact Caitlin Leahy at [email protected]. The Partnership promotes, tracks, and reports on ag retailer product and service trends through annual surveys, and has recently release their 2018 survey, open to ag retailers within the Great Lakes and Mississippi River Basins.
The Partnership is supported by grants from the McKnight Foundation, the Great Lakes Protection Fund, and the EPA's Great Lakes Restoration Initiative, with additional support from participating ag retailers. Find a list of the Partnership's current ag retailer participants here  and access annual ag retailer product and service survey reports here.
0
1
5
Water Quality, Nutrient Use Efficiency Among Key Topics in New Phosphorus Loss Reduction Handbook