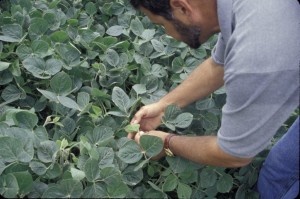 While we all can agree that weed resistance is a bane modern agriculture must eventually snuff out, it is making crop scouting services more relevant (and profitable for retailers) going forward, according to Betsy Bowers, agronomist at Ceres Solutions.
"­­Glyphosate definitely changed the game of weed scouting," she says. "Before it was no longer important to identify each weed species, since glyphosate was a non-selective herbicide and controlled the majority of weeds and grasses. Now that we have several weed species that are not as easily controlled with glyphosate, scouting is becoming more important once again."
Naturally then, Bowers predicts the Terre Haute, IN-based retail outfit will spend the majority of its scouting manpower on the hunt for glyphosate-resistant weeds, among others.
"In 2013 we will be scouting for marestail and waterhemp in early spring, as well as looking at the size and potential stage of cover crops," says Bowers. "We will especially be on the watch for more fields containing Palmer amaranth in our northern locations, and we will also be on the look out in our central and southern areas. We will also be looking for any potential herbicide carry over from last year."
Insect scouting will also be critical in Ceres territory, even after last season's drought likely diminished active populations.
"We are always looking for black cutworm (we set out black cutworm traps each year in conjunction with Purdue) to determine when they may be cutting," she says. "With increased cover crop use in our area, we will need to be watching for black cutworms and armyworms. We also plan to have our Nutrisolutions interns do some extra scouting to check for the presence of insects or nematodes."
Western Worries
Out west Frenchman Valley Coop (FVC), Imperial, NE, will be looking for many of the same diseases and pests, plus a few others, according to Tom Gaschler, master agronomist.
"For us, drought management and irrigation scheduling will be important in 2013, and stripe rust is always in the back of our mind in wheat," he says. "Rootworms will be the primary pest we're looking for because we would rather see them when they are feeding than in August when corn will start lodging."
Gaschler also expects an increase in mid-season scouting for drought stress, especially with predicted water shortages out west.
"Because we are in an area with irrigation restrictions and extreme drought there is a lot of interest in mid-season scouting as it pertains to irrigation scheduling in our area," he says.
Ceres scouts will also be monitoring fields for stressed crops, although Bowers projects less of a need in southern Indiana.
"It is too soon to tell if we will be increasing any mid-season scouting for drought or environmental issues," she says. "So far this winter we have been receiving precipitation in many parts of our territory. However, we still need to be paying attention to environmental conditions at specific growth stages in corn, soybeans and wheat that may lead to various diseases like head scab in wheat, sudden death syndrome or white mold in soybeans, and grey leaf spot or any of the potential ear diseases in corn."
Great Bend Coop, Great Bend, KS, is also keeping its eyes peeled for drought stress, according to agronomist Cammie Vaupel.
"Scouting for stress caused by drought will be a big part of the season if we continue to have similar weather conditions as we have seen in the last 2 years," she says. "However, most producers are having their fields scouted throughout the season anyway, so there really won't be an increase as far as new customers asking for scouting mid-season just because of a drought."
Vaupel does predict an increase in pest pressure in its trade area.
"Scouting for alfalfa weevil earlier in the spring has become more important, and weevil larvae control has been a bigger issue in the last three years than it has been in the past."
New Technologies
Meanwhile, all three retailers confirmed their organization's increased interest in implementing new mobile technology in their scouting programs.
"In 2011, we started sending 15% of our scouting reports to our clients via e-mail, and last year we were at 86%," says FVC's Gaschler. "We're still looking at using tablets for scouting reports, but our cell phone coverage is limited to a 3G network. As soon as we go to 4G networks we hope to utilize tablets more. Currently we're using smartphones."
"Great Bend has recently started using iPads for scouting and writing up customer reports," adds Vaupel. "We also use WinField's R7 tool, which uses satellite imagery to estimate yield potential. This tool also offers past year's images in dry and wet years, so it can be used to identify trouble spots as well as high-yielding areas."
Ceres' scouts use a combination of the two, says Bowers.
"We use smartphones to capture specific GPS sampling locations in fields with our Nutrisolutions program, and we are using iPads and smartphones to take pictures of the crop and specific problems," she says. "We will then incorporate these pictures into a virtual growing season using PowerPoint and share the file with customers using Dropbox file sharing software.
"Thus far, I personally have not found a user-friendly scouting app," adds Bowers. "I want one that can record what I have found and e-mail a report to a customer. Most want to help you determine the problem, and I typically already know the problem and want to just e-mail the location information and problem to the grower."