Kicking off the AgriBusi­ness Global Trade Summit — Americas in Las Vegas, NV, on August 8 was a message of growth and optimism for the crop protection industry, from Dr. Bob Fairclough of Kleffmann Group.
That optimism, of course, comes with a multitude of complex factors to consider, among them: The latest wave of M&A activity and the potential for more consolidation especially among Chinese and Indian companies, China's shrinking competitive advantage in sourcing, global trade agreements, regulatory shifts, and the peaking of new active ingredients (a.i.s) falling off patent.
Although 2016 marked a second-straight year of declining sales for the global crop protection market, recovery is anticipated in 2017. Most companies' second-half results show a positive trend.
"We should start to see a 2.5% to 3% (annual) increase in the market over the next five years or so," Fairclough said. "That the industry will return to growth is without question as all the fundamentals for growth are in place."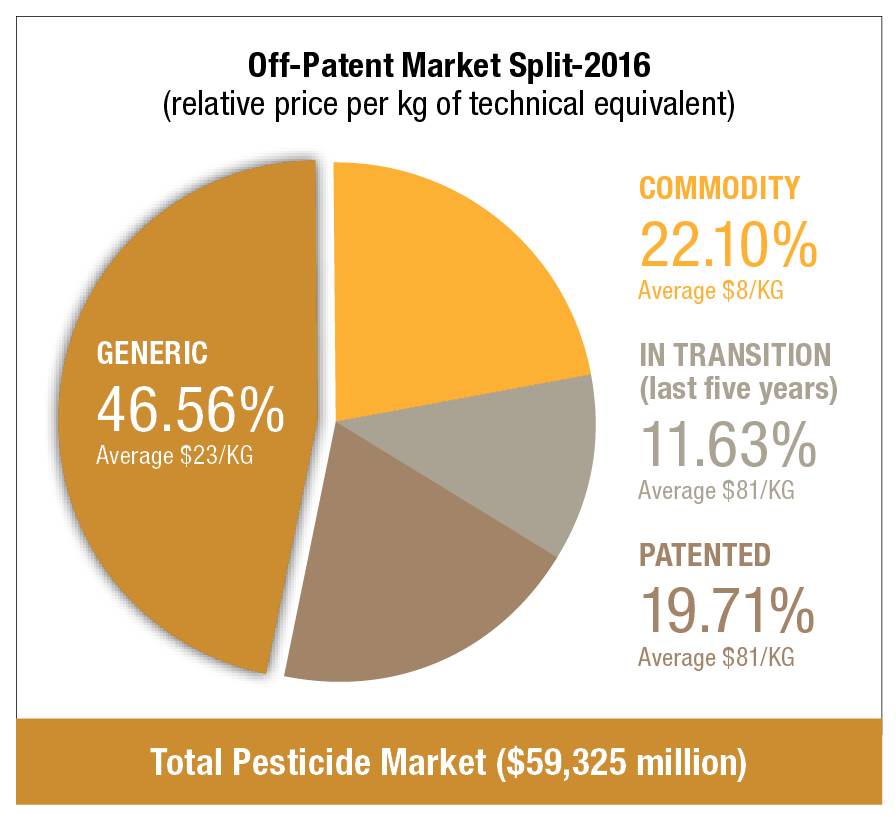 In 2016, the global crop protection market dipped 2.6% to $53.1 billion, on an ex-manufacturer sales level using the average exchange rate for the year. It was a far smaller drop than the 9.8% decline seen in 2015.
Off-patent products currently occupy 80% of the global market vs. patented products with the other 20%. Products coming off patent in the next five years command about 14% or 15% of the global market, or about $8 billion to $9 billion of active ingredient.
"We are becoming more generic and less proprietary, there is no question about that … It is going to be hard to see the increase in value apart from what we see in terms of volume," Fairclough said.
The takeaway: There is the largest number of a.i.s coming off patent that there will be for at least the next 15 years.
U.S. Still No. 1
The U.S. retained its No. 1 market position in 2016, slightly ahead of Brazil, which Fairclough noted still has much potential for future growth vs. the mature American market.
The biggest change last year, however, was China. Following years of swift expansion, the market there is facing a re-balancing, suffering an almost double-digit decline in 2016, in part due to the weather, currency, glyphosate prices, and the loss of paraquat, he said. Japan, in fact, was the only Asian market that experienced any growth last year.
The European crop protection market was flat, posting $12.9 billion in sales, yet still outperformed all other regions in 2016. Fairclough referred to it as the "game of two halves," wherein northern EU countries such as Germany, the UK, and Denmark performed worst due to weather and cropping, and France was held back by its EcoPhyto plan, which aims to lower pesticide use. The other half — the Southern zone — including Italy, Spain, Greece, and Bulgaria, is performing better, helped by sunflower and fruits, while cereals and sugarbeet power Russia and Ukraine ahead.
Standout markets in 2016 included Argentina, helped by removal and reduction of export taxes on some agricultural products, and positive selective herbicide and soybean insecticide sales; and India, which experienced good monsoon rains. Signs look positive there for 2017 as well. Fairclough also highlighted Russia — which is seeing sharp growth in soybeans, vine crops, sugarbeets, and cereals — as a strong opportunity.
By crop protection sector, herbicides declined the most last year in part due to glyphosate resistance and prices. Insecticides also came under pressure due to changing pest pressure and regulatory issues, while fungicides experienced a small increase.