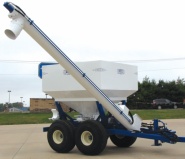 Much of agriculture has weathered the recent economic downturn pretty well, say tender manufacturers — and they're happy to be a part of the success. "Agriculture is very optimistic and busy," says Bill Chandler, president of Chandler Equipment. At Simonsen Industries, owner Jon Simonsen reports that, thanks to ideal conditions, a lot of fertilizer went down this fall, helping tender sales to "remain resilient."
A few clouds may be looming on the horizon, notes Tim Tenhet, sales director, The KBH Corp. "Possible increases in stainless steel, engines, and a general tire shortage will put upward pressure on tender pricing," he says. And at Ray-Man, president Bob Eakins has heard from tire companies that a possible rubber shortage lies ahead. The shortage would affect hydraulic hoses and tires.
Simonsen also remarked that steel and stainless steel prices have been somewhat difficult to read. He feels that in a relatively short period, manufacturers will begin to see increases in basic materials if "we do not see a rebound in the value of the U.S. dollar. We have not had a lot of difficulty with long lead times as of yet, but we continue to carry a larger than normal inventory of component parts to help assure that we do not run out of critical components as we enter our busiest building season, in anticipation of the spring fertilizer work."
Why Tenders Flourish
Both classic and larger tender sizes are doing well. Chandler Equipment's 16-ton truck mounted tender continues to be its best-seller. On the other hand, the company's 24-ton trailer models are becoming more popular. The call for these larger units has been fueled in part by recent years' fluctuating fertilizer prices, says Michael Sosebee, sales manager, Chandler Equipment. Dealers are reluctant to stock fertilizer product, and the tenders let them get large, more tailored loads to meet growers' orders.
"Dealers are just maintaining what they need, then they replenish it quickly," he describes. "They've added more tenders to their fleet, especially the bigger units such as trailer tenders." The large trailer tenders also allow for fewer trips, saving money.
Simonsen says he's found larger-tender sales growing as more mega-plants are constructed — though smaller units (16- and 18-ton tenders) still fit a need and can be very very cost effective in may circumstances.
Adams Fertilizer Equipment has seen its tenders generate new business for retailers, with one dealer reporting he could pick up more grower-customers further away, making application jobs more profitable.
"More and more customers are realizing the importance of tendering efficiencies. We have customers that have added tendering equipment in order to cover more acres rather than add a machine, with the information from technology driving those decisions," says David Webster, director of sales for AGCO Application Equipment.
In fact, technology for tenders is reaching new levels. Webster reports more customers considering – and purchasing – telemetry for these units. He says the AGCOmmand advanced telemetry system is allowing dealers to run their tendering fleets more efficiently. "Even just what may seem like a simple task of knowing where trucks are en route back to the plant is important when you are striving for more efficiency and productivity," Webster explains. He says AGCOmmand customers will set up geo fences, where the employee running the blender will automatically be notified as a truck nears the plant.
Fine Features
Another innovation, released by Doyle Equipment, is its poly-cup auger. Mounted to a #304 stainless steel auger pipe, it provides an option for getting bulk soybeans and fertilizer to the field with less damage. One machine can be used for both soybean and fertilizer handling.
Adams Fertilizer answered customer requests when it debuted the new 24-ton Adams M3-SA trailer tender. The unit has a new auger configuration for increased unload rate and a new hopper design with more optional features.
Discharge rate is also important to AGCO customers, notes Webster. "The biggest features of our Willmar tenders continue to be the unload rates and quality," he says.
Doyle Equipment's 24-foot trailer tender is available in the standard three-hopper design or now, the "split hopper" style, which turns the unit into a six-bin tender, says Rob Heiden, engineer. "Customers are excited about the modular design of our tenders," he says. "This allows them more flexibility for their VRT spreading programs." In addition, he says customers like Doyle's modular, non-rigid design that uses a free-floating box mounting. It allows units to navigate the tough terrain — and with this mounting system, hoppers will not twist or crack.
Ray-Man's Eakins says the company's tender hoppers can also be split into many different compartment sizes: "When dealers go to the field, they're totally loaded, they've got everything they need and are using their tender space well."
Multiple compartments have gained plenty of interest, but Chandler's Sosebee says he's seen one-load configurations making a comeback. Dealers may be spreading multiple products, but the tender may go out with just one product.
In fact, Doyle is also meeting a need for smaller units. In 2010 the company introduced its 8-Foot Side Discharge Trailer Tender, equipped with a single hopper.
Chandler redesigned its rear discharge tender trailer for this coming season, increasing the capacity from 20 to 24 tons. Engineers added a Deutz diesel engine and made standard a number of features that were previously purchased options, including vibrators on each hopper and hydraulic gates.
For 2011, KBH Equipment has introduced several new features for its dry tender, including hydraulic clean-out doors, remote greasing station, stainless steel rear axle cover, and an Agri-Cover SRT spring-coil assist roll tarp.
Ray-Man has found a demand for self-contained power units on its semi trailers. The company puts a large Cummins engine on the trailer to power the hydraulics of a tender, so the dealer does not need to have several tractors set up with hydraulic wet kits, Eakins explains. "This big engine is a big investment, but it's getting to be a really popular option," he says.
Chandler notes that even more now dealers are looking for the best value for their money. "They're making sure they spend their money on a quality piece of equipment — something dependable that they don't have to spend a lot of money on labor," he says. "Cheaper is not always the best."