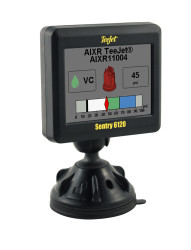 TeeJet Technologies has introduced two new products:
Sentry 6120 Droplet Size Monitor. The unit helps operators improve their spray applications by providing real-time, in-cab droplet size information. Drift or efficacy problems caused by applying droplets that are too large or too small can be better managed with the Sentry 6120 Droplet Size Monitor.
The stand-alone unit is extremely easy to use. Featuring an image-based interface, operators simply select the desired spray tip and capacity. Once spraying begins, the monitor measures the boom operating pressure and displays the corresponding droplet size category. Audible and visual alarms are used to notify operators when system pressure deviates from a predetermined range. This enables the operator to adjust ground speed and system pressure to maintain the proper droplet size.
Kits include the console, RAM mount, power cable, sensor cable and pressure sensor. Extension cables are also available.
Matrix Pro GS Guidance System. The system offers growers TeeJet exclusive RealView guidance over video along with several new productivity-enhancing features.
Matrix Pro GS is the only system available that displays guidance and live video simultaneously, improving accuracy and efficiency in field operations. Up to eight RealView cameras can be used to monitor multiple machine operations while at the same time viewing guidance information. Growers can choose Matrix Pro 570GS with 5.7″ (145 mm) display or Matrix Pro 840GS with 8.4″ (213 mm) display.
Matrix Pro GS builds upon the proven Matrix and Matrix Pro product lines and adds many new capabilities. Advanced swath control capabilities now allow for automatic boom section control (ABSC) on dry spreaders and sprayers with offset booms.
Matrix Pro GS also supports droplet size monitoring capability. This exclusive feature provides real-time display of the droplet size being produced at the sprayer boom allowing the operator to optimize their spraying application.
The unique NextRow feature guides operators through turns in row crop environments, helping them find the correct rows to steer between for the next pass.
Matrix Pro GS is auto-steer and ABSC ready. Adding FieldPilot or UniPilot assisted steering can greatly enhance operator productivity. Adding BoomPilot ABSC is economical and easy as well.
0
1
5
TeeJet Technologies Launches New Droplet Size Monitor, Guidance System