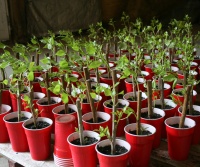 As I've stated before in this column, the annual Environmental Respect Awards competition is often very eye-opening, particularly with the different ways ag retailers go about trying to achieve their stewardship aims. I was vividly reminded of this during last week's visit to the Crop Production Services' (CPS) facility in Washington Court House, OH, one of the 2011 regional winners.
Located just southwest of Columbus, CPS Washington Court House sits on approximately 36 acres of land and includes a fertilizer storage building, crop protection shed, seed warehouse and main office/meeting building. To the north and east of the outlet grounds runs the Paint Creek, which is an EPA 303(d) designated water course or overland flow. Stormwater runoff from the site tends to run into this creek.
To enhance its level of environmental responsibility, CPS Washington Court House has implemented a phytotechnology system. This aims to accomplish the following: Reduce infiltration of waters through nutrient-enriched soil areas, remove or immobilize soil nutrients, remove particulates and nutrients from the stormwater prior to percolation or off-site discharge and increase evapotranspiration rate of collected stormwater from the site.
Besides using earthworks and crops such as oat and winter wheat to do this, a major component of the project involves hybrid poplar and willow trees. These are being planted in three different spots between the facility and the creek to extract and phytosequester residual excess soil nutrients. They will also filter stormwater prior to it entering the facility's catch basins.
"It's a pretty aggressive program, but one that will well worth it to protect the surrounding area from the water runoff," says Steve Mossbarger, facility manager. "Plus, these trees will help beautify our outlet for all our neighbors in the area."
Given that Ohio is known as the Buckeye State, using trees to aid in environmental stewardship seems more than appropriate. Other retailers would do well to copy this "using nature to improve nature" strategy in their operations.