One of the most tired, yet also most useful and almost irresistible idioms used in business is the "elephant in the room." You know, that pain point, that problem in your business that, despite its enormity, you continue to find ways to work around it and keep moving. But it looms, threatening to one day up and stampede through your organization and bring the whole thing down.
We came incredibly close to employing the "elephant" theme in our "State of Distribution" report last October. But honestly, the distribution channel is awash in elephants. The Rebate Elephant, the China Elephant, the FBN Elephant, the Regulatory Elephant, the Consolidation Elephant … we have a lot of challenges before us.
That said, I'd like to take a moment to talk about a pretty significant issue I know many retailers are dealing with, and that's the integration of precision services into our agronomic offerings.
David Swain, a good friend with a ton of experience with precision program training and development both inside and outside retail organizations, describes this as the "biggest, pinkest" elephant in the room.
"Very few retailers, as a whole, know how to engage their precision agriculture business within the overall structure of their core business and then how to manage that business moving forward," he says emphatically.
Over the years I have heard countless stories from retail managers about the challenges of bringing precision services into their operations. It's not your traditional input purchase, but in order for it to work, it must be moving hand-in-hand with the agronomy department.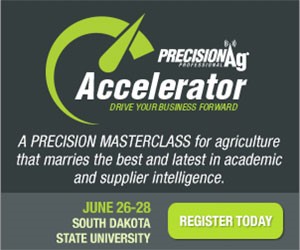 Often, individuals are plucked from the ranks of agronomy departments who have taken an interest, or who have technical aptitude, and thrust into the role of precision agriculture manager or specialist. Some succeed, but many fail to get things off the ground.
Sometimes the commitment to precision services is not all-in at the top of the organization, which can undermine the fledgling division. This is especially true when the economy is challenged and the chips are down.
But even when things seem to be working well, how does a manager know that their precision program is truly optimized? Could a good program become even stronger? How do they benchmark themselves and challenge the division to improve?
After several months of discussion, we've taken it upon ourselves — with help from a partnership with South Dakota State University — to develop a 2½-day educational program called the PrecisionAg® Professional Accelerator.
This learning event is designed to fully address the "pinkest elephant," the business of precision agriculture. How do we keep a precision agriculture program viable in our retail operation? What are we doing well, and what can we improve? Expert faculty and speakers will provide the content and help attendees identify strategies to improve their approach to precision.
You can find out more about the inaugural event, scheduled for June 26-28 in Brookings, SD, on our Website at www.precisionagaccelerator.com.