CropLife had the opportunity to chat with Logan Grier, BASF Technical Marketing Manager for Product Stewardship, on the company's English-Spanish communication efforts for Engenia dicamba technology application.
How did the topic of English-Spanish communication with regard to dicamba come up? Was it a long time in the works?
It came up as we were thinking about how to train all of these applicators. We have over 400 employees out in field and they carry so much information from interacting with applicators and growers and people in the field. We were getting feedback from them that it would be very beneficial to have resources available in Spanish to reach more people. That's why we started to identify ways in which we could incorporate that into stewardship efforts and our training efforts.
Have the Spanish translations been available since the Engenia roll-out?
Most of it was translated at the end of last year moving into 2018. They didn't have Spanish last year.
Were there more requests for it and was it an area that was lacking?
I think primarily it was (prompted by) the new training requirements. We were really happy to have the requirement (to have dicamba-specific training and permitting only certified applicators with special training to apply dicamba) as a part of the label changes from 2017 to 2018. We felt that in-person training is the most effective way to really train people on the proper application practices.
Our field reps were leading the training effort. As they were thinking through that process, they identified the gap with Spanish speakers. We didn't have a lot of field folks that could speak Spanish and train the Spanish speakers, so they identified that as a need. That's why we translated the Engenia herbicide label and our dicamba training presentation into Spanish and developed the online Spanish module and application checklist, which is a one-page, easy-to-read summary of the key label requirements. Also, in some areas, they hired Spanish speakers to translate our in-person training sessions.
If there are Spanish speakers who are unable to attend an in-person session available in Spanish, they can utilize the online module available in  Spanish (check with state requirements for training). All of the Spanish language materials are available on Engeniastewardship.com. We have also six short application videos subtitled is Spanish that quickly summarize key best practices from mixing and loading all the way through tank clean-out.
It's interesting that with all of the nuances of the application requirements for this product in particular, that it wasn't in Spanish last year. How have applicators dealt with that challenge?
I would hope there was a certain level of communication between someone who could read the label or checklist in English and help the applicator understand. Usually, it's a team process – it's not just someone going out solo. In that team, there is likely someone who can speak English and Spanish and translate for them.
What plans are there for Spanish-English communication going forward?
As we move forward, we'll continue to look at ways in which we can reach more Spanish speakers with more content. Today, BASF has trained 26,000 total in-person, and we believe the industry altogether has trained roughly 88,000. The more people we can loop into that, the more success we can have moving forward.
My purpose this year was to figure out what tools and education can we give to applicators, English or Spanish speaking, that can enable them to have a successful season. It goes beyond education. We have digital tools available and all sorts of resources available at Engeniastewardship.com. It's about doing everything we can to enable success, and that goes across the industry and beyond BASF. Monsanto and DuPont have developed their own resources, and some states have developed some resources as well. As an industry altogether, I think we are all trying very hard to have a successful 2018.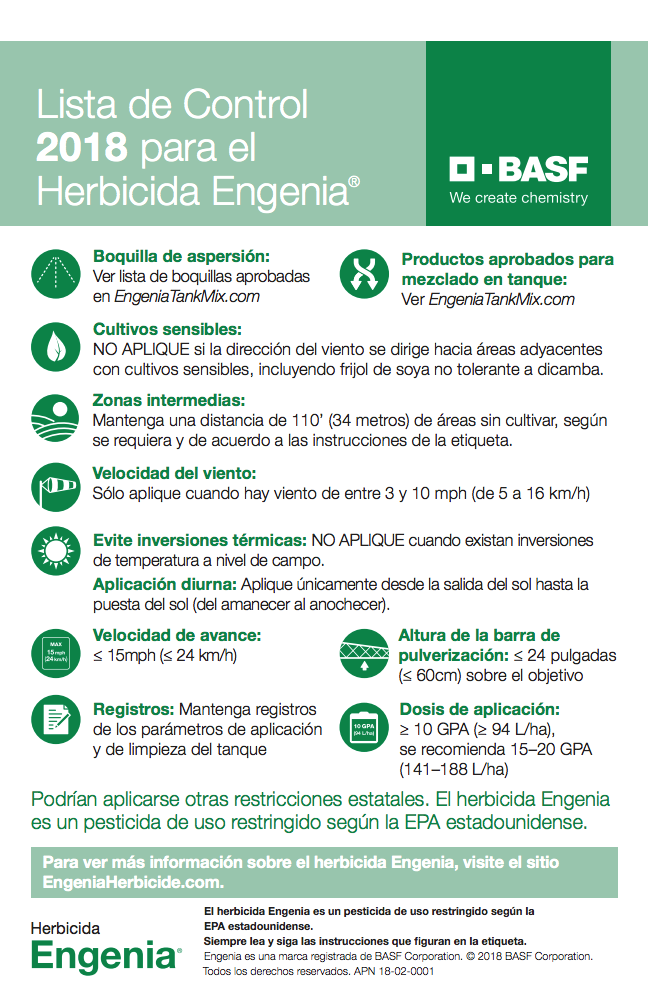 Read more on the label requirements here: