In truth, as the historically smallest category of business operations for the nation's top ag retailers, custom application tends to remain relatively flat compared with its larger-revenue cousins, fertilizer, crop protection products, and seed. Nonetheless, year in and year out, despite sometimes big fluctuations across the agricultural marketplace, the category has managed to maintain its modest growth rate for the better part of a dozen years now, always finishing with an overall market share of 5% among CropLife 100 ag retailers.
Not surprisingly, custom application continued to follow this industry model in 2019. According to data compiled from the 2019 CropLife 100 survey, the category saw its overall sales improve slightly, up from $1.6 billion in 2018 to just under $1.7 billion this year. Better still, even with this modest gain in revenue, custom application again managed to hold its market share of all crop inputs/services at the 5% mark. This was an impressive feat, considering all the prevent plant acreage that was visible across the U.S. agricultural landscape (approximately 19 million acres, according to USDA numbers) and the number of grower-customers that shifted their planting intentions from higher input row crops, such as corn to soybeans (to take advantage of a compressed growing window during the summer months).
Perhaps more significantly for the custom application category, the nation's top ag retailers report that the effort to make their machines more compatible with one another seems to be gaining some steam. Since at least the start of the decade, various ag retail equipment manufacturers have been working on making their in-cab systems "play nice" with potential competitor products. At times, according to many industry watchers, this endeavor has been very slow to develop.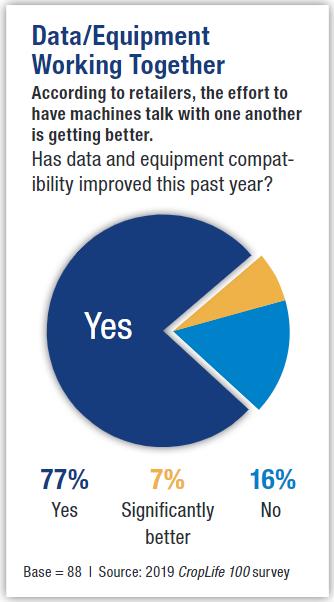 But there is some movement in this area. According to respondents to the 2019 CropLife 100 survey, 77% of the nation's top ag retailers say data and equipment compatibility improved between 2018 and 2019. Another 7% indicated that this effort has been "significantly improved upon" over the past 12 months. However, the remaining 16% said that there has been "no improvement at all" when it comes to getting their equipment to share data across manufacturer platforms.
Dicamba Report Card
For the custom application category, a key development the past three years has been the slow and steady introduction of dicamba-resistant crops into the mix. One may recall that during the first year of this new cropping system, states were bombarded by complaints from angry grower-customers who perceived that damage to their non-dicamba crops was being caused by unanticipated spray drift from neighboring fields. During that year states such as Arkansas and Illinois had several hundred complaints each. Very quickly, state agricultural agencies began passing restrictions on how far into the growing season dicamba could be applied and requiring custom applications in their states to take additional training courses to learn how to properly apply dicamba without experiencing unwanted drift.
These efforts apparently had an impact on dicamba application issues. According to the 2018 CropLife 100 survey, 65% of the nation's top ag retailers said dicamba application during the 2018 growing season was "better" than it had been during the 2017 season. Still, 30% did indicate that dicamba application "remained a challenge" for their operations during 2018.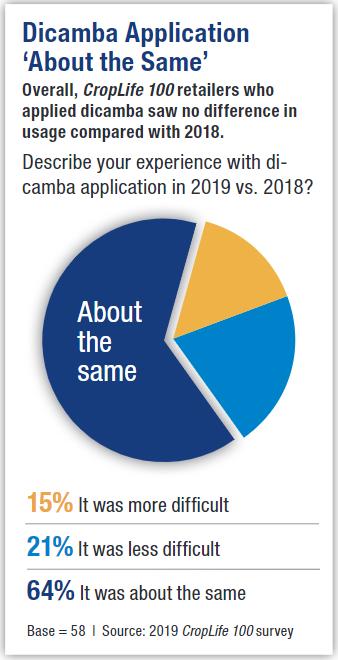 So, how did things play out for dicamba application during 2019? For the most part, the experience this year was not much different than it had been during 2018. According to the 2019 CropLife 100 survey, 64% of respondents said their dicamba applications for the year had been "the same" as they were during the prior year's application window. Twenty-one percent wrote that their experience with dicamba was "less difficult" than it had been during the 2018 growing season, perhaps indicating that the extra training and/or restrictions on application timing were helping. The remaining 15%, however, still reported "more difficulty" using dicamba in 2019 vs. 2018.
Fall Applied vs. Spring Applied
The past few years one of the other big topics for the custom application category has involved fertilizer application — at least the timing of such services. For several years there has been an effort on the part of many agricultural industry representatives to have fall nitrogen applications moved to the spring, when the risk of unwanted field run-offs could be lessened. During 2018 this movement moved forward somewhat as 61% of the nation's top ag retailers reported trying to move their grower-customers in this direction with their nitrogen application timing.
This effort wasn't quite as strong in the 2019 growing season. According to the 2019 CropLife 100 survey, 53% of respondents were actively moving customers to spring/in-season nitrogen application. Another 5% said they "planned to do this" during the upcoming 2020 growing season. Still, the remaining 42% wrote that their companies had "no plans" to take part in this movement of nitrogen application from the fall to the spring. This was a significantly higher percentage than what had been seen in the industry just one year ago, when only 9% of respondents to the 2018 CropLife 100 survey said this was their company policy.