To say that the 2019 growing season hasn't gone as planned would be a gross understatement. And not surprisingly, the entire ag marketplace is feeling some financial pain. So say members of the CropLife 100 in our magazine's annual mid-year survey gauging market performance thus far.
In reality, this is a far cry from what was supposed to be happening in 2019. In fact, going into the year, many of those within the agricultural community were confident that "this year would be better, maybe even a super one." This was based on the fact that many market watchers believed that commodity prices had "bottomed out" and would begin to improve as demand increased. Indeed, in our 2018 CropLife 100 Mid-Year Survey, almost half of respondents (45%) believed that the 2019 growing season would be "somewhat positive" in terms of revenue for agriculture, with only 14% of the nation's top ag retailers thinking it would be a "very negative" year.
Other numbers seemed to support this optimism. According to figures released by the USDA Agriculture Census, more than 160,000 farms have disappeared in the U.S. since the start of 2007 — when the ethanol boom that was driving market growth for corn first started to slow down. Since the end of 2014, commodity prices (and, consequently, grower-customer revenues) have been on a steady decline, further eroding income along the way for those growers that have remained active in the marketplace.
But at the end of 2018, growers reported better income performance than they had during the 2017 growing season, buoyed in part by the Trump Administration's $12 billion aid package to help those negatively impacted by the ongoing trade dispute with China. (Despite this aid, the Congressional Research Service reported that national net grower income still dropped 12% last year.) Indeed, many folks believed that 2019 could mark the beginning of a new upward financial cycle for agriculture.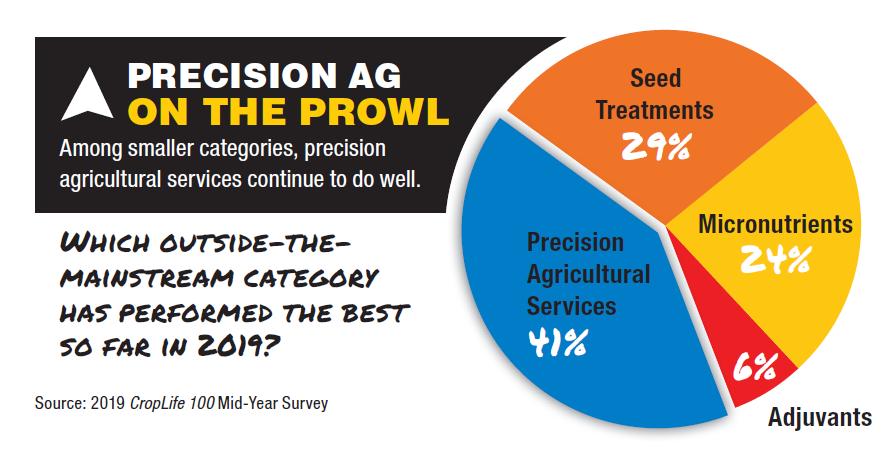 Since then, the agricultural headlines have been largely negative, screaming from media sources like old Silver Age comic book covers. "Wild Weather Worries!," "Tariff Tit-for-Tat!," and "Crop Crisis Crushes!" would be just a few examples of the over-the-top stories that have appeared. Despite this negative agricultural news, commodity prices have remained stubbornly low. In fact, according to the latest figures, the price of soybeans has now dropped below $8 per bushel for the first time in more than a decade.
The Incredible Hurt
As these "financial-sapping villains" have assaulted the overall agricultural marketplace, the nation's top ag retailers have felt the negative impact as well. In fact, when asked to rank the 2019 growing season thus far on a scale of one to 10 (one being worse than expected and 10 being better than expected), almost half of the respondents (47%) described the year so far as being "between a one and a four."
In part, the reason for this "lack of faith" in the 2019 growing season so far probably ties back to the incredibly cold/wet weather that had hampered crop planting throughout much of the Midwest through mid-May. "I can't fill this out because of weather," wrote Tim McArdle, Vice President for BRANDT. "None of us in the Midwest have done anything!" Several other CropLife 100 ag retailers based in the Midwest sent us similar comments during the mid-year survey time frame. Indeed, through the middle of May, nationwide corn plantings stood at barely over 30% — the lowest total this late in the season since 2013.
Still, with slightly less than half of CropLife 100 ag retailers ranking 2019 low in terms of performance thus far, the rest of the nation's leading input/service providers are apparently having a year that would rank from "OK" to "good." According to 24% of respondents, the 2019 growing season rates between a five and a seven in their books — or "going as I expected it would" in terms of overall outlook. A slightly higher percentage, 29%, describe the year as ranking "between an eight and a 10" thus far.
In terms of the performance of crop inputs and services, the story thus far in 2019 is a mixed one. When asked to rate which category has done the best so far during the current growing season, an identical number of respondents indicated both crop protection products and fertilizer were doing best, at 35% apiece. One year ago in the 2018 Mid-Year Survey, fertilizer was the clear leader with 67% of respondents rating it as the best market performer.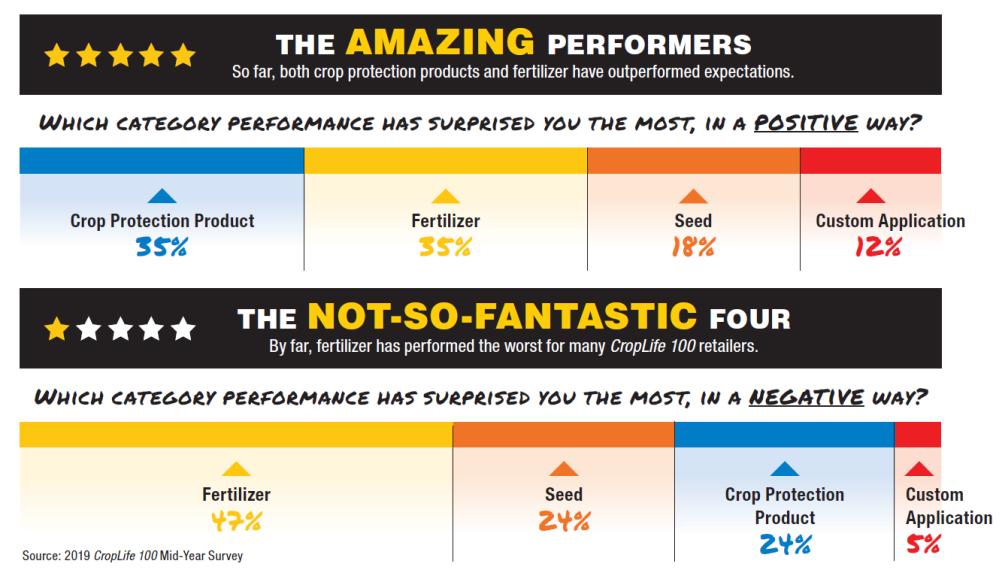 Somewhat surprisingly, fertilizer also was identified as the worst market performer by 47% of CropLife 100 retailers in the 2019 mid-year survey. Crop protection products and seed finished tied for second at 24% each.
Outside the major crop inputs/service categories, the clear winner thus far during 2019 is the precision agriculture services segment. According to the survey, 41% of respondents have seen growth in this area since the previous growing season, up 9% from the segment's 2018 percentage mark. Seed treatments finished second at 29%.
Uncanny X-Factors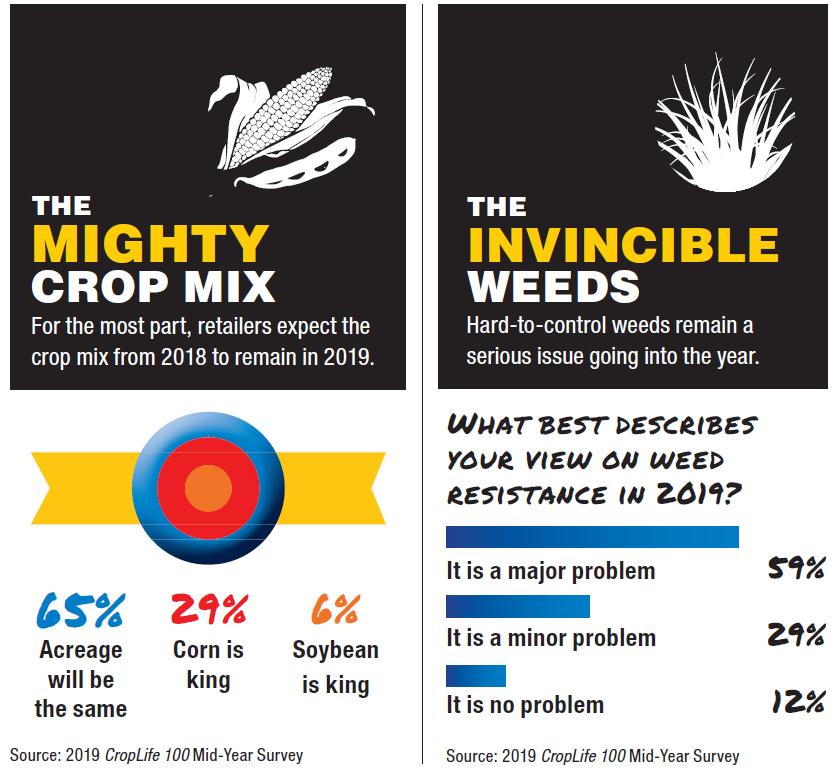 Aside from factors like Mother Nature and ongoing commodity price softness, perhaps the biggest market influencer on 2019's agricultural outlook has come from Washington. Throughout much of 2018 the U.S. and Chinese governments engaged in a dispute regarding trade between the two countries. Last year this led to a financial aid package being authorized to help U.S. growers, particularly those growing soybeans. It is estimated that approximately every third row of soybeans grown in the U.S. through the 2017 season was earmarked for sale to China. With the trade dispute, this demand dried up within a matter of weeks for the 2018 crop.
Going into 2019, market watchers were hopeful that the two countries could reach some kind of agreement to resume normal trade relations. But on May 10, President Donald Trump instructed his administration to raise the tariffs on Chinese goods from 10% to 25%. According to the administration, this move came about because of a lack of progress in trade talks between the U.S. and China. Naturally, China announced it would do the same to many American-produced goods, including cotton and grains, such as soybeans.
CropLife 100 ag retailers in the past have not reacted that negatively to such market moves. During the 2018 CropLife 100 Mid-Year Survey, 59% of respondents said the impact of the Trump Administration's agricultural policy on their businesses was "about what I expected." In the 2019 survey this percentage remained static at 59%. Perhaps more importantly for President Trump, the percentage of CropLife 100 retailers that described these moves as "worse than I expected" dropped between 2018 and 2019, from 32% to 29%. The remaining 12% thought the Trump Administration's agricultural efforts were "better than I expected" on their bottom lines.
As a by-product of this ongoing trade war between the U.S. and China, many agricultural market watchers were predicting that corn acreage would rebound in 2019 vs. soybeans. But according to most CropLife 100 ag retailers, this isn't what they are seeing in their areas of the country. In fact, according to 65% of respondents, the acreage numbers for corn and soybeans in 2019 will remain the same as they were during 2018, with both topping the 90 million acre mark. Only 29% expected to see the corn acreage in their service areas grow vs. soybeans during 2019.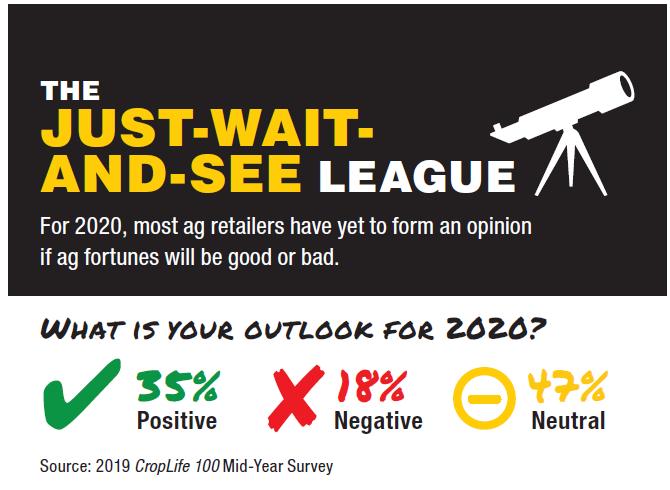 Journey into Mystery
With so many unknowns still impacting the 2019 growing season — and perhaps others waiting in the wings before year's end — no one among the CropLife 100 ag retailers is quite sure what the ultimate endgame will be for this year. But what about their feelings for 2020?
Here again, respondents are relatively split on how next year might play out. According to 35% of survey respondents, 2020 will be "a positive year" for agricultural growth. A smaller percentage — 18% — believe the year will be "a negative one" for the marketplace. The vast majority, however, 47%, view next year's growing season as "neutral."