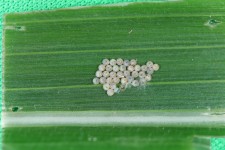 Our Western bean cutworm (WBC) catches sharply increased last week, with many of the adults being caught in northwest Ohio. Although it difficult to use trap counts to predict damage, a general rule of thumb recommends scouting for egg masses when multiple moths are caught over consecutive nights. A few traps are averaging more than 1 moth caught per night, so egg scouting should begin.
To look for WBC eggs, inspect 20 corn plants in 5 random locations. Inspect the upper 1-2 most leaves because WBC prefer to place eggs on leaves that are more vertical in orientation. WBC egg masses start out as white, and are laid in clumps of 25-100. As they mature, the eggs turn tan, and then dark purple. Egg hatch should occur within 24-48 hours once the eggs turn purple. Economic threshold is recommended when 5% or more of inspected corn have an egg mass.
Although we are seeing increased catches, we are probably not at peak flight just yet. Therefore, scouting for eggs should continue at least until past peak flight (in other words, when the numbers decrease from the previous week). Because of the heat, we may see peak flight soon, possibly during the 2nd week of July. If high numbers of WBC egg masses are found, please contact state entomology specialists or local extension educators (we are in the need for egg masses for efficacy work).