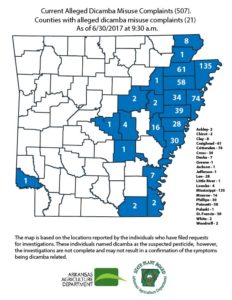 Arkansas Governor Asa Hutchinson on Friday said he has decided to back the Arkansas State Plant Board's proposal to ban dicamba in the state, as the "volume of complaints justify emergency action."
As of the morning of June 30, the Plant Board had received 507 complaints about drift. The mounting complaints propelled the board to pass a proposal to ban the herbicide last week.
Now, two proposals pertaining to the ban will move to the state's Legislative Council for review. The Legislative Council's next meeting is scheduled for July 21, 2017.
"As I have stated since January of this year, the Plant Board should have an adequate and an effective enforcement mechanism to deter the illegal application of chemicals that are a significant burden to our agricultural producers," Hutchinson said in a letter to Arkansas Agriculture Department Secretary Wes Ward and Arkansas Plant Board Director Terry Walker.
Hutchinson's letter in its entirety can be found HERE.
In his first action, the governor said that he would submit the "Ban on the Sale and Use of Dicamba" proposal to the state's Legislative Council for review. He also instructed the Plant Board and the Department of Agriculture to create a task force to review dicamba technology, to investigate its use and to develop a long-term solution for Arkansas.
In his second action, Governor Hutchinson announced that he has approved the promulagation of a proposal titled "Pesticide Enforcement Response Regulation." The Plant Board presented it to the governor as both an emergency rule and a regularly proposed rule, which will allow it to remain in effect beyond the 120-day period of the emergency rule.
The proposal is in response to Act 778 of 2017, which was an amendment to the Arkansas Plant Act of 1917. The amendment will allow the Plant Board to assess penalties of greater than $1,000 but not more than $25,000 for "egregioius" violations of dicamba rules that result in significant crop damage.
Act 778 does not take effect until August 1, 2017. However, Governor Hutchinson's decision to promulgate the emergency rule will authorize the Plant Board to act quickly, provided the Legislative Council approves the rules.