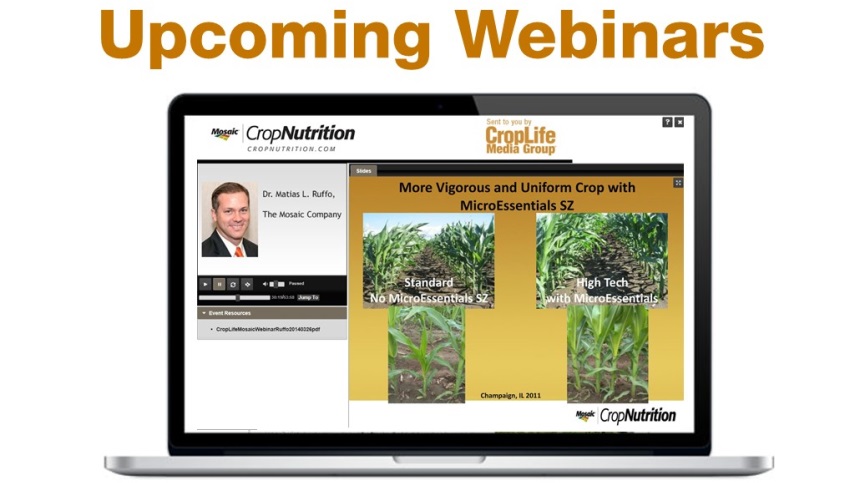 CropLife hosts dozens of webinars each year. Below is a list of upcoming events, as well as archived presentations that can be viewed on demand. Plus, Certified Crop Advisors (CCAs) can earn CEUs by attending these webinars.
---
Tuesday, December 10, 2019 | 2:00 PM EST
Approved for .5 CEU Credit in Crop Management
Biostimulants and plant growth regulators are getting a lot of attention in the marketplace. Farmers need to maximize their results on every acre. Learn how progressive farmers are managing their crops using plant growth regulators in combination with specific nutrients at critical crop stages from planting to harvest to break through yield barriers and realize greater yield potential. Participants will also gain a deeper understanding of the importance of managing the yield limiting effects of abiotic crop stress throughout the season.
Presented by Stoller
Register now
---
Now on Demand!  Original Air Date: October 22, 2019
Approved for .5 CEU Credit from CCA in Professional Development
In a time where farmers are constantly inundated with marketing materials and product offers, your ability to present them with the right product at the right time is crucial to maximizing your marketing and sales effectiveness. This starts with having the clearest picture of the farmer and their operation–as well as the agriculture market as a whole–which is only possible through accurate, comprehensive, detailed and current data.
Join us on October 22nd at 2 PM EDT  and hear from Farm Market iD CEO Steve Rao the types of objective data that are available to the market; the benefits of using this data; how to identify key market opportunities for agribusiness strategy; customize your marketing messaging to highly differentiated market segments; engage in productive, informed sales conversations; and align your revenue team toward growth while better and more effectively serving the American farmer.
Presented by Farm Market iD
---
NOW ON DEMAND  |  ORIGINAL AIR DATE: Wednesday, July 17, 2019               
Growers today have more options than ever before to secure needed crop inputs for the upcoming growing season. With current margins thinner than ever before, a crop input supplier must find a way to differentiate themselves on something other than price. Growers make many agronomic decisions throughout the year that will impact overall field or farm profitability, and most growers struggle to quantify impacts of these decisions.
This presentation will demonstrate how agronomic decisions impact the ROI of a field by using the data the growers collect today. How different is the conversation with the grower when you can show them ROI of your products instead of the price of your products?  Let's talk ROI instead of bags, gallons and tons!
Presented by EFC Systems
---
NOW ON DEMAND | ORIGINAL AIR DATE June 25, 2019
Approved for .5 CEU Credit in Precision Ag
The industry continues to evolve at an increasingly rapid pace, creating more competition in and more demand for farm management solutions that are easy-to-use, offer real support, and generate measurable results. Integrating innovative digital agronomic tools into your business gives you the opportunity to increase service revenue and create more value for your customers' farm operations. Join the webinar to learn how to better support your customers and increase the profitability of your business through advancements in digital agriculture.
Presented by Farmers Edge
---
NOW ON DEMAND | ORIGINAL AIR DATE: JUNE 5, 2019
The escalating trade battle between the two economic superpowers is reverberating throughout the crop protection chemical supply chain. Get your questions answered about the timelines, products affected, and potential outcomes in this special CropLife-AgriBusiness Global webinar event.
"Tariffs and Global Crop Protection: What's Next in the U.S.-China Trade War?" will feature crop protection expert Jim DeLisi of Fanwood Chemical, who will provide an insider's perspective on the current and future impact of the tariffs and tips on managing through the weeks and months ahead.
Downloads:
---
NOW ON DEMAND | ORIGINAL AIR DATE: May 21, 2019
Safety is of prime importance at repackaging locations. Having the correct types of containment units required for safe pesticide storage and transfer is essential for safe operation, especially in the case of a spill. Learn about the design requirements, proper anchoring and elevation of storage tanks, and best practices for maintaining containment units.
 Registration courtesy of Syngenta Crop Protection
---
NOW ON DEMAND | ORIGINAL AIR DATE: May 15, 2019
Join Yara to learn more about the latest patented micronutrient application technology and how their solutions can significantly improve your operations, making them safer and cleaner,  and increase the return on your investment. The one-of-a-kind technology also delivers many benefits to growers, including increased micronutrient efficiencies to grow their best crop.
Registration courtesy of Yara
---
NOW ON DEMAND | ORIGINAL AIR DATE: DECEMBER 12 , 2018
A perfect storm of changes is impacting the ag retail distribution chain. From a declining commodities market and consolidation at every level, to trade tariffs and e-commerce business models, a slew of factors are radically altering every aspect of the supply channel. Staying on top of this ever-changing market landscape can be daunting. That's why the editors of CropLife magazine are presenting the exclusive webinar "The State of Ag Retail Distribution: Insights from Industry Experts."
*Approved for 0.5 CEU Credit in Professional Development
---
NOW ON DEMAND | ORIGINAL AIR DATE: DECEMBER 5, 2018
Our speaker, Dr. Shaun Casteel of Purdue University, will highlight key management practices for growers to keep in mind when aiming for high soybean yields. He will discuss details of those recommended practices as they relate to optimizing yields. In particular, he will share some of his recent findings in the nutritional needs and patterns of modern soybean production, especially sulfur and nitrogen. He has been exploring sulfur sources and timings to improve production and profitability.
Approved for .5 CEU credit in Nutrient Management and .5 CEU credit in Crop Management
Registration courtesy of AdvanSix Inc.