At the end of 2016, EPA issued a two-year conditional label for three new dicamba products: Xtendimax®, FeXapan™ and Engenia®. These products were designed to be used over the top of dicamba-tolerant (DT) soybeans and cotton and were approved by 34 states. The 2017 growing season was the first time growers could use these new products, and the results were largely very successful.
As with any new product launch, especially one as large as this one, there is a learning curve as farmers begin to use them on a large scale. There has been some misuse of the products, which has led to individual states issuing restrictions of their own. In a recent webinar, "Learn Winning Strategies in the battle Against Herbicide-Resistant Weeds," sponsored by West Central Distribution, experts from West Central and BASF (makers of Engenia), provided an update on the changing rules in different states and reinforced recommendations on application requirements.
The Importance of Getting it Right
"Things have been changing almost daily with dicamba regulations, or at least with proposals," says Joe Sandbrink, technical development specialist at West Central. "We hope if there are label changes they will occur soon so farmers can plan."
The stakes are high to get it right. 2017 was the first year for the full Roundup Ready® Xtend Crop System in soybeans and cotton. Approximately 25 million acres were planted in the key cotton and soybean regions of the U.S. As weeds continue to develop resistance to older herbicides, farmers desperately need some new tools.
"This trait launch is the largest ever in the history of trait launches," Sandbrink says. "We want growers to be able to use these new products for a long time, and that means using them correctly, not only for efficacy, but also to avoid development of resistance and damage to your own and your neighbors' crops.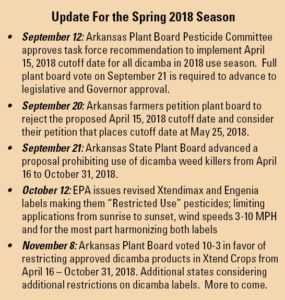 Working Cooperatively to Identify Problems
Nathan Borgmeyer, senior market manager at BASF, says identifying the reasons for off-target drift is at the heart of investigations not only by EPA, but by product manufacturers such as BASF.
"We want to make sure everyone is making decisions based on sound science," Borgmeyer says. "We need time to collect data from our investigations and share that with people. Let's also remind ourselves that a very high percentage of farmers had a great experience this year with DT products, and we want to learn from them. What did you do correctly or differently from your neighbors?"
Borgmeyer says in most cases, the cause and source of off-label spray particle drift are clear in fields our BASF reps have walked. In other cases, the cause and source are not as clear because there appears to be multiple factors at play, including applications made during high winds or inversions, lack of adherence to buffer zones, incorrect nozzle selection or lack of proper sprayer system cleanout procedures.
"In many cases it is a combination of factors, so it can make it hard to pinpoint the cause," Borgmeyer says. "Combine that with the fact that it takes up to three weeks to see the symptomology; it leads people to jump to conclusions. After our investigations, we will assess and refine efficacy recommendations and continue to work cooperatively with universities, weed scientists and regulatory agencies. That's been our mode of operation to date, and we will continue to work closely with them."
Know Your Tank-Mix Partner
The performance of traited herbicide products is dependent on tank mix partners and the chemical interactions that occur.
"Tank mix partners must be individually tested and approved with each traited herbicide product," says Brian Kuehl, director of product development at West Central. "The goal is to find tank-mix partners that can be universally used across a wide array of traited herbicides to simplify things for the end user. In the short term, however, the end user has to be diligent about making sure the tank mix partner they want to use is approved."
Each manufacturer maintains a website with up-to-date information on approved tank-mix partners for their own traited herbicide product, Kuehl says.
Webinar Available On Demand
If you missed the live broadcast of this webinar, "Learn Winning Strategies in the Battle Against Herbicide-Resistant Weeds," you can view the archived version online for free. Visit CropLife.com/webinars and check it out today.