Liquid fertilizers have greatly increased in popularity in recent years. They can be either ground applied or foliar applied. Liquids can be broadcast, used in a band application at planting and as mid-season sidedress. When foliar applied, the plant nutrients are absorbed through the leaves and are more readily available. When applied to the soil or during planting, fertilizer provides the foundational nutrients in the soil for seed germination and early plant growth.
New technologies and improved combinations of nutrients have created unique offerings that enrich the soil, increase nutrient absorption and promote better yields.
The J.R. Simplot Company's ongoing pursuit for improvement and innovation has led to a better nutrient formulation. OneUP™ is a high-grade liquid plant bio-stimulant and soil builder, based on low salt liquid nutrients combined with advanced photosynthesis and nutrient assimilation technologies to increase plant yields and grower profitability.
No other liquid fertilizer on the market combines these technologies with a rich blend of nutrients. OneUP offers a high load of organic acids for better nutrient absorption, and potassium to support vital plant processes. The fertilizer contains no manure derivatives or bacteria to improve food safety.OneUP is a clean, soluble formulation that features the smallest particle size of any fertilizer in its category, which helps prevent clogged nozzles. It is compatible with many other fertilizers and crop protectants.  OneUP can be used on or near the seed in early season in-furrow applications (on most crops) and can be a versatile value-added option for soil and foliar applications.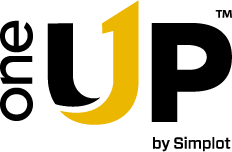 In agronomic data, OneUP improved yields and quality on many crops, including corn, soybeans, potatoes, onions, sugar beets, grapes, almonds and wheat. OneUP promotes sustainability by supplying the right source of nutrients at the right time in the right place and at the right rate.
This proprietary nutrient formulation promotes greater nutrient assimilation, builds strong root systems and improves yield potential. Learn more at Simplot.com/oneup.