Today, growers are looking for every advantage to improve their yields and profitability. One way is to implement strategies and solutions that help increase the genetic potential of the crop.
UNLOCK 5™ Crop Life Cycle Strategies from Arysta LifeScience does just that. It helps growers achieve higher yields and optimize financial returns by unlocking the genetic potential of the crop at each stage of its life cycle. UNLOCK 5 includes strategies and solutions to promote optimal plant development, which results in improved performance and increased tolerance to environmental stress.
Promoting stronger plant health
There are five stages in a plant's life cycle — Establishment, Architecture, Photosynthesis, Reproduction and Sizing — and that plant has specific needs in each stage.
"UNLOCK 5 targets each stage of a crop's life cycle to promote stronger plant health and support when it's needed the most," says Royce Schulte, North American Business Manager for BioSolutions and Innovative Nutrition at Arysta LifeScience.
Solutions to mitigate crop stress
"UNLOCK 5 solutions focus on promoting higher nutrient uptake and crop vigor, and that results in a stronger, healthier plant that has improved tolerance to face those environmental challenges," Schulte adds.
UNLOCK 5 solutions include plant growth regulators, biostimulants, innovative nutrition and other plant health products, such as TEPERA®, TEPERA PLUS, FORTIX® and ZOLERA® FX. Additionally, it features RAZE™ 0-3-2 — a new, advanced foliar nutrition product that promotes more balanced uptake of essential plant nutrients at key stages of the crop life cycle. Solutions can be individual products, multiple or sequenced applications.
No matter the crop stage, UNLOCK 5 has a strategy or solution to help growers maximize their full potential, giving growers another tool to help get more from their existing seed technologies.
To learn more about UNLOCK 5, growers can visit Arysta-NA.com/unlock5.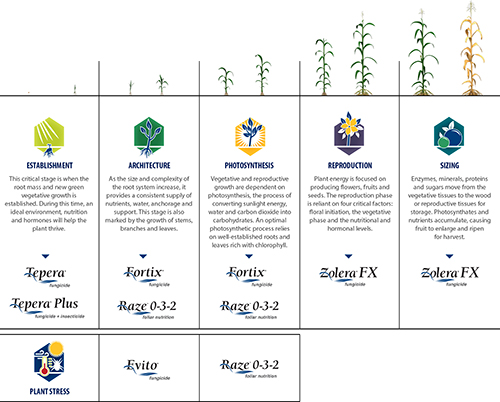 Five stages of plant development
Establishment — Focus is on developing root mass, promoting shoot emergence and achieving vigor and uniformity of crop emergence.
Architecture — Focus is on providing for a solid root architecture, stem diameter and yield structures (such as corn ears).
Photosynthesis — Focus is on creating greater leaf mass to promote greater photosynthetic activity, chlorophyll utilization and CO2 fixation.
Reproduction — Focus is on grain size and quality, which is determined by promoting efficient flowering, pollination and cell division.
Sizing — Focus is on movement of sugars from vegetative tissues to reproductive tissues, which help determine yield.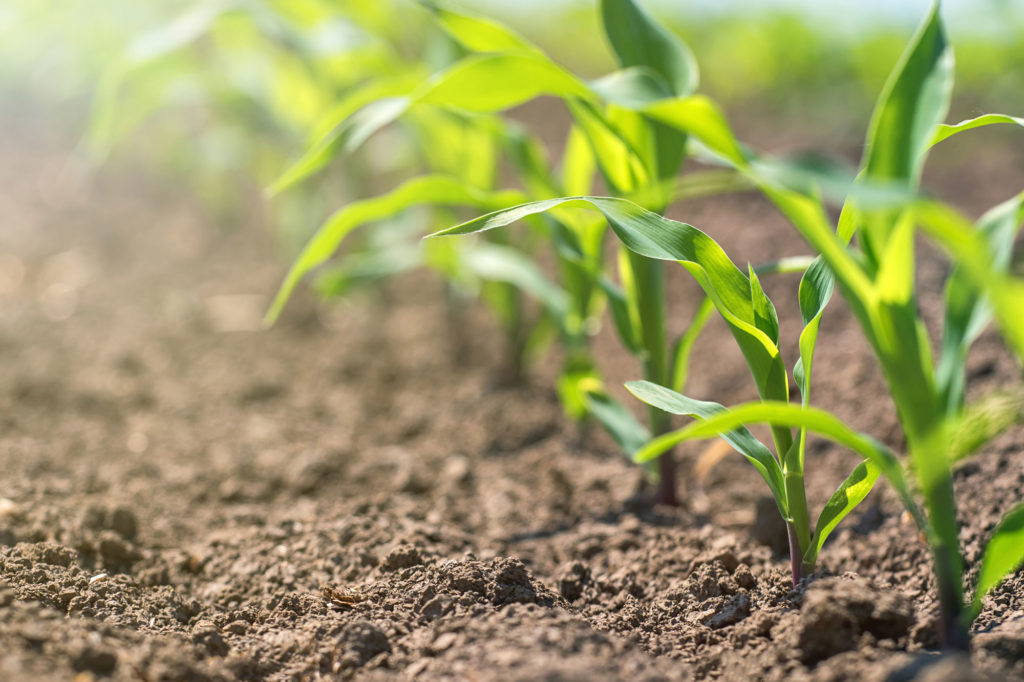 UNLOCK 5 solutions
Fungicides like TEPERA, TEPERA PLUS, FORTIX and ZOLERA FX are plant health products that aid in corn development, resulting in enhanced plant tolerance to environmental stress.
RAZE 0-3-2 is ideal for use when corn is in the V4 to V6 stage when maximum kernel rounds are being developed in the plant to maximize nutrient assimilation and water uptake.
For more information on UNLOCK 5 solutions, visit Arysta-NA.com/unlock5.
TEPERA PLUS is a restricted-use pesticide. Always read and follow label directions. FORTIX, TEPERA, and ZOLERA are registered trademarks, UNLOCK 5 and RAZE are trademarks of an Arysta LifeScience Group Company. Arysta LifeScience and the Arysta LifeScience logo are registered trademarks of Arysta LifeScience Corporation. ©2019 Arysta LifeScience Group Company.