The full CropLife 100 Report is coming next month with the complete rankings and 2021 market review. But with all the rapid developments in digital technology and their implications for the retail business in the years ahead, we decided to conduct an electronic "gut check" survey last month to capture attitudes and opinions on a variety of technology topics.
Survey respondents were management level employees working at branch locations of CropLife 100 retail businesses, and their responses painted an interesting picture of the state of technology and the retailer.
How are retailers feeling about the opportunities and threats around the choices they have made — or soon will make — about their approach to technology? We decided to try to gain some insight through a quick survey of CropLife 100 retail managers with questions around digital engagement with growers, external threats from partners and competitors, and opportunities to evolve and grow with changes and challenges.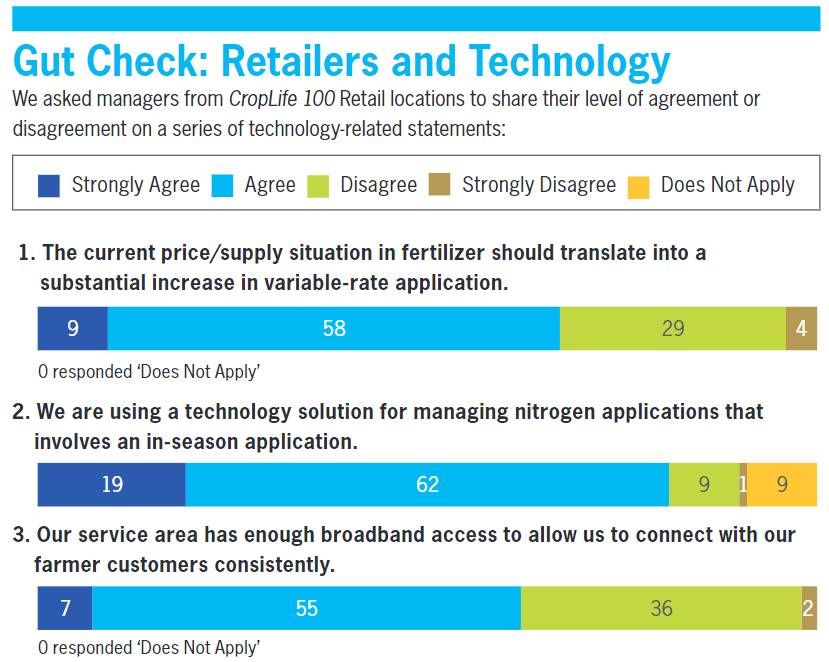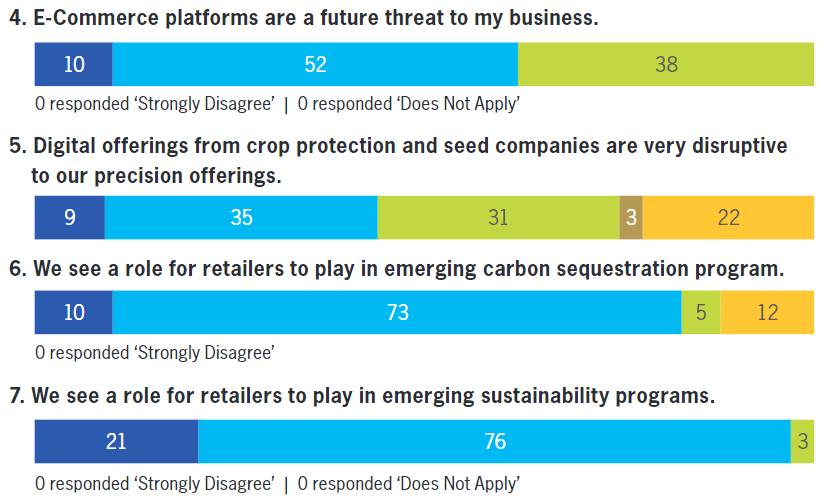 Nearly three-quarters of respondents indicated that grower-customers can access account information, and almost 60% provide product information and purchasing through an organic or third party electronic commerce system, providing opportunities for broader engagement with customers.
Still, more than 60% of respondents "strongly agree" or "agree" that e-commerce continues to be a future threat to their business, and 44% agree that digital offerings from seed and crop protection companies are "very disruptive" to their own precision offerings. Compounding the negative attitude about retail and the customer experience is the sentiment that grower loyalty is flat to trending down, expressed by more than seven in 10 respondents.
On the other hand, implementing and growing data intensive services such as nitrogen management and variable-rate application, carbon sequestration programs, and sustainability regimens were seen as opportunities for growth for retail operations.
Brad Oelmann, President of Farrell Growth Group, a retail consulting firm, saw the results as proof that any technology strategy needs to first support a great customer experience. "Linking the grower's account, agronomic, carbon/sustainability, and precision information in one place, appears to be an opportunity to enhance the customer experience," says Oelmann.
As for e-commerce, despite the perceived threat expressed in the survey there is opportunity in providing expert consultation in advance of the purchase. "If growers are wanting to order product electronically, the question I have is, 'where did they get the information to make that decision?' The opportunity to add real value comes before the transaction, not the transaction itself."
Rusty Harder, Founder of retail consulting firm Ascendency, notes that the results support conversations he heard at this summer's Tech Hub LIVE conference: "Retailers are searching for a strategic vision to build stronger ties to their farmer-customers."

More Charts (click to view)
4
4
5
The State of Technology and the Ag Retailer