Meister Media Worldwide, producer of innovative events for agricultural markets around the globe in addition to its leading print, digital, data and business services for specialty agricultural markets, has announced a joint venture with a leading events company as part of Meister Media's longer-term strategy to expand its events portfolio.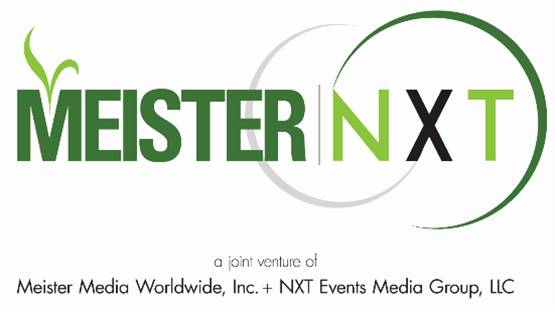 Meister Media has teamed with NXT Events Media Group of Norwalk, CT, to create a joint venture called Meister | NXT LLC. The new JV will focus on producing conferences and trade shows to help the many diverse segments of agriculture realize the promise of new systems, technologies, and alliances to meet the challenges of ensuring safe, reliable, and abundant food for our expanding world.
The first event of the joint venture will be Growing Innovations, which will debut November 7-8, 2018 at the Las Vegas Convention Center, Las Vegas, NV. The conference and tradeshow will convene the full range of specialty agriculture and related markets served by nearly all of Meister Media's industry-leading brands in the U.S. and Mexico including American Fruit Grower and Western Fruit Grower, American Vegetable Grower, Florida Grower, Greenhouse Grower, Greenhouse Grower TECHNOLOGY, Productores de Hortalizas, CropLife, and PrecisionAg Professional.
"Growing Innovations is a one-of-a-kind conference and exposition dedicated exclusively to new and breakthrough solutions to the challenging new farming environment that growers' face, for which new and emerging technologies and other innovations offer the greatest potential for leading the farm forward," said Gary T. Fitzgerald, Chairman and CEO of Meister Media Worldwide. "We anticipate attendance and support not only from the United States but also from Canada and Mexico. Growers joined by innovative traditional ag suppliers along with leading technology providers and suppliers as well as by service providers and key decision influencers."
NXT Events Media Group is the events company led by industry veterans Britton Jones and Sharon Enright. In their extensive experience in the events industry, Jones and Enright have produced more than 100 award-winning, world-class events. They also have a strong track record of creating new events, having launched 15 successful new shows in their 18 years of working together.
"Forming a joint venture with NXT was an easy decision due to their passion for the events industry and demonstrated record of success," Fitzgerald said. "Sharon and Britton share our commitment to truly serving strategic industry needs and creating events that provide unique experience and value. Together we are confident Growing Innovations will further Meister Media's mission to empower the business of global agriculture to grow a better world."
Agriculture industry professionals interested in receiving updates on Growing Innovations can register at MeisterMedia.com/Growing-Innovations/.