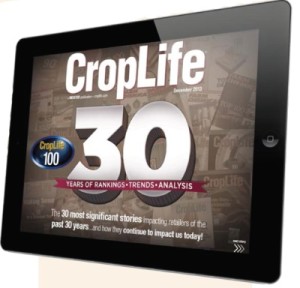 If you haven't downloaded CropLife magazine's new app yet, what are you waiting for? Here are five really good reasons to add the app to your iPad today:
1. Get It First. Instead of waiting for the print version of CropLife magazine to arrive in your mailbox mid-month, get it first with the new iPad app. Download our popular December issue right now, and be the first to learn who made the top 100 list of the largest ag retailers in the country. You'll also get a jump on the competition in reading our in-depth analysis on how fertilizer, crop protection products, seed and equipment are impacting the ag retail industry in our exclusive CropLife 100 report.
2. Interactivity. Reading CropLife on the iPad is a full sensory and interactive experience, which takes advantage of iPad's stunning high-resolution display and innovative multi-touch interface. Not only does the app include the content of the current print issue of the magazine, it also contains image galleries, animated charts, videos and other bonus content for enhanced viewing.
3. Read Previous Issues. Did you miss the November issue of CropLife? That's no problem with the iPad app as you'll have access to back issues and special reports such as Weed Resistance Management.
4. Download It Anywhere. You can download CropLife magazine anywhere in the world as long as you have an iPad and Internet connection. That's the convenience and flexibility you just can't get from the print magazine.
5. Positive Feedback. If the above reasons don't convince you to give it a try, then consider many CropLife readers have already experienced some very positive results with the iPad version. Here are just a few comments we've received:
"It is easier to read and offers less clutter on my desk."
"Content has a very clean, easy-to-read appearance and navigation is simple."
"I'm impressed with the iPad version and love having it at my finger tips."
The digital edition of CropLife will work on any iPad device and is available for free in the Apple App store on iTunes. Download it today!