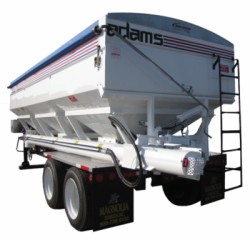 CropLife® magazine continues its annual coverage of what new and upgraded equipment visitors to the 2011 summer trade shows can expect to see.
Adams Fertilizer Equipment
Adams Fertilizer Equipment has released the M3-SA, which features a new three-hopper module design. Each of the compartments carries 8 tons, with a total unit capacity of 775 cubic feet and rig length of 32 feet. Hoppers are made of 409 stainless steel with powdercoat paint — and offer large, easy-slide hydraulic doors. The tender has a 60 HP, air-cooled Deutz diesel engine and an easy-access mounted sealed electric control panel with push-button start and easy-read gauges.