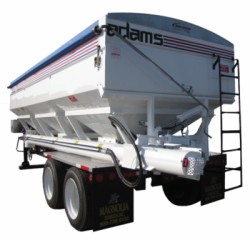 CropLife® magazine continues its annual coverage of what new and upgraded equipment visitors to the 2011 summer trade shows can expect to see.
Adams Fertilizer Equipment
Adams Fertilizer Equipment has released the M3-SA, which features a new three-hopper module design. Each of the compartments carries 8 tons, with a total unit capacity of 775 cubic feet and rig length of 32 feet. Hoppers are made of 409 stainless steel with powdercoat paint — and offer large, easy-slide hydraulic doors. The tender has a 60 HP, air-cooled Deutz diesel engine and an easy-access mounted sealed electric control panel with push-button start and easy-read gauges.
Ag Systems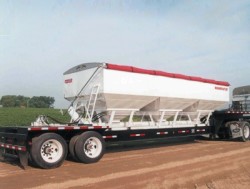 Ag Systems' Tyler MT24 offers capacities from 10 tons to 24 tons for any size application, with a discharge rate of 3,500 pounds or more per minute. Discharge heights of augers easily reach over the tallest flotation applicators, which means less shoveling. Three separate side-shooting tenders can be either truck- or trailer-mounted and can move up to two tons of material per minute.
Chandler Equipment Co.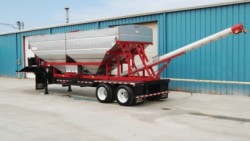 Chandler Equipment Co. has redesigned its rear discharge tender trailer, increasing the capacity from 20 to 24 tons. Engineers added a Deutz diesel engine and made standard a number of features that were previously purchased options, including vibrators on each hopper and hydraulic gates.
Dempster Industries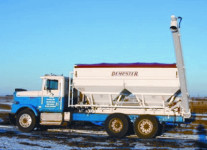 Dempster Industries' 16-ton side discharge unit reaches 18 feet to allow greater discharge height capability for equipment clearance and improved operator view of the single-unit, 10-inch unloading auger. Two compartments come standard (up to four optional) for a capacity of 600 cubic feet, heaped. Made of 12-gauge 409 stainless steel, the hopper features 40-degree side walls for easy-flow and clean out.
Doyle Manufacturing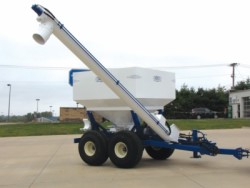 Doyle Manufacturing's new 8 FT Side Dis­charge Trailer Tender has a single 258-cubic-foot hopper, constructed of powder-coated 409 stainless steel and mounted on a heavy duty frame. The frame is made of 2-inch x 6-inch mild steel tubing and has heavy-duty corner bracing. The frame also has tandem 10,000-pound axles with eight bolt hubs. The 304 stainless steel, flighted side discharge auger is hydraulically operated. Doyle tenders use a free floating box mounting system, allowing units to navigate the toughest terrain and preventing hoppers from twisting or cracking.
KBH Corp.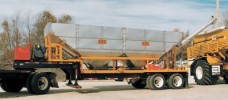 The KBH Corp. in 2011 has introduced several new features for its 25-ton dry tender, including hydraulic clean-out doors, a remote greasing station, stainless steel rear axle cover, and an Agri-Cover SRT spring-coil assist roll tarp. Hoppers are made of 14 gauge 304 stainless steel and hold three or four more tons than other 30-foot trailers, says the company. The trailer has a capacity of 70,000 pounds and offers safe, light, and easy maneuverability. The tender is available in either rear- or side-discharge.
Precision Tank & Equipment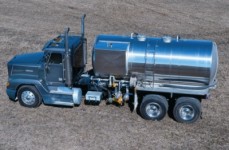 Precision Tank & Equipment nurse units can be equipped with various options, including a choice of pump drives and sizes and a mild steel or stainless steel tank skid. They have payload capacities of up to 3,500 gallons — with a single or multiple compartment tank — and can be mounted on either a wagon or chassis.
Ray-Man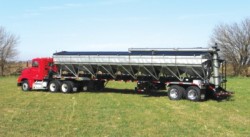 Ray-Man has over 35 years in the ag industry, offers three different discharge styles, two grades of stainless steel, stainless steel top catwalks, as well as manual or electric roll tarp options. The semi-trailers can be powered by a wet kit on a dealer's truck or by a self-contained power unit on the trailer. Ray-Man's integral trailer framework utilizes the hopper sub-frame, tubular steel "X" bracing and the main frame rails to achieve a superior strength-to-weight ratio. Pictured is a 42-foot Charger II-FB with optional 304 stainless steel, Cummins power pack, and polished aluminum wheels.
Simonsen Industries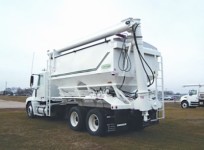 Simonsen Industries' BFT tenders are available in either side delivery or top auger models and come in 16-foot (two hoppers), 18-foot (three hoppers), or 24-foot (four hoppers) lengths. The number of hoppers is for a standard body, and optional splits are available for all. Capacities range from approximately 17 tons for the smaller unit to just over 27 tons for the largest rig. Optional 6-inch higher sides are also available.
Willmar/AGCO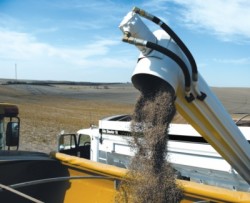 Willmar/AGCO's 16- and 24-ton side-shooting tenders can be truck or trailer mounted, respectively. Both move up to two tons of material per minute. Hopper compartments of four or six can carry a variety of material, while their steep, 40-degree, sloped sides provide quick material dispensing and complete clean-out. Additional features include a powerful hydraulic drive and built-in, rear-mounted ladder.