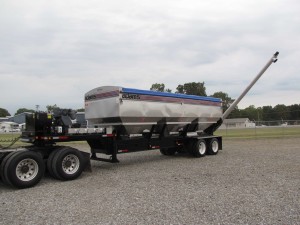 M3-SA Trailer Tender, Adams Fertilizer Equipment
The M3-SA, a 24-ton Side Auger Tender Trailer, features a new three-hopper module design with each of the compartments carrying eight tons — and a total unit capacity of 870 cubic feet. Hoppers are made of 304 stainless steel and offer large, easy-slide hydraulic doors as well as hydraulic dump cleanout doors. The tender has a 60 HP, air-cooled Deutz diesel engine and an easy-access mounted sealed electric control panel with push-button start and easy read gauges. It rides on a 32-foot Magnolia DOT trailer.
Willmar 16-Ton Side Shooter, AGCO/Willmar
Holding a 516 cubic feet struck capacity and 570 cubic feet heaped, Willmar's 16-ton side-shooting tender can be truck or trailer mounted and can move up to two tons of material per minute. Four hopper compartments support simultaneous transport and use of a variety of products, with steep, 40-degree sloped sides for quick material dispensing. Additional features include a powerful hydraulic drive, a stainless steel swing-away auger and built-in, rear-mounted ladder.
Willmar 1600 Rear Discharge Tender, AGCO/Willmar
With a large-capacity hopper (500 cubic foot struck and 560 cubic foot heaped) and two compartments feeding into one auger, Willmar's 1600 rear discharge tenders can carry nearly any single, dry-material product and load any applicator or planter at up to two tons per minute. Rear-mounted ladders provide accessibility to the hopper to improve the sightline of the fill and flow status. Other features include a self-contained hydraulic system and quick cleanout with 30-degree, fast-flow, stainless steel sides.
RDT-24 Trailer Tender, Chandler Equipment Co.
Chandler has redesigned its rear discharge tender trailer, increasing the capacity from 20 to 24 tons. Engineers have also added a Deutz diesel engine and made standard a number of features that were previously purchased option, including vibrators on each hopper and hydraulic gates.
Gainesville, GA, 800-243-3319, www.chandlerequipment.net
24FT Trailer Tender, Doyle Equipment Manufacturing
The Doyle 24FT Trailer Tender was designed for efficiency and ease of operation. Its modular, multi-hopper design allows the company to customize units, whether the buyer needs the standard three 258 cubic-foot bins, or the optional six 129-cubic-foot bins, or any combination in between. Bins are constructed of 12 gauge, 304 stainless steel and have a 40-degree side slope. Hydraulically operated, the side discharge auger consists of a 20-foot stainless steel tube with stainless steel flighting.
16FT Truck Tender, Doyle Equipment Manufacturing
Doyle's 16 FT side discharge truck mounted tender features four modular compartments (129 cubic feet each) in a 12 gauge 304 stainless steel. Hoppers have a 40-degree slope. Hydraulically raised and lowered, the 19-foot auger reaches a 14-foot discharge height, with a 1.75 ton-per-minute discharge rate. The main frame is made of heavy duty mild steel square tubing with a mild steel "boxed" support arm and cross braces.
Hays Tender, Hays Liquid Transport
Designed to be user-friendly, the Hays Tender has hydraulic operated main doors and clean-out doors, hydraulic vibrators, front and rear ladders, and an easy-to-use tarp system. The unit was engineered for easy upkeep as well, with covered hydraulic hoses, a covered air tank, and stainless steel augers and bearings. Trailer weight allows for maximum payload. At refurbishing time, the unit is easy to disassemble and reassemble thanks to an integrated hopper cradle and trailer assembly.
25-Ton Dry Tender, The KBH Corp.
The KBH Corp. is now offering several new features on its 25-ton dry tender, including hydraulic clean-out doors, a remote greasing station, stainless steel rear axle cover and an Agri-Cover SRT spring-coil assist roll tarp. Hoppers are made of 14 gauge 304 stainless steel. The standard 32-foot trailer has a capacity of 70,000 pounds and offers safe, light and easy maneuverability. Trailers from 32 feet to 42 feet are available with either rear- or side-discharge.
Quickveyor, Peterson Motors Co.
Since the Quickveyor's inception in 2000, it has gone through many advancements and upgrades in response to the ever-changing needs of customers. Two key features they've told Peterson Motors that they like: its simplicity and speed. For 2013 the company added a Lexan cover on the belting of the Quickveyor — which adds additional safety while maintaining visibility. The unit features multiple compartments and a 27-ton legal capacity.
Nurse Unit, Precision Tank & Equipment
Precision Tank & Equipment's nurse units can be equipped with various options, including a choice of pump drives, removable spargers, sumps, ladder and a mild steel or stainless steel tank skid. They have payload capacities of up to 4,200 gallons — with a single or multiple compartment tank — and can be mounted on either a wagon or chassis.
Virginia, IL, 800-258-4197, www.precisiontank.com
Charger II-CB, Ray-Man
The Charger II-CB Belt-Discharge Tender is designed for multiple uses. The tandem conveyor system can be used to transfer fertilizer or grain and is gentle enough to handle seed. The 9-inch stainless steel floor conveyor contains a 12-inch PVC belt. The product is transferred to the 16-inch discharge conveyor belt. The simple design of the rear-folding discharge conveyor makes it easy to operate. The 20-foot discharge conveyor is extended with hydraulic cylinders and raised into the desired unloading height. The Charger II-CB will unload fertilizer at a rate of 2,000 pounds per minute or seed at 29 bushels per minute.
BFT Series Tenders, Simonsen Industries
Simonsen's BFT tenders are available in either side delivery or top auger models and come in 16-foot (two hoppers), 18-foot (three hoppers) or 24-foot (three or four hoppers) lengths. The number of hoppers is for a standard body, and optional splits are available for all. Capacities range from approximately 16 tons for the smaller unit to just over 27 tons for the largest rig. Optional 6-inch higher sides are also available.
0
1
5
12 Road Ready Tenders For 2013