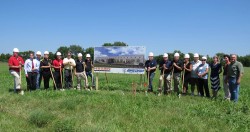 Waconia Manufacturing, Inc. broke ground July 18 on a new manufacturing facility in Norwood Young America, MN.
"This new facility is going to allow us to serve our customers better," said Troy Williams, President of Waconia Manufacturing. "The engineering and manufacturing technology will be state-of-the-art, which will make it easier to maintain our strict quality standards. Best of all, we'll be able to cut lead times and deliver finished equipment to the field significantly faster."
The 67,000-square-foot facility is situated on a 9.36-acre site, and will include manufacturing, office space and storage for finished goods. Completion is scheduled for the first quarter of 2014.
Waconia Manufacturing, Inc. is a diversified manufacturer of bulk material handling and blending systems.