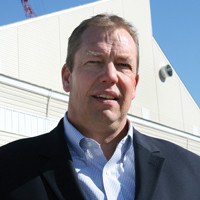 In many ways, the office of Michael Stegmann, president of Lange-Stegmann Co., reflects the personality of his company as well — a perfect blend of old and new. Alongside a modern-looking printer and telephone is a set of overhead cabinets filled with old beverage bottles. On the floor is farming equipment dating back to the early 1900s. Likewise, the company's office building dates back to the 1940s, with wood paneling and brickwork in abundance. Yet just a few hundred yards away on the 80-acre site, construction workers are busily installing shiny new stainless steel fertilizer blending and transportation equipment in a modern-looking, 21st century-style warehouse facility and laying the foundation for a state-of-the-art granulation plant.
According to Stegmann, this mixing of history with modernization is deliberate. "I believe for any business to grow and prosper, you have to look for new opportunities as the marketplace changes," he says. "But you should never forget what role your history has played in getting your company to where it is today."
Back To The Beginning
That history extends back to 1926, when Stegmann's grandfather, Henry Lange, founded the company with his great uncle, Dewey. "At the time, the Lange brothers saw tremendous growth potential for fertilizers in the U.S. agricultural market," says Stegmann.
During that part of the 20th century, animal by-products were the primary source of fertilizers. So the Lange's original facility sprung up in St. Louis near the city's animal stockyards, located on the Mississippi River. The brothers would take animal manure, meat scraps, and other by-products, process them together, and package the resulting mixture in 125-pound burlap sewn bags. These bags would then be shipped in railroad boxcars, with each boxcar containing 15 to 20 tons.
In 1960, Henry's son-in-law, Richard Stegmann, joined the company. Five years later, Lange-Stegmann Fer­tilizer Co. was formed, with Henry and Richard as proprietors. By this time in its history, Lange-Stegmann had replaced its original fertilizer business with a warehouse/bagging model catering to a single large customer, The Olin-Mathieson Chemical Co.
In 1979, says Stegmann, two watershed events took place that would help shape the future direction of Lange-Stegmann as a company. Mid-year, Michael formally joined the family business, working in the warehouse. A much bigger moment occurred in December, when sole customer Olin-Mathieson announced its intention to get out of the fertilizer business.
"Obviously, that news sent some shock waves through our company," says Stegmann. However, he adds, the company didn't panic, instead viewing the impending loss of a customer as an opportunity to refocus and rebuild Lange-Stegmann into something entirely different.
"My father realized that the key to success in the fertilizer business would be materials handling," says Stegmann. "The ability to outflank competitors with smarter logistics and faster transportation could keep the company moving forward."
By 1984, Lange-Stegmann had embarked on an ambitious expansion program. It built large storage domes with a self-engineered center pivot conveyor system and barge docks on the banks of the Mississippi River. The company also added a 15,000-ton liquid storage facility on its grounds. Finally, Lange-Stegmann diversified into moving commodities for other manufacturers such as chemicals, feed ingredients, and salt. It was during this time frame that the other Stegmann children — Rick and Debbie — also came aboard.
By 2000, says Stegmann, Lange-Stegmann's was firmly established. The company's facility was located at the northernmost port on the Mississippi River that is lock-free and open year-round. It boasted a 100,000-square-foot covered storage area, 15,000 tons of liquid storage, and 80,000 tons of dry granular storage capacity. The operation also had the second largest rail yard in the St. Louis area, covering three miles.
Besides its wholesale fertilizer business, Lange-Steg­mann also branched out into complimentary areas. In 2000, the company purchased the Agrotain technology from IMC Global (now The Mosaic Co.) and formed a wholly-owned company called Agrotain International, L.L.C. to market it. "These two companies operate separately, with Lange-Stegmann overseeing the wholesale fertilizer side of things and Agrotain responsible for the fertilizer innovation/technology side," says Stegmann, who has served as president for both companies since 2003. "However, both companies follow the same general business philosophy as the other — providing the best products possible while surpassing customer expectations and regulatory standards." As in the beginning, approximately 80% of Lange-Stegmann's and Agrotain's businesses cater to the agricultural marketplace, operating warehouses for several basic fertilizer producers.
Continuing To Plan Ahead
According to Stegmann, one of Lange-Stegmann's greatest strengths over the decades has been the ability to recognize and take advantage of significant shifts in the market it serves. "Many of the trends that helped move us forward during the past two years had their roots back in the mid 1990s," he says.
Since that time, the fertilizer industry has seen more and more of its products coming into the U.S. through imports from around the globe. This has been particularly true for Lange-Stegmann's main product, urea. During 2007, for example, approximately 6.8 million tons of urea were imported into this country from overseas markets, with 2.4 million tons entering through the Mississippi River system.
"So from this perspective, Lange-Stegmann is situated in an ideal location to capture this market," says Stegmann.
Coupled with this volume of fertilizer moving by its facility grounds, Lange-Stegmann's grower-customer base is getting more spread out. "There's no doubt that urban sprawl is taking a large percentage of our customers away," says Stegmann. "It used to be that you could travel just a few miles west of our location and find growers. Today, you have to go out approximately 60 miles before that happens. That's putting pressure on profits and margins for everyone in this business because they have to move product further distances than ever before."
Recognizing these facts, railroad companies have begun altering the way they handle fertilizer as well. According to Stegmann, most major rail lines move bulk fertilizer by unit trains, which can be loaded, shipped, unloaded, and returned for another load in as little as seven days. Single car loads of fertilizer can take up to 45 days to complete this same cycle.
Bigger Trains Ahead
Today, the average unit train consist of a minimum of 65 cars. "But the railroads we do business with — the ones that are committed to moving product by unit train and not in single-car loads — have made it clear that they want to increase the minimum unit train requirement to 85 cars. Then, they want to up this again, to 110 cars. As a result, the railroads have for some time been encouraging companies like ours to make the necessary adjustments to accommodate these changes."
However, while receptive to the idea, Lange-Stegmann had some reservations about making this kind of  expansion to its facility. "At the time, we were actively looking at our business and wondering how we could grow it," says Stegmann. "Initially, we considered buying a new location or retailer. But we didn't because too much capital would have been needed to make that move."
Instead, Lange-Stegmann began looking at how it could upgrade its facility to become more "unit train friendly," serving as an alternative to the other Southern-based train cities of Galveston and Houston, TX. Still, the company held back because it couldn't find the customer base needed to make this kind of upgrade practical and profitable.
"But by 2005, we had several of our customers coming to us asking for Lange-Stegmann to make these upgrades — and they offered to support us with the effort," he says. "Plus, at that point, our Agrotain business was growing fast enough that adding some production at our facility made perfect sense."
Building For The Future
For the past two years, Lange-Stegmann has been busily expanding and upgrading its facility to capture this vision. With the assistance of Waconia Manufacturing, Inc. (which provided the fertilizer blending and handling equipment) and Marcus Construction Co. (which worked on the warehouse facility itself), Lange-Stegmann's new St. Louis Urea Center includes 63,000 tons of storage capacity in 15 bins, with eight bins dedicated for urea only. For train distribution, the facility consists of 23,000 feet of track with three company-owned locomotives on-site to handle the unit trains as their come into the facility. With these upgrades, the Lange-Stegmann operation is now capable of loading 360 tons per hour, or 8,000 tons per day.
"The railroad companies have made it clear that they want to drive their trains onto your property without breaking them into pieces, drive their locomotive away, have the facility take the cars, unload them, clean them, and put them back into position to be picked up inside of 24 hours," says Stegmann. "With our new upgrades in place, we can now easily accomplish this, no matter how large the unit train happens to be."
Besides its rail capacity, the Lange-Stegmann facility has also upgraded its barge operations as well. According to Stegmann, upgrades to the river terminal include replacing the current dock, improving the overhead conveyor system, and the installation of a product conditioner to ensure high quality product off the barges. "With these improvements, we can now unload four barges per day, or 6,000 tons per 24-hour period," he says.
On the production side, Lange-Stegmann will soon open a 125,000-ton granulation plant on its property — the first such operation to be built in the U.S. in "decades," says Steg­mann. "Primarily our concept here at the facility is bring in urea, take it off the railcar or barge, and put it into storage until it's time to ship," he says. "But we do have some customers that want their urea upgraded. That's where our granulation plant comes into play."
In this case, the urea is moved from the warehouse to the granulation plant for what Stegmann calls "phase modification." Through this process, the urea is melted using heat, turning it into urea liquor. Once liquid, the company adds Agrotain's ingredients to the product and re-granulates it using a falling curtain process.
"This creates very round and uniform granulars, making for a great finished product," says Stegmann. In another part of the plant, Lange-Stegmann can make sized urea for its customers.
With these upgrades in place, Lange-Stegmann's facility will move an additional 300,000 tons of fertilizer through its operations during the first year. "Our goal is to get that figure up to around an additional 600,000 tons of fertilizer eventually, in one form or another," says Stegmann.
Beyond that, he adds, Lange-Stegmann will remain true to the principles that the company was founded upon — providing the best possible products to customers in a timely fashion. "The trend towards efficiency in transportation is here to stay in the fertilizer market," says Stegmann. "We are now in the unique position to do this, and change as the industry demands us to change as well. Ten years from now, I still expect our company to be leading the way for this marketplace, no matter what the distribution requirements are."