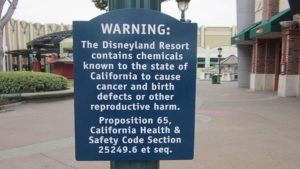 (SOURCE: East Valley Times)
Glyphosate, the active ingredient in Monsanto Co.'s Roundup and many other weed killers, is being added to California's Proposition 65 list of chemicals known to cause cancer, the California EPA's Office of Environmental Health Hazard Assessment (OEHHA) announced today, according to this report from the East Valley Times.
The effective date of the listing will depend on the outcome of a request for a stay in the Fresno County Superior Court case Monsanto v OEHHA. The lawsuit challenged OEHHA's ability to list the chemical. The trial court ruled in OEHHA's favor, but Monsanto is appealing the decision and asking the Court of Appeal to issue a stay that would block the listing while the appeal is pending. OEHHA is opposing Monsanto's request.
Proposition 65 is a right-to-know law that California voters approved in 1986. It requires the state to maintain a list of chemicals known to cause cancer, birth defects or other reproductive harm. Proposition 65 does not ban or restrict the use of listed chemicals. Instead, it requires businesses to provide warnings prior to causing a significant exposure to a listed chemical. It also prohibits discharges of the chemical into sources of drinking water.