On a national scale, there are now more than 2,200 dicamba-related injury investigations being conducted by various state Departments of Agriculture, and more than 3.1 million acres of soybean estimated with dicamba injury, according to an assessment by Dr. Kevin Bradley, Associate Professor, Division of Plant Sciences with the University of Missouri (see Figures 1 and 2 below).
"In my opinion, we have never seen anything like this before; this is not like the introduction of Roundup Ready or any other new trait or technology in our agricultural history," he said, contradicting earlier statements made by Monsanto executives.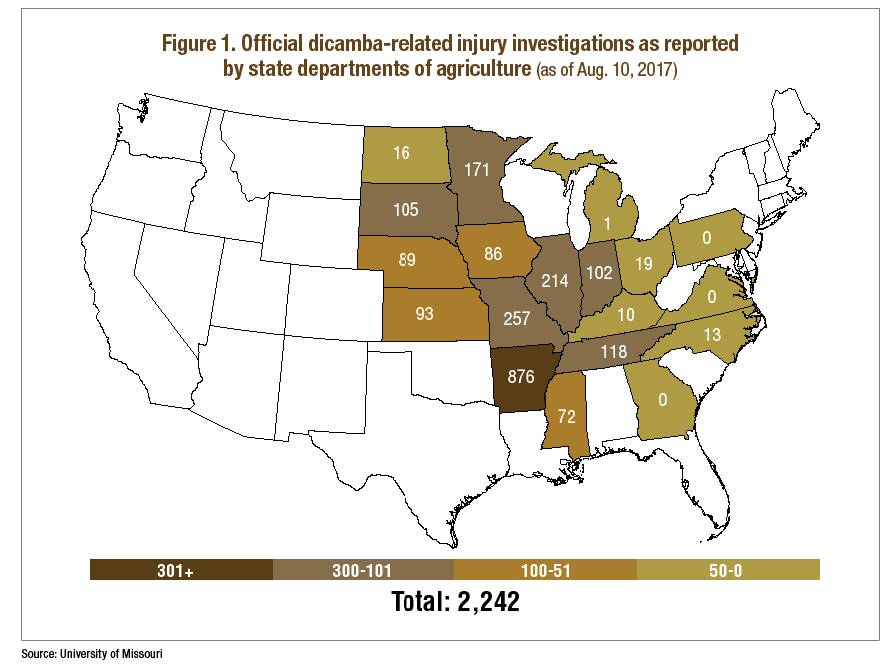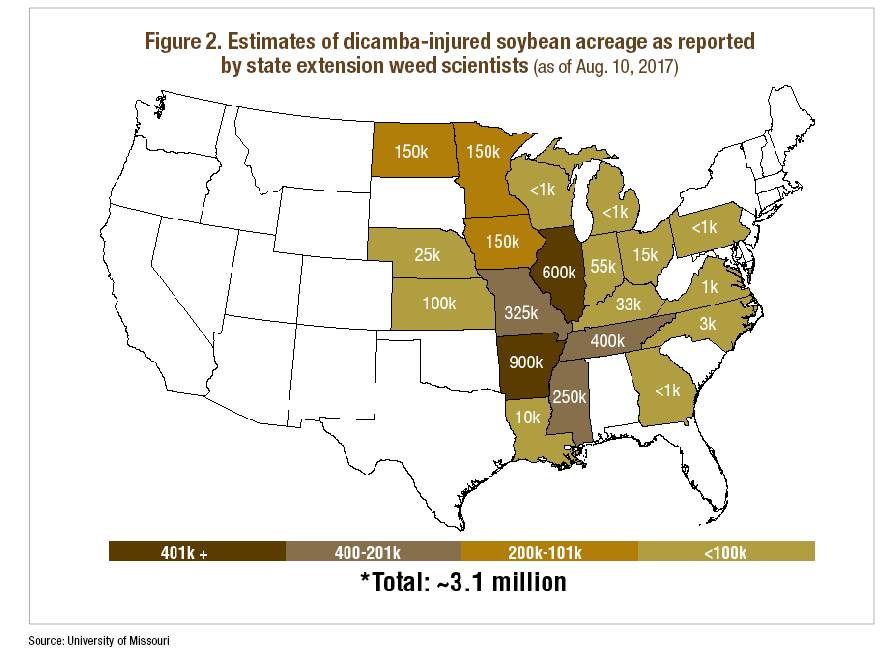 Bradley and his team are still in the process of trying to understand how or if the drift cases can be correlated back to any particular environmental condition such as air or soil temperature, moisture, humidity, and so forth. Any conclusions made will only be as good as the data gathered, he said.
EPA to Limit Use?
According to a Reuters story on September 5, EPA is considering banning sprayings of dicamba after a set deadline in the first half of 2018.
An EPA spokesman declined to confirm details of the article, which cited unnamed state officials advising the agency on its response to dicamba drift damage. However, the spokesman told CropLife® magazine: "We are reviewing the current use restrictions on the labels for these dicamba formulations in light of the incidents that have been reported this year. The underlying causes of the various damage incidents are not yet clear, as on-going investigations have yet to be concluded. But EPA is reviewing all available information carefully. We will rely on the best information available to inform any regulatory change."
Bradley believes XtendiMax, En­genia, and FeXapan will all continue to be in use next season, but with tighter restrictions.
As far as recommendations for 2018, Bradley has this to offer:
"My recommendation for those growers who wish to plant the Xtend technology is to go back to using dicamba at a timeframe and in a manner when it has been used 'successfully' in the past. Based on our history of dicamba use in corn in April and May, and even on our experiences this year using these approved dicamba products in pre-plant burndown applications prior to June, we have seen far fewer problems with off-target movement of dicamba in that timeframe than what we experienced in June, July, and August.
"For the sake of neighboring non-Xtend soybean fields, trees, vegetable crops, gardens, ornamentals, and our industry as a whole," he continues, "my recommendation for those who want to plant the Xtend trait in 2018 is to use the approved dicamba products for the control of resistant horseweed (a.k.a., marestail), ragweed species and winter annuals in the pre-plant burndown where these products have a great fit, but to abstain from applying these products later in the season. In Xtend soybean, resistant waterhemp will have to be managed using an integrated approach that includes cultural practices like cover crops, narrow row spacings, etc. along with an overlapping residual herbicide program."
States' Actions to Date
Arkansas
Arkansas, which banned the use and sale of dicamba on July 11 for 120 days, has logged 966 alleged dicamba misuse complaints as of September 11. Governor Asa Hutchinson directed Secretary of Agriculture Wes Ward and Plant Board Director Terry Walker to convene a task force to review dicamba technology, investigate current problems with its use and application, and make long-term recommendations for the future. The task force recommended an April 15 cut-off date for the spraying of dicamba in-crop. Most crops in Arkansas aren't planted until May, so the recommendation — to be taken up by the Plant Board on September 21 — would effectively limit dicamba usage to burndown.
Monsanto filed a petition with the Arkansas State Plant Board asking Arkansas agricultural officials to reject that proposed cut-off date next year. In a letter to Governor Hutchinson, Chief Technology Officer Robb Fraley said: "Even in the eight-county area with unusually high reporting (of drift damage), researchers expect to see little or no yield loss from the mild or moderate leaf cupping observed."
Missouri
The Missouri Department of Agriculture enacted, then a week later lifted a ban on dicamba, choosing to replace it with a set of tighter application restrictions, a ban on older formulations, and a heftier fine for off-label use, in effect through December 1.
Tennessee
Likewise, Tennessee banned older formulations for the rest of the season, set a stricter application window between 9 a.m. and 4 p.m., and said applicators must be certified as a private applicator or licensed as a pest control operator in the category of Agricultural Pest Control, and keep records for such applications.
North Dakota
The North Dakota Department of Agriculture has been using a survey to gather feedback on plant injury that may have been caused by dicamba. Agriculture Commissioner Doug Goehring said that based on the survey information, the state is considering changing application protocols for dicamba to protect non-target crops.
Illinois
Illinois, which has tallied 239 drift misuse complaints attributed to dicamba as of August 24, has not tightened restrictions for 2018 thus far.
The Illinois Fertilizer & Chemical Association (IFCA) conducted a survey of its ag retail members in August. More than 80% of 116 respondents reported experiencing instances of symptoms in sensitive soybean fields adjacent to where dicamba was applied.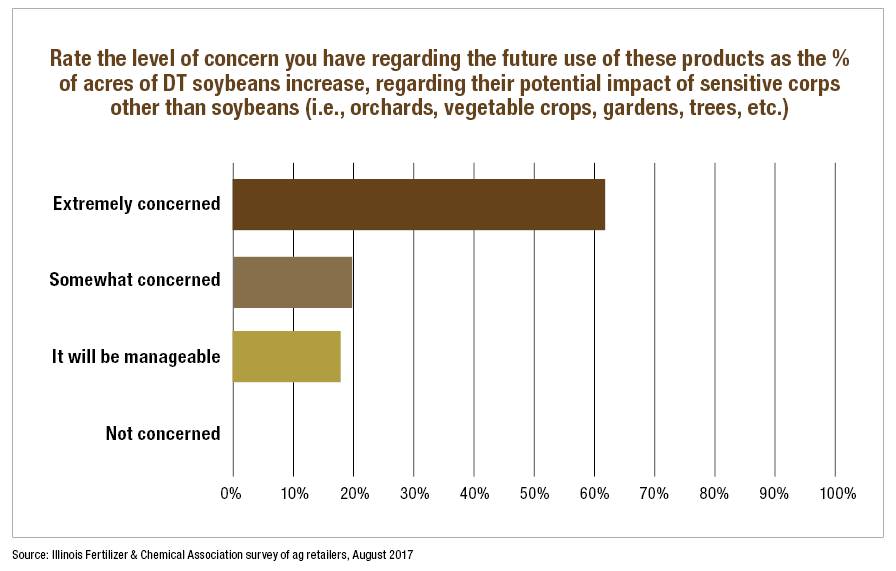 "Retailers stated they did an incredible amount of hand-holding with farmers, even on fields they did not commercially apply," IFCA said. "It took up most of their summer. Many said it was the most complaints they have handled by far, in their entire career."
The most prevalent suggestion from respondents, IFCA said, was to address temperature and humidity; the manufacturers need to figure out the conditions that lead to volatility and make necessary changes, or research these products more.
"Tin sheds and brokers need to be addressed; the rules are so lax with the sale of these products," said one Illinois-based retailer responding to an open-ended question on the dicamba issue. "The problems we had this summer speaks for itself: we need this technology to remain available, but we also need answers," another said.
Another retailer responded: "This product and the marketing platform was pushed into the marketplace without adequate research. Go back to the drawing board and start over."
Both Monsanto and BASF have repeatedly pointed to illegal or improper use as the culprit for drift.
"BASF is committed to develop­ing fact, sci­ence-based re­commendations that focus on long-term solutions for farmers. We can only do so once we have further clarity on the ongoing investigations regarding crop responses attributed to dicamba," Dr. Dan Westburg, BASF Technical Service Manager, said. The company is working jointly with state regu­lators, Extension weed scientists, consultants, and growers to identify what occurred and "the areas we need to further enhance," he said.
Monsanto's Fraley, in an open letter, said the company has deployed scientists from The Climate Corp. to review weather data from across the growing region this season to help understand whether unusual environmental conditions or weather patterns might have affected applications this season.
"We will con­tinue and expand our out­reach, edu­cation, and train­ing efforts going into the 2018 season to ensure that you feel fully comfortable and confident in successfully using our products. We'll continue to partner closely with our retailers, Extension agents and individual customers to make sure you exper­ience the full potential of this break­through technology," Fraley said.